'Millionaire Matchmaker' Has an Onscreen Proposal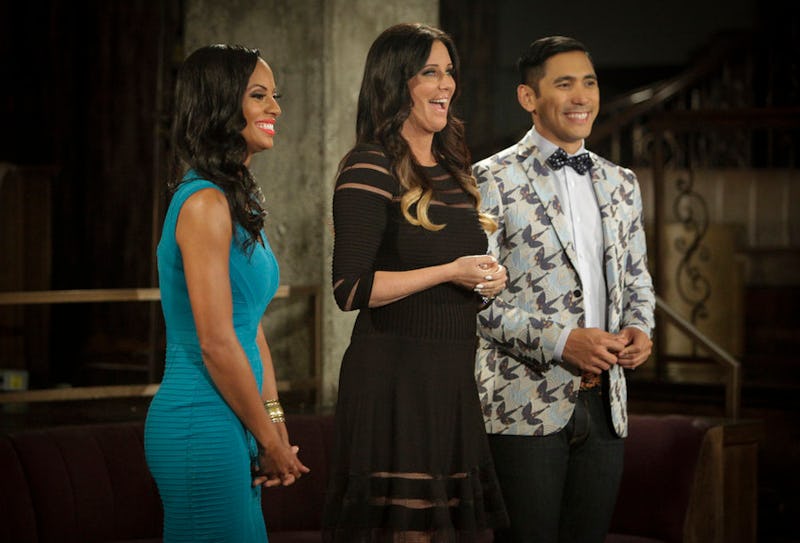 It's a good old-fashioned episode of The Millionaire Matchmaker, and the big headline may be " Millionaire Matchmaker 's first onscreen proposal," but to me, the big news was that it didn't feature two reality TV stars. And without people to impress, this episode became classic in another way — classic Patti Stanger. And by that I don't mean her insistence that the female millionaires pull their boobs out. I mean she said she thinks all feminists are single and the only way to get a relationship is to adhere to strict, classic gender roles.
And because Patti spends half the episode pressuring said onscreen proposal into happening, it means that there's only one millionaire this week, Devin Alexander, a private TV chef who Patti is convinced is a needy, delusional mess because she loves smiling and is just as picky and weird about her dates' looks as the men who are on this show every week.
Also, excuse me, Patti, but Devin's kitchen doesn't look like it's begging for a man. It looks like it's begging "please, please, make full fat meatballs in meeee." And her mechanical nodding while Patti tried to force her to be a sexy seductress was incredibly uncomfortable.
Patti's only good insight this episode? Todd really did seem like a big hunk of nothing. And the rest of the episode died after that because Todd was so darn boring. And the episode spent way to long trying to point out how boring he was. The only thing left to wonder about was the onscreen proposal between former MM candidate Allison and her new boyfriend, Tommy.
Tommy and Allison don't really seem like a match, not because Allison is too masculine or too talkative (Patti...), but because they just don't seem to have any similarities or compatibility. They've been dating for ten months, she's won a gold medal in speed skating and he's still never been on the ice? I'm sure it was just creative editing, but it sure make it seem like this relationship was ten hours long. By the way, Patti, if it wasn't possible for the woman to be the forceful on in a relationship, you'd never be in a relationship.
And trying to scare Allison with the prospect of "ending up" like Devin is utter crap. Oh, yeah, Devin sure has the worst life ever, with her smokin hot looks, her successful career, and her awesome house on the beach. But somehow it worked, and then when Patti forcefully told Tommy to propose, that worked too, and he got on one knee.
Well... that's certainly a happy Valentine's Day for Patti Stanger. Congratulations, Millionaire Matchmaker. And for the rest of us:
Image: Nicole Weingart/Bravo; Giphy