'Glee' Sure Tried To Make Bieste's Story Good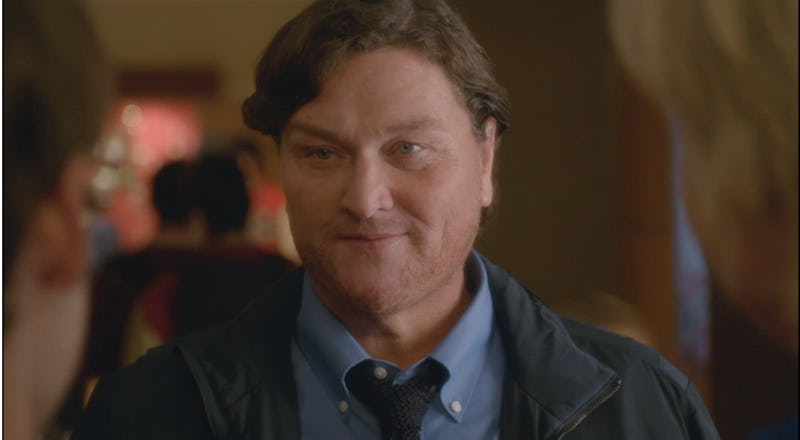 Friday night's episode of Glee , titled "Transitioning," marked the first appearance of football coach Sheldon Beiste (Dot-Marie Jones) since he came out as a transgender man during January's "Jagged Little Tapestry." Additionally, the episode saw the return of Unique (Alex Newell), the show's other transgender character, as well as a 200-person trans choir. Unfortunately, though show creators had likely hoped that this would read as groundbreaking and uplifting — after all, how often have you seen more than 200 transgender people in the same place, let alone on TV? — it instead came off as a contrived gesture of desperation for a show that has simply run out of gas.
The episode opens with coach Will Schuester taking the helm of onetime rivals Vocal Adrenaline. In an attempt to win members over, he starts into a rendition of "Same Love" by Macklemore. Will's awkward attempt at rapping causes the kids of Vocal Adrenaline to roll their eyes, cringing — a more perfect representation of the state of Glee simply does not exist. Unique joins him on stage, singing the Mary Lambert refrain.
Back at McKinley, coach Beiste meets Sue Sylvester (Jane Lynch) and Sam Evans (Chord Overstreet) in the hallway, where they exchange pleasantries. In stark contrast to how she treated Unique, Sue's attitude towards Beiste was filled with support. Aside from a few character-appropriate jabs — referring to him as the "world's newest male" and "newly boobless," as the storyline had him undergoing a double mastectomy — she appears genuinely supportive of her colleague.
Walking out to his car, Beiste finds it covered in jock straps and with the words "Coach Tranny" written across the hood. Upon finding out, Sue becomes frustrated that this "horribly offensive word" would be used against Beiste. Interestingly, during season two's Rocky Horror-themed episode, Mike says in reference to playing the role of Frank N. Furter, "I really want to do it, but [my parents] are just not cool with me dressing up like a tranny" — without so much as a word about how offensive the term "tranny" can be.
Beiste and Unique meet for whatever the trans version of "shop talk" is, spending an inordinate amount of time on questions like, "Did [top surgery] hurt?" and cliches about one's "outside matching the inside." Beiste confides in Unique that he feels alone in his transition.
In a last-ditch effort to teach Vocal Adrenaline about tolerance, Will tricks them into breaking into McKinley for what they think will be the planning stages of an elaborate prank. Actually, it's a surprise display of mass support for Beiste, as Unique and the 200-person trans choir sing "I Know Where I've Been" from Hairspray. Will quits as coach of Vocal Adrenaline, and returns to McKinley.
Was this episode a mess? Absolutely. Did Ryan Murphy and Co. mean well? Probably.
As others have noted, Glee's history on trans issues is spotty, at best. Unique was almost exclusively used as a trans prop during her time on the show, and her storylines included things like catfishing a friend (which plays into stereotypes about trans women who attempt to "trick" straight men into sleeping with them) and a fight to use the bathroom (she ultimately "won" that battle in the sense that she was allowed to use the teachers' bathroom — not truly a victory).
LGBT organization GLAAD explained its role in "Transitioning," with Entertainment Media Strategist Megan Townsend writing, "GLAAD helped Glee recruit the 200 trans extras from across the country to come to Los Angeles and participate in the episode. Many of the transgender people said they had never been in a room with that many other trans people before. The energy and the enthusiasm was fantastic — even though it was a very long day!"
Whether one's opinion on Glee's foray into trans issues is that it's great or ghastly, I'm sure most would be able to agree that this simply isn't the show it once was.
Image: Fox (screengrab)