Our Best Guesses At The 'Pump' Reunion Drama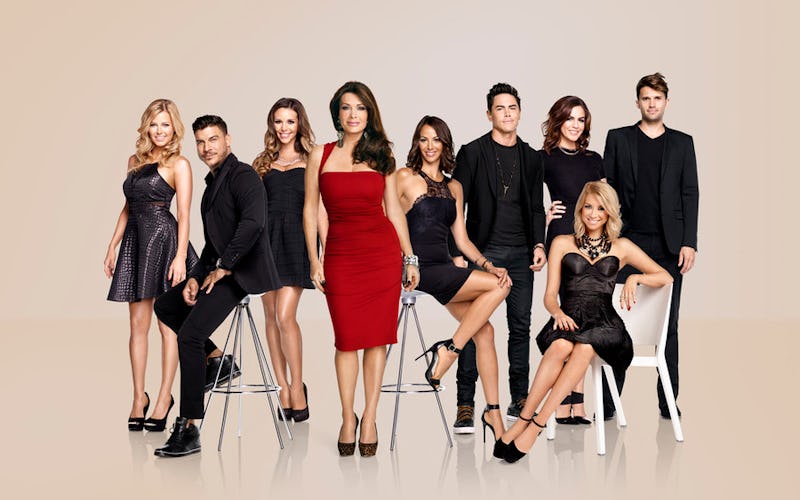 How sad, Vanderpump fans: Another season of our favorite show has nearly come and gone. Who knew (besides Andy Cohen, who is so good at this formulaic reality television that it's scary) that, three seasons ago, we would all be so rapt with a group of beautiful, wannabe singers and actors? The reunion for Vanderpump Rules ' Season Three was shot on February 6 (and the first part, because you know there are going to be multiples, airs on February 23), and I want to know: Who was spared? Who was saved? Who isn't coming back to SUR, except for the occasional free pinot grigio (cough cough, Stassi).
Reality TV show reunions, especially Vanderpump reunions, are a means of catharsis, both for viewers and the people on the show alike. Epic levels of reunion-ing haven't been seen on Bravo since the Kelly to Bethenny to Jill seasons of Real Housewives of New York, so I'm really holding a lot of eggs in my Vanderpump reunion basket. For a sneak peek at the goings-on of SUR's servers, I took a look at their social media accounts: Some laughed, some cried, some really got hit by the truck of public opinion. Let's take some bets on what really happened during the filming. A Bravo producer tweeted out a pic of smiling faces, but since I've seen a television before, there's no way that it was all giggles:
Jax Taylor
Judging by his Twitter account, it's safe to say that Jax did not have so great a time at the reunion. Jax, what did you expect? You dish it out on TV, but you can't seem to take it.
And because we can't know what Jax did at the reunion just yet, I've estimated the odds of a few outcomes:
Cried: 2 to 1
Slept with a production assistant during lunch: 10 to 1
Blamed one of the Toms for his problem: 1 to 1
Talked about his nose job: 2 to 1
Said "I'm sorry" to Katie for starting all those rumors about her: 10,000 to 1
Took his shirt off: 5 to 1
Stassi Schroeder
Stassi had only one Twitter post for the day of February 6, but no mention of the reunion. Obviously, it's what she had to get all glammed up for, but this has to mean that Stassi is just over it (and getting her own show, pleasepleaseplease Bravo, please?).
Here are the odds of Stassi doing typically Stassi things come reunion time:
Invented a new, zippy one-liner: 3 to 1
Told someone he or she was trash: 5 to 1
Rolled her eyes: 1 to 1
Said her evil behavior was "editing": 10 to 1
Mended fences with Katie: 1,000,000 to 1
Tom Sandoval & Ariana Madix
There are no tweets from Sandoval about the reunion, but Ariana had nothing bad to say, so let's assume the night went well for this Vanderpump power couple.
They come as a package deal: Let's see how the night like went for them:
Kissed: 1 to 1
Yelled at Kristen: 1 to 1
Received an apology from Kristen: 50,000 to 1
Got ambushed once again by Vanderpump producers and Miami girl: 2 to 1
Katie Maloney & Tom Schwartz
It seems as though Schwartz spent most of his night with Jax and not with his girlfriend — but that's not anything new. They were pictured out to dinner with the crew afterward, so Katie and Schwartz probably walked out fairly unscathed.
But what else did they likely do?
Kissed: 100 to 1
Yelled at Jax: 50 to 1
Waited for Jax to give an excuse: 1 to 1
Talked about the lack of trust in their relationship: 2 to 1
Got engaged: 30 to 1
Kristen Doute & James Kennedy
It's shocking that Kristen tweeted that no blood had been shed yet at the reunion, when she was probably the one on the chopping block. Perhaps her British beau, James, laid himself on the sword for her? Nah, he was too busy hanging with Giggy (even if he spells his name wrong), which is what I would do.
What did they likely do at the reunion?
Kissed: 150 to 1
James gave excuses about Kristen's obsession with Tom/Ariana: 10 to 1
James said nothing as usual: 2 to 1
Kristen cried: 5 to 1
Kristen got slapped again: 500 to 1
Kristen brought back Miami girl: 100 to 1
Scheana Marie & Shay
Scheana Marie looked like she was having a grand old time hanging with Andy Cohen, but did she get involved in the drama? Here's how likely it is that she got down in the muck:
Scheana sang a weird, electronic song with James behind the DJ booth: 2 to 1
Scheana yelled at an invisible wedding planner: 3 to 1
Scheana wore fake eyelashes: 1 to 1
Shay said nothing: 1 to 1
If I were a betting lady (which I'm not), I'd say that no matter the outcome of the Vanderpump Rules reunion, sparks are surely going to fly. (And I can't wait.)
Image: Tommy Garcia/Bravo