Are 'Vanderpump Rules' Kristen & Tom Done?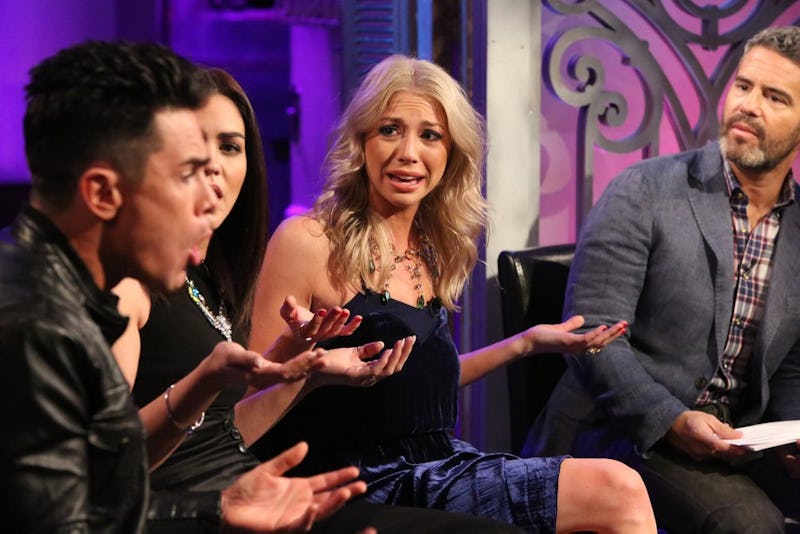 Monday night, Bravo played the the first half of the Vanderpump Rules reunion. Was it enough? Of course not. NEED MORE VANDERPUMP. Fortunately, part 2 will air next week. WHEW. Unfortunately, there will not be 75 more reunion specials after that. DARN. (At the very least, you can entertain yourself with the cast's Watch What Happens Live appearance, and the news that one cast member is writing a memoir.)
Andy Cohen was joined by Lisa Vanderpump, Stassi Schroeder, Jax Taylor, Kristen Doute, Tom Sandoval, Katie Maloney, Scheana Marie, and Ariana Madix. Stassi, Scheana, Tom, and Ariana all seemed very happy. Kristen seemed the least happy. Jax and Katie seemed somewhere in the middle. Lisa and Andy were just like, "another day, another reunion." Those Bravo pros.
What did we learn during part 1 of the reunion?
Stassi quit SUR
This is not surprising (because it's been all over the Internet), but Stassi no longer works at SUR (and lives in NYC). Lisa is not pleased with the way Stassi handled this transition, however. Apparently, Stassi went AWOL before she quit her job. That didn't fly with her former boss. Lisa asks Stassi how being out of contact with everyone has been for her, and Stassi replies that while she's grateful for the SUR opportunity, severing ties is for the best.
What does this mean for Vanderpump Rules /Stassi? I DON'T KNOW. DOES NOT LOOK GOOD. AUGH.
Tom and Kristen broke up
THANK GOSH. Like Scheana says, it was a messy relationship. For years. The breakup needed to happen. Yes, the cast and I laugh because we know there's always a chance those two will get back together, but this really does look like the end of the Tom/Kristen era. Kristen says she's still in love with Tom and Tom says he tries to look at their relationship as "glass half full," but Kristen and Tom don't seem like they'll be rekindling their toxic relationship any time soon.
Kristen had an ongoing affair
Around the same time Tom and Ariana made out in the Golden Nugget pool (uh, still hilarious? Still hilarious), Kristen was having a "three-month-long affair" with another SUR employee. Who? We may never learn.
Tom and Ariana are dating
I'm actually weirdly shocked by this. I figured they had a "friends who sometimes hookup" dynamic, but wouldn't ever be into dating one another. Oh well. What do I know? Tom says he's much happier now.
Kristen is dating someone new, too
His name is James and he's a 21-year-old busser at SUR. "Damn right I'm sleeping with a 21-year-old," Kristen tells everyone. "And I'm having the time of my fucking life right now." She says these words, but her eyes say the opposite.
Before James/Kristen became a thing, Tom and James planned on living together, made music, and were buddies. Shocker! Tom and James are not friends anymore.
Tom Caught Kristen With James
Tom says he caught Kristen and James "on [his] bed, with [his] condoms." I'm speechless. This show keeps outdoing itself.
Kristen Does Not Support Tom and Ariana
When Andy asks if she wishes Tom and Ariana well, Kristen says, "Um, no. I wish Tom well. And I want him to be happy. Do I wish them well? No." Throughout the reunion, Kristen makes it very clear that she's not an Ariana fan.
Choice Quotes
"When you're ready to retire, I'm ready to take your job."—Scheana to Andy.
"I've never had a girl say 'no' to me before"—Jax.
"You were my girlfriend, but you were also my enemy"—Tom re: Kristen.
"What? I can't." —Jax to Ariana after she says it's easy to stop at "just a kiss."
"I just love a chance for things to be about me"—Stassi re: her birthday.
"Do you have some kind of mind control?"—Andy to Stassi re: Jax.
"He would do anything that Stassi says. He's dumb when it comes to Stassi."—Lisa after the cast debated whether or not Jax is actually an idiot.
"It's really sobering to watch yourself highly intoxicated."—Katie.
"You're only [on the show] because you're fucking my ex-boyfriend."—Kristen to Ariana.
Next week:
Jax discusses his visit (visits?) to the clink, Jax and Tom argue, and Stassi cries. Bless this show.
Image: Bravo