How Do You Know The Star Of 'The Book of Negroes'?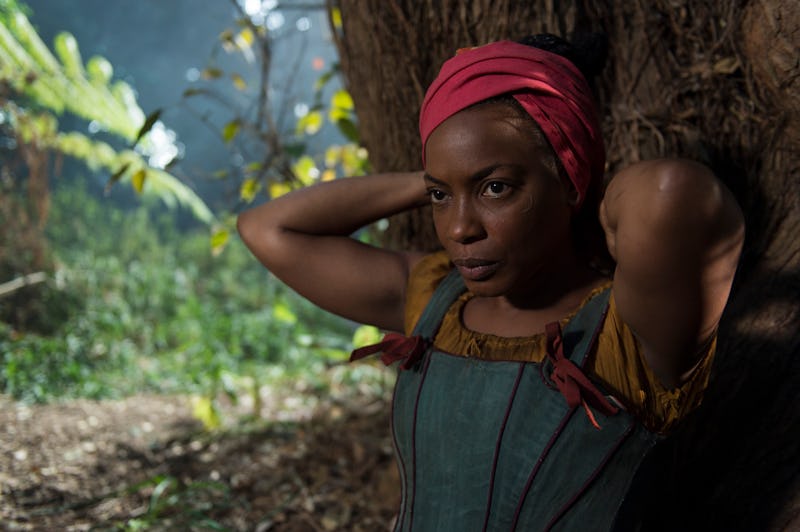 The Book of Negroes, a six-part historical miniseries that debuted on Canadian television in January, is now having its American premiere on BET. A gripping, powerful show needs an equally powerful protagonist, and The Book of Negroes ' Aminata Diallo, played by Aunjanue Ellis, is exactly that. Born in West Africa shortly before the American Revolution, Aminata is captured, sent across the Atlantic, and sold into slavery on a plantation in South Carolina. Though Aminata is a fictional character, her struggle to escape to Nova Scotia and eventually return to her home country are based on real events, as is The Book of Negroes itself, a real document that listed the names of over 3,000 escaped slaves whom the British transported to freedom in Canada in exchange for their loyalty in 1783, according to PBS.
Like her character, the actress who plays Aminata is no stranger to strong roles. Though The Book of Negroes takes place in the 18th century, Ellis considers Aminata a "modern woman" and a feminist, as she said at a panel discussion at the Canadian International Television Festival. Ellis' most recent film role was in the James Brown biopic Get on Up, and you might recognize her from another musical film as well. Here's a look at her role in The Book of Negroes.
What other roles have you seen Aunjanue Ellis in? You'll definitely recognize these three projects.
The Help
In The Help, one of the best films of 2011, Ellis plays Yule Mae Davis, a black maid working for a white family in Jackson, Miss. Though the movie is set nearly 200 years after The Book of Negroes, it portrays the struggles for racial equality that still exist, particularly for black women, in the United States. In one of Ellis' most remembered scenes, Yule Mae asks her employer, the truly awful Hilly Holbrook, for a $75 loan to help pay for her children to go to college. Hilly refuses, because she's literally the worst (and extremely racist).
Ray
Ten years before Get on Up, Ellis appeared in another biographical film about another influential soul singer: Ray. The actress played Mary Ann Fisher, one of Ray Charles' background singers (or Raelettes) who also had a romantic relationship with the musician. She was the inspiration for his song "Mary Ann," which went all the way to number one on the Billboard R&B charts.
The Mentalist
After seven successful seasons, crime procedural The Mentalist is coming to a close this year. Ellis appeared on the show for three seasons as Madeleine Hightower, a chief of the California Bureau of Investigation (a state-level version of the FBI). Madeleine was tough, and she took no flack from Patrick, the show's unorthodox lead investigator. Though her run on the show ended after her third season, she returned for one episode in Season 6.
Catch Ellis in the first installment of The Book of Negroes on Feb. 16 at 9 p.m. on BET.
Images: BET; Universal Pictures