Brandi Responds To Kim & Kyle's 'RHOBH' Fight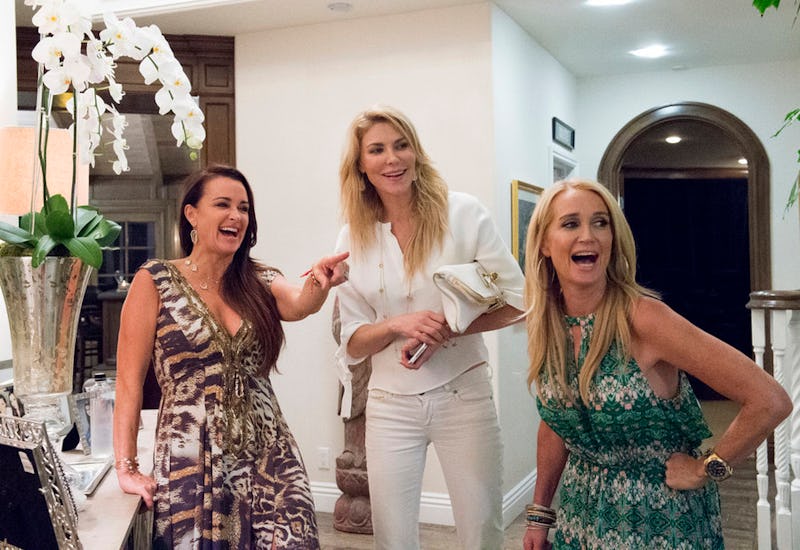 It's Tuesday, which means a new episode of The Real Housewives of Beverly Hills is right around the corner. Also, that means more drama is on its way, especially revolving around Brandi Glanville and Kim and Kyle Richards. As we've seen in past episodes, these three have been spewing back and forth about that unfortunate evening spent at Eileen Davidson's. Then, we saw them go at it again at Kyle's event. We've heard a lot of she said-she said, but will we ever learn the truth about this unfortunate situation? Well, I spoke with Glanville directly about Kim and Kyle, and according to her, there's a lot more going on behind the scenes.
"I have been around the both of them for almost five years now and more often than not they are not getting along," says Glanville, adding that Kim and Kyle might be sisters by blood, which "will always be thicker than water," but that even though the sisters love one another, "they don't like each other."
According to Glanville, she knows this because she and Kim have become "close friends" after Kim's sobriety and the two were able to work past their grievances. "She has spent a lot of time with me off camera, with my children, my friends, and even parents," Glanville said. "We became a confidant for one another. [sic]"
Unfortunately, Glanville says her relationship with Kyle didn't work out quite the same way. "I've never had anything close to that relationship with Kyle. [Kyle and I] started on a path of becoming friends, but it was mostly bonding over our issues with Lisa [Vanderpump]," she says. "It was absolutely never my intention to insert myself in between these two sisters and that is when Kim was having to deal with a ridiculous amount of pain and stress and calling me having emotional breakdowns, none of which were sobriety-related."
At first, Glanville says that she didn't want to get involved, but she says that she eventually felt a need to call Kyle to "express [her] concern and to allow her to step in and be there for her sister." Per Glanville, Kyle said "she wanted no part of Kim's problems." But Glanville says it would have been different, had the cameras been rolling.
"In my opinion had this happened on camera, [Kyle] would have rose [sic] to the occasion, but because it wasn't and she wouldn't be credited with saving the day, she opted not to bother," she said. "After Kyle made it clear to me she had no intention of being there in any way for Kim, I, of course, did make it my problem because I love and care about Kim as a friend."
As for Eileen's poker party, Glanville says that her only goal was to "get [Kim] out of the situation, so it didn't play out unfairly on camera, as Kyle so clearly wanted it to." Glanville said that she did not want it "to be unfolded in front of the world," like that time Kyle declared Kim an alcoholic during Season 1.
Will we see any of this come out on TV? We'll have to wait and see, but Glanville says her relationship with Kim is all about friendship.
"The women of this group all sit back and cackle that I might be a bad influence on Kim, but the truth is Kim's sober," she said. "I am not [abstaining from alcohol], and don't pretend to be, but this isn't about sobriety, it's about friendship and I've only been there for her to protect her and be a shoulder to lean on so she could handle her full plate."
Images: Nicole Weingart (2)/Bravo