The Weirdest Instagrams From #NYFW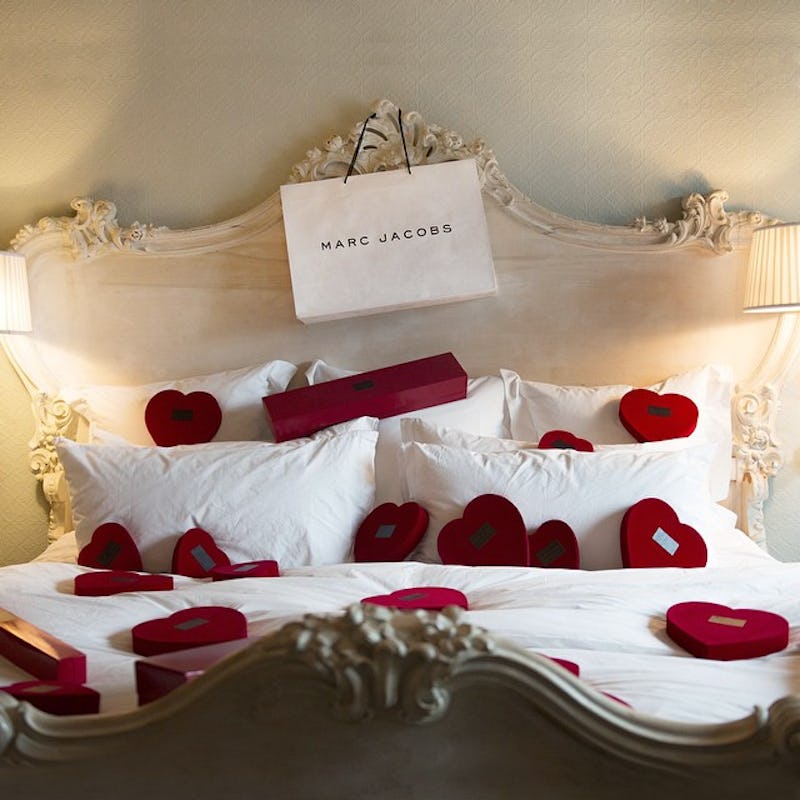 Fashion Week is not for the faint of heart. Between the subzero temperatures making icicles out of Starbucks lattes, the eccentricity of the wares on each designer runway, and the logic-defying street style ensembles of blogger attendees, the occasion isn't for those who value order, sense, and sanity. Nowhere is the week's insanity more apparent than on those #NYFW Instagram posts, where designers and editors share the most peculiar snaps of the week.
For those unaccustomed to Fashion Week's antics, these Instagram posts aren't exquisitely rendered selfies viewed through a warm Valencia filter. Fashion Week's most outlandish Instagrams are a collection of bizarre ensembles, questionable accessories, copious amounts of skin on display despite the dropping mercury, and the sort of illusory content you'd expect to view in a film about LSD. However, such photographs are all in a day's work for the stars of Instagram; after all, when it comes to fashion, the more outre the better, and with the advent of the BDSM trend thanks to Fifty Shades Of Grey, the looks keep getting quirkier. If the frozen tundra that is winter 2015 has forced you into self-imposed house arrest and you're caught up on Scandal, read on for the nine most bafflingly bizarre Instagrams of Fashion Week so far.
1. Marc Jacobs' Valentine's Day
It remains unclear if Jacobs himself returned to his abode to find this Marc Jacobs-themed display spread across his bed or another lucky lady snapped the image, but I've decided I'd like the haute designer to be my Valentine next year.
2. Derek Blasberg's Snarky Accessory
It would seem that Derek Blasberg is thumbing his nose at Fashion Week or Valentine's Day through his accessories. In either case, he is exercising his First Amendment rights in addition to the right to wear snarky accessories.
3. Dannijo's Presidential Deference
Would President Lincoln have sported a statement necklace of multi-tiered crystals next to his jaunty bow tie? The sartorial choice seems doubtful, but the pairing is surprisingly chic the way Dannijo presents it on the company's Instagram.
4. Diane von Furstenberg's Red Light District
Post-Fifty Shades Of Grey premiere, everyone seems a bit more lecherous than usual, Diane von Furstenberg and her red-lit lace stage.
5. Ammerman Schlosberg's Insane Asylum
Call it yet another case of Friday the 13th oddity, but designer Ammerman Schlosberg's macabre runway appeared like a modern day Rocky Horror Picture Show on steroids.
6. Alexander Wang's 50 Shades Of Metal
Forget Free The Nipple; Alexander Wang's latest runway let his models' inner heavy metal alter egos shine through his chain mail tops, corseted belts, and strategic peekaboo elements.
7. Anna Della Russo's Eccentric Explosion of Color
Anna Della Russo may be the least subtle editor to trot eccentric styles on the Fashion Week streets, but her latest ensemble is simply inexplicable. A multicolored poncho and fringed, striped midi skirt fought for attention with Della Russo's top hat and pompom purse.
8. Rachel Zoe's Team Spirit
Rachel Zoe celebrated Tommy Hilfiger's football-themed runway in the brightest crimson fur in the stadium as she called for a time-out...or simply vogued for the camera.
9. Nicopanda's Marching Band Chic
Call it Capitol fashion, as Nicopanda's tufted headpieces, letterman jackets, and strategically-placed ruffles would look perfectly in place on the set of The Hunger Games.