Get Ready For More Derek Luke On 'Empire'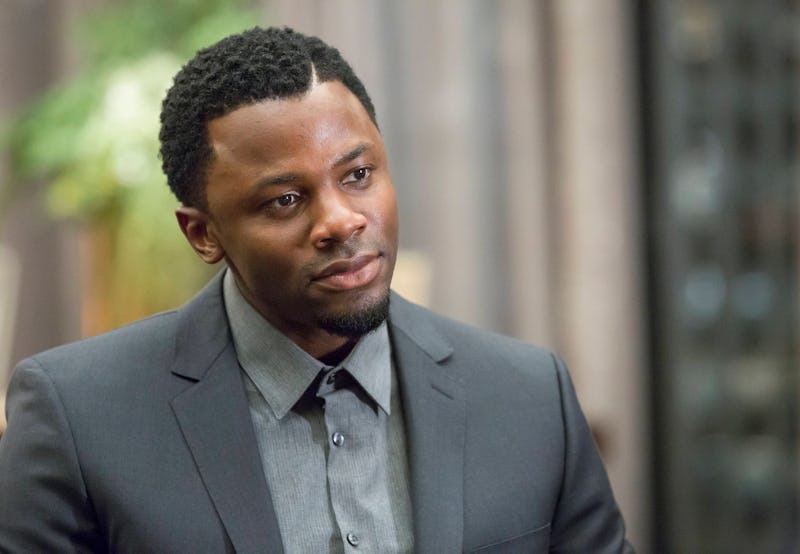 Is anyone surprised to see Empire killing it in the casting department? With Lee Daniels as an executive producer and Oscar nominated actors Terrence Howard and Taraji P. Henson starring, it shouldn't be a shock that such a great caliber of stars are appearing on Empire . Derek Luke is no exception. Known for appearances in Antwone Fisher, The Americans, and Captain America: The First Avenger, Luke definitely brings a nice bit of charm and charisma to Empire. He first appeared in the Feb. 11 episode, "Out Damned Spot," as Malcolm Deveaux, the newly hired head of security for Empire Entertainment. Considering what everyone who works there is up to, revamping security makes sense. But, will Derek Luke return to Empire? Yes, in a very exciting way.
Luke will appear in at least three episodes and Cookie Lyon plays into his storyline. An A.V. Club review of the Empire episode "Out Damed Spot" elaborates, writing, "The always welcome Derek Luke begins his recurring arc as a new love interest for Cookie, and not a moment too soon." Cookie definitely deserves some love. Two out of her three kids are a disrespectful mess and Lucious has little respect for her, seemingly without reason, especially considering all she's done for him. So, Cookie getting with Malcolm, even for something casual, is a much needed respite from the rest of the craziness in her life.
It hasn't been announced whether Luke will appear in the second season of Empire or how permanent his relationship with Cookie will be. I imagine it is going to cause a lot of drama, especially since his character was hired by Lucious to protect his company. Lucious is oddly possessive of Cookie, considering how terribly he treats her. I imagine he would want to tank the relationship as soon as he finds out about it.
But I'm not surprised by Malcolm and Cookie getting together. In the brief interaction we saw with the two characters meeting each other for the first time, there was definitely a hint of flirtatiousness. Plus, anyone with good sense would go for Cookie. Just look at her!
She is the most entertaining part of this crazy fun show, and obviously Henson is a beautiful woman. There are also some more pros for Cookie and Malcolm getting together. Sure, they probably won't make their way to the altar, but Cookie deserves some fun. Plus, Luke provides some decent man candy.
As for downsides of Malcolm and Cookie getting together, just think about all the ruckus Lucious will cause when he finds out. Luke's storyline on Empire may end up being short-lived, but I hope we see him all the way into Season 2.
Images: Chuck Hodes/Fox; blackmen (1), cookielyon (3)/Tumblr