8 Reasons Tyra is the Unsung Hero of 'FNL'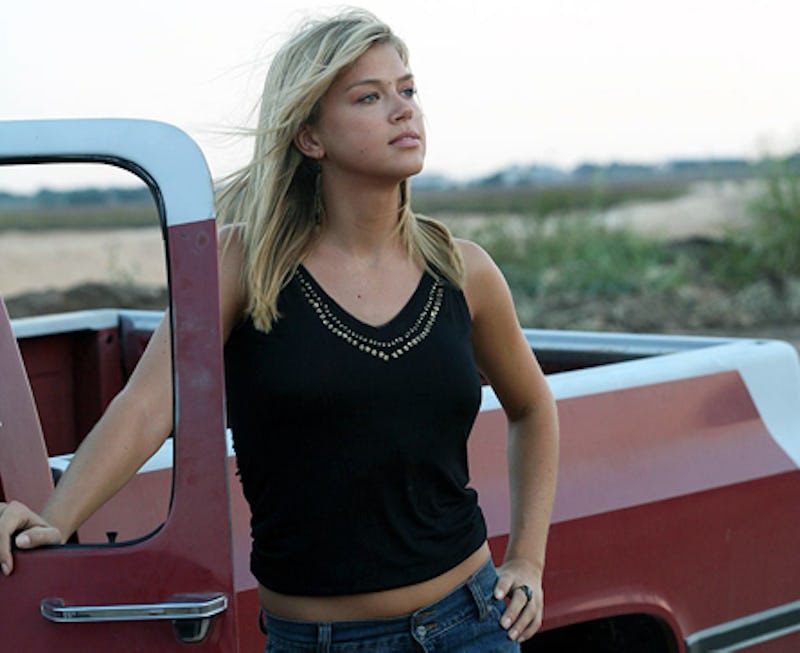 When it comes to role models on television, there are few characters who rank higher than our holy mother Tami Taylor. The straight-talkin', cowboy boots-wearin', human incarnation of "Clear eyes, full hearts" is perhaps the most beloved character of Friday Night Lights. Perhaps even more so than Coach Eric Taylor. The richness of Friday Night Lights didn't just rest on the shoulders of football and, "Texas forever." The series remains so deeply in the hearts of its fans because of the depth of its characters. The Quarterback isn't your average jock, he's a sensitive artist who takes care of his grandmother, and bad boy Tim Riggins even manages to mumble out some real heart from behind his long, sweaty hair. One of the most underrated and one of the most admirable characters from the series is Tyra Collette — the unsung hero of Friday Night Lights.
Tyra started off as the bad girl who used her penchant for low-rise jeans and "no f*cks given" attitude to chase after Tim Riggins, Smash Williams, and the wandering oil salesmen that made their pay to the Dillon Applebee's while passing through. By the end of the series Tyra Collette was one of the smartest and most ambitious women to come out of Dillon, Texas. Not only did she deliver some of the show's finest side-eye, she also had perhaps the greatest transformation in the entire series.
Here are all of the reasons Tyra Collette is a feminist icon, an absolute inspiration, and the real underdog of Friday Night Lights:
She Defied Everyone's Expectations
Tami Taylor first wrote her off as a bad influence and most men thought she was just a, "good time." Even Tyra's own mother had doubts in her ability to achieve more than any of the other Collette women. However, Tyra shattered what everyone thought of her by holding herself in high esteem, having goals, and never letting men get the best of her. She also dated Landry.
She Refused to Settle for Less
Remember than time a college admissions officer told her that her chances were slim to nill? No one says no to Tyra Collette, y'all. Even when her high school sweetheart offered her an easy, quiet life on a big 'ol Texas ranch, she knew to walk away and chase her own dreams.
She Was Rarely Judgmental
Strippers? Murderers? (Remember that awful plotline in Season 2 where Landry kills a guy!) Tyra is cool with you and will probably pass no judgement. She also didn't pressure Julie about having sex for the first time even though she was already more experienced — she was understanding and honest with her about the whole process. Tyra took people for who they were deep down.
She Didn't Let Men Get in the Middle of her Relationships with Women
She could have left Lyla high and dry on the side of the road when her car broke down en route to state. After hearing Jason Street cheated on her, Tyra offered her a lift. And lest we forget Tyra whipping her mother's abusive ex-boyfriend with a fireplace poker. Only an idiot would mess with Tyra and her family or friends.
She Didn't Take Any of Riggins' Nonsense
Oh you think Tim is just going to show up on her front porch after he gets dumped by other women and get what he wants? OH SHE'S GONNA GIVE HIM A LESSON IN FRIENDSHIP.
She Was Brave
Whether in the face of an abuser or her own inner demons, Tyra faced all of it head-on.
She Worked Harder than the Panthers to Achieve Her Dreams
Two-a-days my butt. Try working as a server, running for Class President, keeping your entire family afloat, and pushing to raise your grades to get into college. And she did it all without losing any sense of herself.
She Always Wanted More For Herself
In her inspiring college essay, she wrote, " I want to define myself instead of having others define me. I want to win and have people be happy for me. I want to lose and get over it. I want to not be afraid of the unknown. I want to grow up and be generous and big hearted, the way people have been with me. I want an interesting and surprising life. "
Amen.
Tyra Collette, We Salute You.
Images: NBC(3), ssammys; blakehelps;fnl-forever(5)