'SNL' Used to Be Majorly Political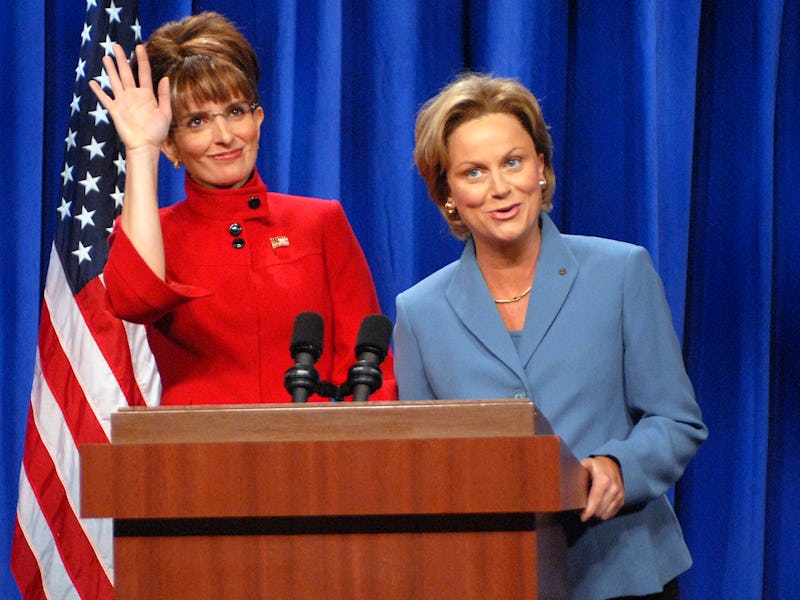 This weekend's big celebration of Saturday Night Live 's 40th anniversary was filled with more than just comedians and celebrities, it was also filled with famous politicians. The Wrap spoke to former Vice Presidential candidate Sarah Palin and former Mayor of New York, Rudy Giuliani about their place in the history of Saturday Night Live. Both were delighteded by the impersonations of SNL stars. Palin fawned over Tina Fey (wouldn't we all) and jokedd that her work was so good that she even mixes herself and Tina up, "To this day, I do a double take if I see an old rerun. I'm like, 'Is that — I'm on TV? No, it's Tina!'" Giuliani also noted that being turned into a sketch on Saturday Night Live made him feel like he had finally "made it."
As endearing as it is to watch these politicians reminisce about their time in the spotlight in Studio 8H, the interviews also point out the important political weight SNL used to carry. As of late, the biggest social conversation surrounding the show is about its own casting and lack of diversity. However, in the eras of Sarah Palin and Rudy Giuliani, Saturday Night Live used to make a big impression on American politics. Tina Fey's impression of Palin wasn't just spot on in terms of her mannerisms and voice, but it pointed out some major issues regarding the Alaskan Governor's competence.
Giuliani also made an important appearance on Saturday Night Live right after 9/11. In front of all of America, with New York police and firemen behind him, said it was okay to laugh again. It was a huge point of healing and the show became more than just a late night sketch series in that moment. Though SNL still makes light of politics when election time rolls around, the gravity of these two particular moments have yet to be matched.
Take a look at the interviews here:
Image: NBC