Lesser-Known Oscar Nominated Films To See ASAP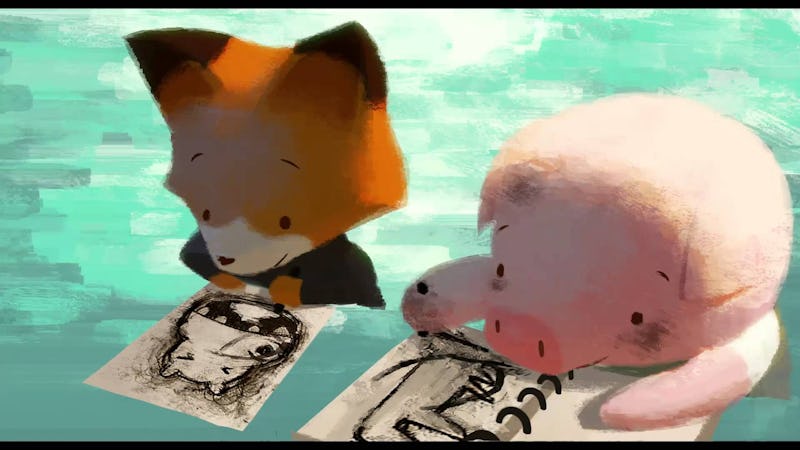 For those of you who live under a rock, it is officially Oscar Week 2015. The 87th Academy Awards will air on Sunday, February 22 at 8:30 PM (EST) on ABC. For anyone working in the film industry, winning an Oscar is one of the highest hanging fruit, the award you dream about winning your entire life. However, while the Oscars tends to place an emphasis on certain categories — Best Picture, Best Actor/Actress, Best Supporting Actor/Actress, etc. — often times, the other (equally important) categories fall by the wayside, and are slightly forgotten during the big night. It would seem that on top of the Oscars' many other shortcomings (including the problematic Oscar nominee whitewashing that took place with this year's nominations), sometimes this is an issue.
Every year when I watch the Oscars, I find myself feeling a little bit sad for all the filmmakers and artists who get nominated — or maybe even win — an Academy Award but get totally overlooked. An Oscar nomination or win can be the crowning achievement of a filmmaker's career and I think that some of the more obscure or niche films nominated for Academy Awards should get their moment in the spotlight too.
So, in preparation for the Oscars this year, I have decided to dedicate myself to the lesser-known Oscar categories and nominees. They are nominated for an Oscar for a reason and I feel I owe it to them to familiarize myself with the less-hyped films because they deserve just as much attention as those nominated for the 'big' awards.
Thus, without further ado, I present you with a small gathering of some outstanding films from the under-exposed Oscar categories. Be sure to check these out before Sunday so you can be fully prepped to drop some mad Oscar knowledge on your friends at your Oscar party.
Short Films
In my opinion, short films are one of the most highly-underrated categories in the Oscars and in general. If you have a short attention span like I do, short films are perfect for you. Though many of you might think to take the Short Films portion of the Oscars as an excuse to refill your wine glass, try and stick it out for this category because the Short Film nominees this year are incredible.
As Shakespeare said, "Brevity is the soul of wit." Short films cut away all excessn— the exposition, the character analysis, the continuity — and let you fill in those gaps, making for a more engaging experience for the viewer because you aren't told every little detail so you get to use your imagination to complete the picture.
If you're just dipping your toes into the short film category, here are a few films to get you started:
Aya (2012)
Nominated for Best Live Action Short Film
Aya , created by Israeli filmmakers Oded Binnum and Mihal Brezis, tells the tale of Aya, a lonely, young woman waiting at an airport for someone — anyone — to arrive. In a miscommunication with a limo driver, Aya ends up holding the greeting sign for a "Mr. Overby." When Mr. Overby arrives, Aya simply goes along with the act and drives him to his destination, along the way confessing her little charade and sparking an intriguing dynamic between the two.
As Peter Keough from The Boston Globe notes, Anya and Overby become "two lonely people in a car, the road seemingly limitless, eroticism, intimacy, and a new life within their grasp." Aya is incredibly well-acted and directed, subtly breathtaking and effortless. Clocking in at 40 minutes, Aya is a small-time commitment with a big-time payoff.
The Dam Keeper (2014)
Nominated for Best Animated Short Film
Directed by Robert Kondo and Dice Tsutsumi , The Dam Keeper tells the tale of Pig, a young anthromorphic pig who lives in a small town in a dystopian future, a town which has only survived because it contains a large windmill dam that acts as a fan to keep out pollution. Pig is the dam operator and works endlessly to keep it running to protect his town, despite being cruelly bullied by classmates and dealing with the lazy ambivalence of the town's citizens.
Films like The Dam Keeper are remarkably emotionally poignant because their use of animation to deal with difficult themes like bullying, betrayal, and ecological unrest stir up conflicting feelings within the viewer. The use of a medium like animation, which is so often utilized for telling happy tales directed at a younger audience, to deal with such serious subject matter has a marked emotional impact on its viewer and the juxtaposition of the medium and the content really removes you from the narrative and forces you to confront the serious issues at hand.
Documentary Films
Over the past few years, documentaries have become increasingly popular with the general public. The enormous popularity of documentaries like Blackfish (2013) truly demonstrate the age-old adage that the truth is stranger than fiction.
No longer written off as boring or too 'highbrow,' documentary films have forced movie watchers everywhere to realize that this new breed of "theatrically-minded, more commercially viable documentaries" is a genre to be reckoned with.
Still, despite the growing popularity of the documentary film, a movie like Last Days in Vietnam (2014) is probably not going to generate the same hype that American Sniper (2014) received. So it seems only necessary to take a quick peek at the Best Documentary nominees to shed some light on these complex, thoughtful films.
Citizenfour (2014)
Nominated for Best Feature Length Documentary
Filmmaker Laura Poitras' BAFTA-winning documentary follows her exploration of the NSA whistleblower, Edward Snowden, and seeks to capture both Snowden's story and the story of the widespread surveillance network that has flourished in a post-9/11 America.
In an interview for The Guardian, Laura Poitras said of Citizenfour :
When I think about Citizenfour, it's clearly about the issue of NSA and surveillance and the dangers of that, but it's a lot more about people who take a stance and make sacrifices when they see something they think is wrong and speak out... It's a portrait of people who are coming forward in response to some of the policies post 9/11 and saying: you know that these are wrong, they're morally wrong and they're legally wrong, and we're taking a stance.
Citizenfour is a thrilling film and, whether it wins its category or not, it is an absolute must-see. For info on where/how to watch the nominees for Best Feature Length Documentary, head on right over there article.
Crisis Hotline: Veterans Press 1 (2013)
Nominated for Best Documentary Short
A product of the HBO Documentary Film enterprise, Ellen Goosenberg Kent and Dana Perry's Crisis Hotline: Veterans Press 1 tells the chilling tale of a crisis center in upstate New York that takes calls from military veterans, most of whom are on the brink of suicide or violence.
Crisis Hotline does what an excellent documentary is supposed to do. It doesn't just tell a captivating story, it raises awareness and demonstrates a civic commitment, providing us with a "haunting reminder of the toll [of] war," both on those who fight and those who try to help pick up the pieces that remain once veterans have escaped the battlefield.
Foreign Language Film
Ah, the foreign language film — the most difficult Oscar category to be interested in, if for no other reason than that it's incredibly hard to talk about your affinity for a French indie film without sounding like pretentious. As hard as it might be for some to believe, though, phenomenal films are actually made all over the world, not just in America.
It might take a little extra brain power to put up with all the subtitles but I promise it will be a worthwhile endeavor and you might come out surprised at how much you enjoyed your experience.
Ida (2013)
Nominated for Best Foreign Language Film
Widely considered to be the front-runner in the Foreign Language category, the Polish film Ida, directed by Pawel Pawlikowski, tells the tale of a Catholic nun in the 1960s who discovers her Jewish heritage and begins a difficult journey on which she attempts to retrace her family's lineage.
Beautifully photographed in black and white, Ida is a riveting and tragic masterpiece. The film takes Ida's journey and transforms the personal into the political as the film captures both who we are and where we are going. This film might take a bit of time to process, but it is well-worth the effort and will leave you in awe.
Images: YouTube; Getty Images