Everyone Deserves Happiness on 'Parks and Rec'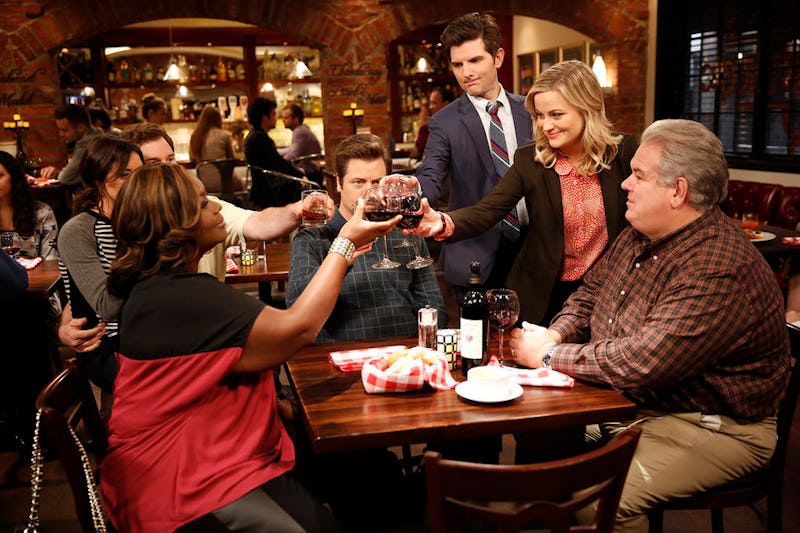 It's all happening, and it's all happening painfully quick. On Tuesday's second Parks and Rec episode entitled "Two Funerals," we were tipped off that there were going to be two deaths in Pawnee, well, because the episode's name. Turns out, those two funerals actually allowed two of the show's characters to achieve some of the greatest accomplishments in their lives. Pawnee's very own Justin Timberlake, Tom Haverford, became engaged to Lucy, and Garry became the mayor of the town. Like I said, it's all happening, you guys!
Before you get too worried about who the "Two Funerals" were for, let me calm your nerves and say they weren't for anyone that we really knew. Pawnee's Mayor Walter Gunderson — played by Bill Murray! Final season perks, am I right? — died, as did Ron's barber, Salvatore. The latter didn't really have much of a domino effect on the rest of the gang, but Ron was really sad about it. The man loved his barber, can you blame him?
It was actually Mayor Gunderson's death that set Tuesday's events into motion. With his death, there was now an empty mayor seat, which Ben, April, and Garry were tasked with filling, interim. They went through a handful of candidates — all awful, as you can imagine — when April suggested that Ben fill the vacant spot. Initially, he was game, until he realized he didn't want to become mayor in hopes of making up for his Ice Town mayor-ship. That disaster of a term led him to Pawnee, and — aww — clearly it all happened for a reason, because he has Leslie, his children, and lifelong friends now.
So instead of Ben taking the role as acting Mayor of Pawnee, he suggested that recently retired Garry take the role. Garry! And honestly, I can't imagine a better person for the gig. Except I can think of like 153 better people for the gig.
Another way Mayor Gunderson's death affected the gang was through an inspirational message that led Tom to realize he wanted to propose to Lucy, that day. Leslie being the ultimate best friend/ planner that she is, went into crazy mode and planned the most Tom Haverford proposal you can imagine (think 007 meets a really over-the-top Bachelor date). And while it was seriously the coolest marriage proposal ever — unless they could have resurrected 'Lil Sebastian, because that would be the coolest marriage proposal — Tom realized that that wasn't the way he wanted to propose to Lucy. Instead, Tom pulled off a proposal from the heart, and she said YES!
All of the characters' stories are slowly being wrapped up on the show, which has me thrilled for them, and devastated for me. Sure, I want them all to be happy, but can't they be happy in Pawnee, forever?
Images: Greg Gayne/NBC