Carnegie Mellon Accepts & Then Un-Accepts 800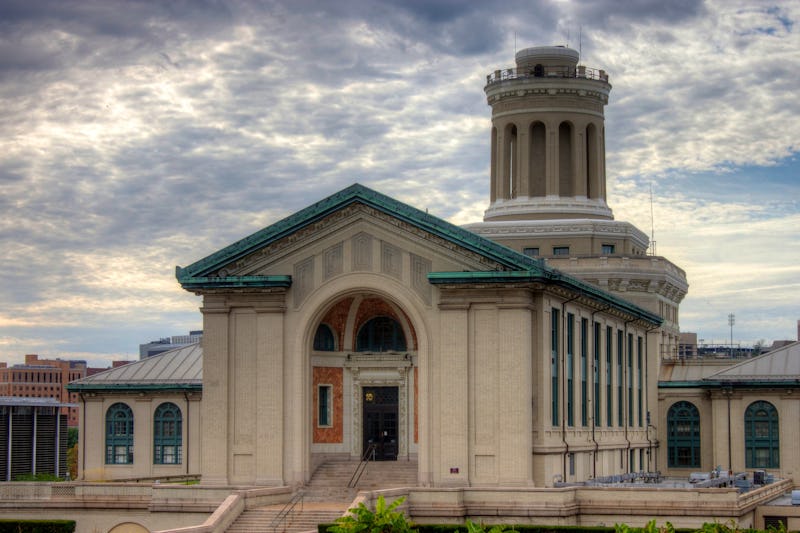 If this isn't the biggest university admission gaffe in history, then it's certainly the most ironic — one of the best computer science programs in the world messed up a simple mass email. On Monday, Carnegie Mellon University accepted 800 students by mistake to its world-renowned master's program in computer science. For a program that only accepts nine percent of its 1,200 applicants, that's about 700 people too many.
The worst part is that the acceptance email seems to have been written specifically to pump up the newly admitted student for his or her time at CMU, so you can imagine how deflated they must have felt when they received a revocation email hours later.
On Monday just before 1 p.m., CMU sent the following email, which was obtained by Gawker:
Dear: [REDACTED]
Congratulations on your acceptance into the Master of Science program in Computer Science at Carnegie Mellon. You are one of the select few, less than 9% of the more than 1200 applicants, that we are inviting. We're convinced this is the right place for you. Welcome to Carnegie Mellon!
But that's just the beginning. The email, which is quite lengthy, is essentially an electronic version of the now-vintage thick envelope packets students used to receive when accepted to a university. The email goes on to remind the prospective student why CMU is so prestigious (something they probably already knew, since, you know, they applied there).
If you'd like some bragging points, Carnegie Mellon has one of the longest records for world-leading computer science research and education — more than 50 years. US News & World Report ranks us as the #1 computer science program (though some claim we are tied). ... During their time here, students from last year's class got top engineering jobs, were admitted to leading PhD programs (including ours), and engaged in world-class thesis research, including multidisciplinary thesis work.
Exciting, right? How could you read that and not fantasize about your future engineering career? It doesn't end there. The email then goes on to highlight how wonderful Pittsburgh is, which I can personally attest to. This email is starting to become a pep rally for the big game — the big game being going to Carnegie Mellon.
Pittsburgh, our home, is truly wonderful place. You'll love it here. (We do!) As described, for example, within Wikipedia:
"Pittsburgh [has earned] the title of America's 'most livable city' by Places Rated Almanac, Forbes, and The Economist."
So at this point, these applicants are completely psyched to begin their grad program. And when you're excited, you'll probably want to share the good news, which CMU gave them plenty of time to do because they didn't send a correction email until nearly seven hours later.
At around 7:30 p.m., the school sent another mass email, this one horrifically titled "CORRECTION OF PRIOR EMAIL / REVOCATION OF OFFER OF ADMISSION TO MS IN CS PROGRAM." It read:
Dear [REDACTED]
Earlier this morning, we mistakenly sent you an offer of admission to Carnegie Mellon's MS in CS program. This was an error on our part. While we certainly appreciate your interest in our program, we regret that we are unable to offer you admission this year.
Can you imagine? Most of the students had probably already shared their good news on social media, called their families and relatives long-distance, maybe had celebratory drinks, only to come home later and receive this. After apologizing, CMU wrote:
PS: Please acknowledge receipt of this retraction.
That might be the icing on the cake. I wonder how many of these acknowledgments came with a sarcastic "THANKS A LOT" or a GIF of someone flipping the bird.
Later, the university wrote on its website:
About 800 applicants to one of SCS's master's programs, the Master of Science in Computer Science program in the Computer Science Department, on Monday were erroneously sent acceptance letters via email. This error was the result of serious mistakes in our process for generating acceptance letters. Once the error was discovered, the university moved quickly to notify affected applicants.
We understand the disappointment created by this mistake, and deeply apologize to the applicants for this miscommunication. We are currently reviewing our notification process to help ensure this does not happen in the future.
In CMU's defense, I can personally vouch for how competent and on top of things the school normally is, because I went there. As cliché as it sounds, the four years I spent at Carnegie Mellon for my undergrad were probably the best years of my life. I remember when I received my acceptance letter — which back then came in that fat envelope — I was absolutely ecstatic. Images of cavernous lecture halls, rowdy dorm rooms, and raging parties flashed before my eyes. So I can't even imagine how devastating it must feel to have those images dashed. My suggestion? Go back to individually mailing those bulky envelopes — it's a lot harder to mess those up.
Images: Jiuguang Wang/Flickr, Getty Images (3), Giphy