What Happens To Johanna In 'Mockingjay, Part 2'?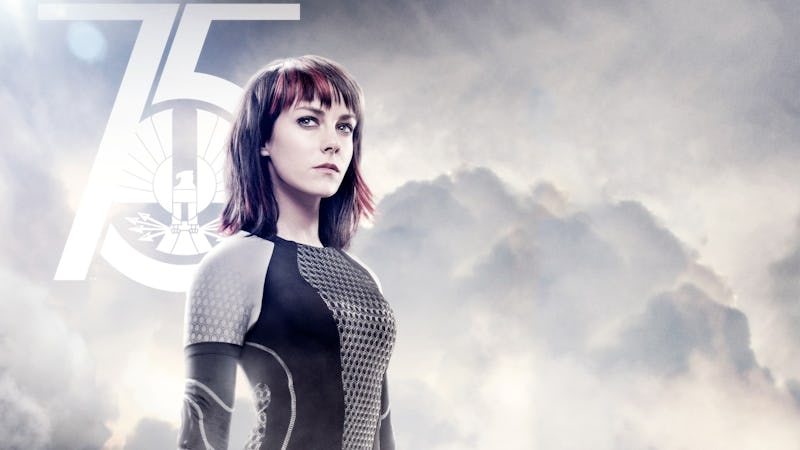 If you've seen Mockingjay — Part 1, you know that, where the movie leaves off, a lot is going on — and from where Katniss is standing, it doesn't look good. Obviously, the big issue is Peeta: he's been hijacked and is ready to basically kill Katniss, thanks to President Snow and the Capitol. Fortunately, though, good things came out of District 13's rescue mission. Finnick and Annie are reunited, making us all believe in true love again, and Johanna Mason has been rescued too. Of course, she's also a tad bit messed up, from, you know, all the torture and stuff, and we don't see much of her when the movie ends. So what's going to happen to Johanna in Mockingjay — Part 2? If you haven't read the book, you're in for all kinds of surprises.
I feel obligated at this point to issue a spoiler alert (although clicking on this article in the first place implies that you want to be spoiled). Anyway, here it is: Spoiler alert!
If the movie adaptation is as close to the story the book tells as previous movies in the series have been, we'll be seeing a lot of her in Part 2 — good news if you're like me and absolutely love her character and everything Jena Malone brings to it. In the book, Katniss and Johanna become roomies, except instead of painting each other's nails and cooking dinner together, they're training for the rebellion together. They make pretty good partners in that sense, since they have the shared horrifying experience of the Quarter Quell. And, where fighting is concerned, these two are a pretty unstoppable combination. If there's a war, I want them both on my side.
And yes, despite everything Johanna has been through, her wit remains intact, and it's impossible not to love her for it.
But then, things start to go downhill for Johanna. Being tortured obviously has left some lasting scars on her, and she's now terrified of water. Because of that, she can no longer fight in the rebellion — understandable, because, to take down President Snow, District 13 needs an essentially foolproof group. However, it still sucks, because Johanna would've been an asset if it hadn't been for that.
At the very end of the book, Alma Coin suggests there be a Hunger Games between the children of the Capitol, since they've been left out of the tradition and, now that the districts have the upper hand, it's a perfect time for a little revenge. Johanna's vote? Unsurprisingly, yes. And then, Katniss ends up killing Coin, which is how the series ends (minus the epilogue, of course).
Images: Lionsgate, Giphy