These 'GOT' Deleted Scenes Celebrate The Women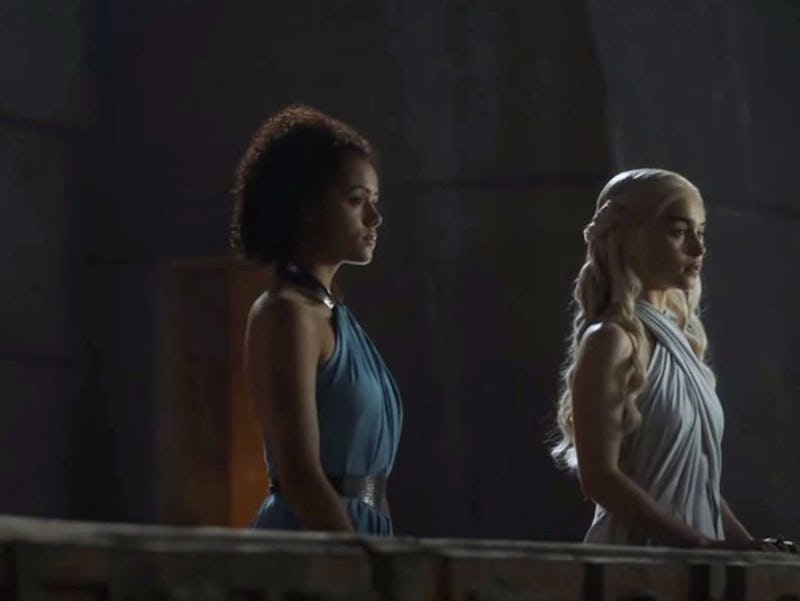 I'm sure you already know this by now, but, if you're looking for badass women on television, Game of Thrones is an excellent place to start. Not only do they have intelligent, strong, admirable women, but they write them as complicated people with multiple layers — so you don't always necessarily know how to feel about them. For me, that's a huge indicator of a feminist show — one that doesn't feel the need to package its characters up and present them with a neat little bow on top. Super bad-ass, and just one of the many reasons why I love the female characters on the show. (And in the books too, because I'm nothing if not well-rounded.)
And nothing is a better reminder of that female bad-assery than the deleted scenes from the Game of Thrones' fourth season, which were released on Wednesday. And thank goodness! Since we don't get new episodes from the fifth season until Apr. 12, we need something to tide us over. In this case, it's two short scenes that never aired, one featuring Tyrion sending Shae away, and Bronn attempting to comfort her, and another showing Daenerys immediately after she's said goodbye to Jorah Mormont. So, basically, we're watching two strong ladies revealing their more vulnerable sides, and it's a testament to the show itself that there were already so many scenes of them showing off their many facets that we didn't even miss these.
To be honest, I was never the biggest fan of Shae, but I think she does a great job being sullen and morose in this clip.
And Dany. My girl. Keep doing what you do out there, being a stone-cold badass. Great job to both of you ladies, and can't wait 'til the fifth season!
Image: YouTube