9 Ways To Get Your 'Mad Men' Fix Before April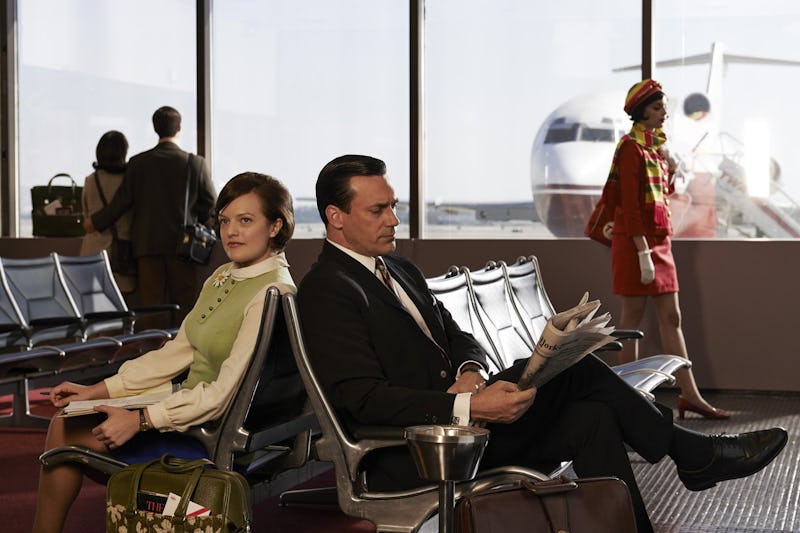 The final episodes of AMC's Mad Men start airing on April 5, shutting the door once and for all on the comings and goings of Don Draper, neé Dick Whitman. We've traveled through the 1960s with Matthew Weiner's Mad Men as he gave us our female heroes Peggy Olson and Joan Holloway, and watched as the show became one of the most iconic series on television. I love Game of Thrones and House of Cards too, but I'm a Mad Men girl through and through; the subtle darkness of American suburbia and identity just gets me goin', man. So while I wait not-so-patiently for Mad Men Season 7 to come back, I have to find ways to busy myself.
Luckily there are plenty of Mad ways to pass the time. There are a number of museum exhibits going up in the next few months to celebrate just how fashionable and beautiful the show is (and how meticulous the set design and costuming are, credit due in large part to costume designer Janie Bryant). But if you're not near one of those, there are still ways to get your Mad Men fix besides just binge re-watching all the seasons (although, if you're a Mad Men purist, you're probably already gunning through the seasons). Spoilers ahead, as per usual.
Rewatch It All
Let's get this one out of the way: refresh your memories on the first half of Season 7, which had some crazy moments like Ginsberg presenting Peggy with a gift of his own nipple in a box, the arrival of the computer at SC&P, and whatever the hell is going on with Don and Meghan's bicoastal relationship. Netflix will have the first seven episodes of Season 7 available some time in March, but AMC has the Season 7 episodes available for a limited time! But you should start from the very beginning, obviously.
Rewatch the Best Of
If you don't have enough time to indulge in all six seasons, you can pick and choose from the best episodes. Rolling Stone put together this extremely comprehensive list of the 30 best episodes, and though I disagree with them a bit on order, their number one pick is right on the money: it's The Suitcase (Season 4, Episode 7), where Peggy and Don stay up all night trying to get some work done, end up bonding, and Don pukes in front of Peggy, which is definitely an intimate moment. You share a special connection with someone you ralph your guts out in front of.
Hit The Museums
If you're lucky enough to be near the Museum of the Moving Image, definitely go to the sure to be incredible " Matthew Weiner's Mad Men " exhibit that opens on March 14. It's got SO much great stuff: the sets from Don Draper's office and the Draper kitchen, books from Weiner's collection that inspired the show, and costumes and props galore (including Joan's iconic red dress from the SCDP holiday party). I would give anything to stand in the Draper kitchen fuming and pretending to smoke a cigarette like Betty Draper. You can also catch Don Draper's signature grey suit, fedora and bar cart at the Smithsonian Museum in D.C. after March 27.
Tune In
If you wanna get an aural Mad Men experience, you can find a ton of playlists on Spotify that chronicle the music from the series. It will certainly give you nostalgia for that bygone era, and includes greats like Etta James, Roy Orbison and Lawrence Welk's "Moon River." Here's a good starter!
Brush Up On Some Mad Style
Tom and Lorenzo are doing us all a service with their Mad Style series, where they dissect the symbolism of the costuming for every. single. episode. If you wanna know why a particular character wore yellow or what it means that Sally Draper's started teasing her hair, this is for you.
Read Up
Mad Men is rife with literature; a book a character is reading means so much more than meets the eye. Remember when Don read Dante's Inferno on the beach? Of course you do. The New York Public Library has a Mad Men reading list for you. Some great picks: The Crying of Lot 49 by Thomas Pynchon and Rosemary's Baby by Ira Levin.
Drink Up
Booze is perhaps the most authentic character in the Mad Men universe. We know Don Draper drinks old fashioneds, but if you want to make your own Mad Men cocktails to drink while watching the show, or just, you know, whenever, there are plenty of recipes for the drinks of a bygone era (though many have endured). AMC's got their own suggestions, with vodka gimlets and Cuba libres; there's also the Unofficial Mad Men Cookbook, where you can learn to whip up some oysters and martinis.
And Drink Some More
Why not combine binge-watching with the show's affection for drank? There are plenty of Mad Men drinking games out there, and Mashable has a great one to span all the seasons. Drink every time "someone smokes weed, Don takes credit for an idea that isn't his, Pete Campbell storms out of a room." I'd recommend taking caution with this one, though.
Catch Your Favs In Other Movies and Shows
Even though it seems like Jon Hamm really IS Don Draper, we know that's not the case. You can see your favorite Mad Men faces in other shows and movies. Jon Hamm, of course, plays dumb dumb Dr. Drew on 30 Rock and Kristen Wiig's friend-with-benefits in Bridesmaids, not to mention his most recent cameo on Parks and Recreation. Christina Hendricks has done some dark stuff like Drive and God's Pocket with the late Philip Seymour Hoffman and directed by her Mad Men co-star John Slattery (Roger Sterling). And of course there's Elisabeth Moss in anything: recently, The One I Love and Top of the Lake, and less recently, as the first daughter Zoe on The West Wing.
And if you're really pressed for time, you can just rewatch this video of Lane Pryce punching Peter Campbell in the face over and over again.
Images: AMC, Giphy (4), NprFreshAir/ tumblr