Shi Scott Made a Major Comeback on 'Idol'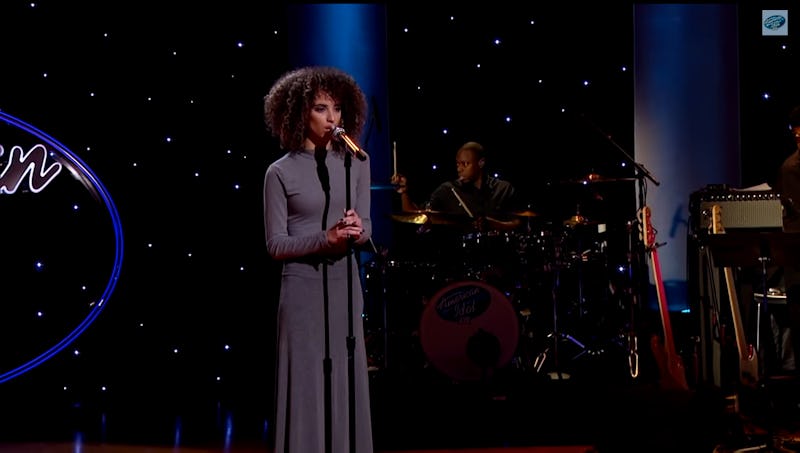 Two girls, one spot. (Sorry, I had to.) That was exactly the case at the end of the American Idol Final Judgement at the House of Blues. The final spot was between two powerhouse vocalists — Jelly Joseph and Shi Scott. Both women chose amazing rock songs to showcase their talents, but only one could move on in the competition. That lucky performer is 19-year-old Scott, who has one of the best comeback stories of the season.
Scott had a rough first audition — her nerves got the best of her and she had trouble starting the song off right. But she was able to pick herself back up and deliver a great audition, and she hasn't disappointed since. Let's not forget that Scott's first time singing in front of people was at her audition. (She had performed before for YouTube, but that was in the privacy of her own home) Getting up the nerve to sing in front of people is hard enough already. With JLo, Keith Urban, and Harry Connick, Jr. in the mix, Scott needed some major confidence. She overcame her fears quickly, and has become a natural on stage — which is what ultimately earned her a pass to the Top 24.
Scott was pinned against some tough competition in Jelly Joseph. Joseph is a seasoned performed who performs regularly around New Orleans — a city that is overflowing with talent. The 26-year-old has a voice with the stage presence to match — so why did the judges send her home? Well, the whole one spot left thing had a lot to do with it. But I think potential and age were the key factors in the decision. Scott showed so much growth over the short audition process, and it's clear she has potential to do much more. She's also young and easily moldable — which are two things record companies love because they know you will do most of what they say.
Joseph needs to be commended for the grace she showed in her exit, though. Even after being rejected, her face lit up with happiness at the opportunity and she told Ryan Seacrest that this is the luckiest she's ever felt. I started tearing up for about the tenth time this season — seriously, I never cry; what is wrong with me?! That right there is the mark of an amazing artist.
Image: YouTube - American Idol