'Song Of The Sea' Could Win The Animation Oscar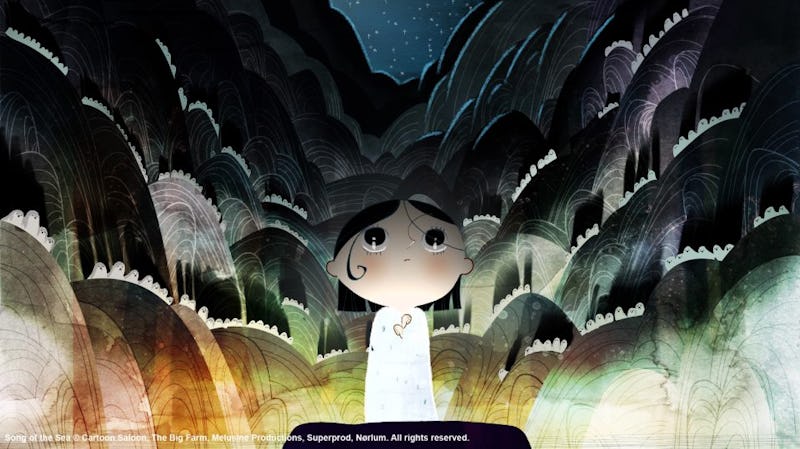 It feels like there's been more outrage than usual at this year's snubs among Oscar nominations. Though it isn't as serious as the noticeable lack of diversity in almost every other category, one of 2014's greatest animated achievements and biggest hits — The Lego Movie — was completely snubbed in the Best Animated Feature category. No, seriously. It happened and a lot of the Internet is still pissed. But Sunday night's Academy Awards ceremony will go on without any mentions of Lego people or everything being awesome outside of the Best Original Song category. It'll be OK, though, because five other quality feature films were nominated for the top animated prize at the 2015 Oscars, including gorgeous Irish fantasy Song of the Sea .
Director Tomm Moore's odyssey received a limited released by StudioCanal last December, so it hasn't exactly been widely seen, but the animation community has been in awe of the movie. Song of the Sea was nominated for seven Annie Awards (essentially the animated Oscars), and it was Best Animated or Mixed Media Feature at the Satellite Awards. But in the Best Animated Feature category at the Oscars, this little movie will have compete against big budget juggernauts like Disney's Big Hero 6, Focus Features' The Boxtrolls, and DreamWorks Animation's How to Train Your Dragon 2.
It'll be a tough race. Here's what you need to know about Song of the Sea to determine if it's Oscar-worthy.
It's Based On A Celtic Myth
Song of the Sea is based on the Irish folklore of the selkies, who are kinda like mermaid-seal creatures. Selkies swim as seals in the water, but can shed their skin to live on land as human. In this world, Disney's The Little Mermaid would've been a really short movie.
In Song of the Sea, 10-year-old Ben and his little sister Saoirse live in a lighthouse with their dad, who's still mourning the death of their mother. Saoirse is six years old and still hasn't uttered a word, which totally frustrates her older brother. But soon, Saoirse finds another way to communicate — their mother's shell flute. One night, a group of mysterious seals bring her to the sea and it turns out little Saoirse is actually a selkie — and she has an important mission to accomplish. Through a chain of events, Ben and Saoirse are relocated to the city and they must make their way back to the lighthouse to find her voice and face his fears.
Director Tomm Moore
The Irish director and artist co-founded Cartoon Saloon animation in 1998 and produced the BAFTA-nominated children's program Skunk Fu! He received his first Academy Award nomination for his first film The Secret of Kells (co-directed with Nora Twomey) in 2009. His work tends to be hand drawn and he likes it that way — even if everything's 3-D and CGI these days.
"I think today 2D animation has a responsibility, much like painters had after photography was invented, to reinvent what it is," Moore told Cartoon Brew. "It can't go after realism, because there is no point; it has to do something only 2-D can do. In painting, we got Expressionism, Impressionism, Cubism and other modern movements because of photography."
Inspired By Actual Seals
Moore got the idea to make his future Oscar-nominated Song of the Sea a few years ago while sketching on the beach in West Ireland — and a bunch of dead seals washed up on the shore. Yikes.
"When we asked why there were so many dead seals on the beach, our landlady said local fisherman were killing them out of frustration with falling fishery stocks," he told Cartoon Brew. "She said it wouldn't have happened years ago, when there was a belief system that deemed seals sacred because they were the souls of people lost at sea, or actual selkies. That started me thinking that folklore and superstitions serve functions beyond entertainment, or quaint stories for tourists. They bind people to the landscape, and that is being lost."
And now, Moore has brought the mythology to the movies.
Images: SongoftheSeaMovie/Facebook (2)