'TheTale Of The Princess Kaguya' Deserves An Oscar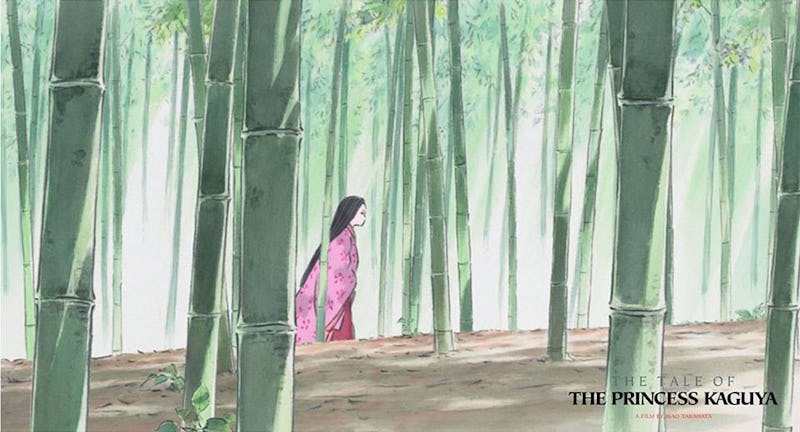 Even before Pixar, a whole other legendary studio existed in animated filmmaking — and still does. Japan's Studio Ghibli has consistently churned out some of the greatest modern animated films, including Spirited Away, Grave of the Fireflies, Kiki's Delivery Service, My Neighbor Totoro, Princess Mononoke, and Only Yesterday. Sure, these may look like regular ol' anime cartoons, but they've got a lot of heart, soul, and Oscar-worthiness. The studio continues that tradition with The Tale of the Princess Kaguya, an Oscar nominee for Best Animated Feature.
Despite Studio Ghilbli's top-notch reputation, only one of the company's films has taken home a little golden man for the top animation award: Spirited Away in 2002. But I think I need to note that the Best Animated Feature category at the Academy Awards is very young — it was established in 2001 and most of Studio Ghibli's best work has pre-dated that by a decade (if you haven't seen 1988's Grave of the Fireflies, do it now and make sure you have all the tissues in the world). That's OK, though, because The Tale of the Princess Kaguya is the first film from Grave of the Fireflies director Isao Takahata since 1999 and it's already received very glowing reviews from critics. It's also 100 percent certified fresh on Rotten Tomatoes and we all know that's a really tough feat to accomplish.
Here's what you should know about the film that just may bring Takahata an overdue Oscar.
Based on a Folktale
The Tale of the Princess Kaguya is based on the story "The Tale of the Bamboo Cutter" and the movie seems to follow it pretty closely. Both stories open with a a bamboo cutter finding a tiny baby in a stalk of bamboo. Of course, he keeps the little child, raises it with his wife, and they call her "Princess." But this kid doesn't stay tiny for long — she grows rapidly into a young woman and and a real princess, because her family's fortune begins to grow and their nobility is established.
Soon, it's revealed that Princess Kaguya isn't actually of this Earth, but she desperately wants to stay. Not for the riches, but for all the laughter, joy, and struggle that makes being human, well, a totally human experience.
Director Isao Takahata
The 79-year-old Japanese director doesn't draw, but he's always been drawn to making animated films with strong visual storytelling and elements. He co-founded Studio Ghibli along with fellow director Hayao Miyazaki, who won the Oscar for Best Animated Feature for Spirited Away in 2001.
Takahata's films don't shy away from tough subjects. Grave of the Fireflies is about two homeless and starving orphans in Japan during World War II. Only Yesterday was a romantic drama about a woman questioning the decisions she's made in life (and there were no monsters or supernatural elements). And Pom Poko from 1994 was about saving the forest — and the shape-shifting "raccoon dogs" (or tanuki in Japanese folklore) who set out to do it.
It's All Hand-Drawn
This isn't a 3-D, Pixar, or Tron-like movie at all. The Tale of the Princess Kaguya is completely hand-drawn and you can totally see the brushstrokes and all on-screen —which is definitely intentional.
"We want to fuse the styles, the Japanese and the Western," Takahata told the Associated Press. "To express things with a stroke of a line is Japanese tradition, but we do it with a proper understanding of dimension. It is about the essence that's behind the drawing," he said. "We want to express reality without an overly realistic depiction, and that's about appealing to the human imagination."
Images: ThePrincessKaguya/Facebook (2); Getty Images