The Outfits You'll Want To Try This Weekend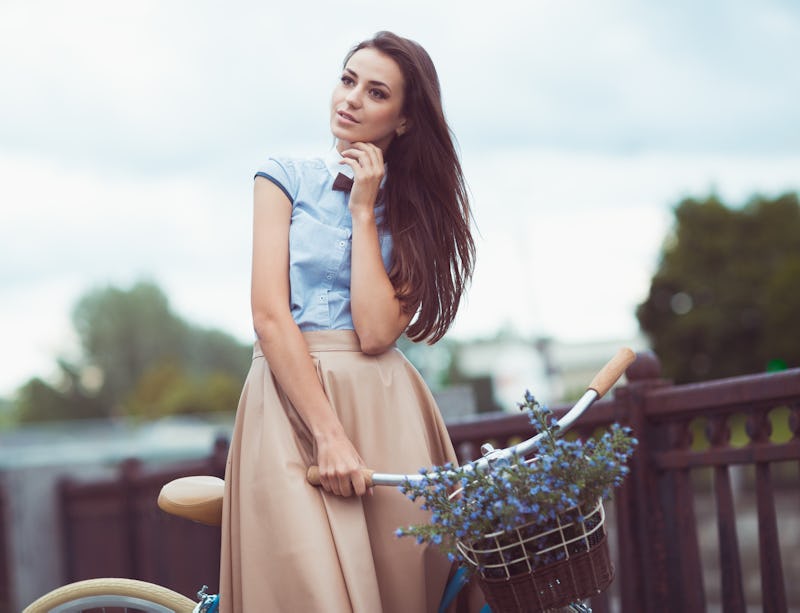 I've said it once and I'll say it again: February is the worst month. You're at that stage where you can't look at your salt-stained boots anymore without wanting to cry on the inside, and it's so cold that you've scrapped any delusional ideas of looking stylish and have wrapped yourself in the parka version of a down comforter. It's game over; we're all in survival mode. All those praline hot chocolates and fishermen sweaters that once made us love this treacherous season are now the very things we hate.
But we're slowly creeping our way towards the end, friends. Store windows are starting to roll out their displays of popsicle colored dresses and watercolor pants, and the weather could flip at any moment now. I mean, if there is such a thing as mercy out there.
Inspired by that little scrap of hope, why don't you ditch the woolen socks and fleece sweatpants this weekend and actually venture outside into the city? Exit out of [your friend's] Netflix account, put on a cheerful dress, and reacquaint yourself with how it feels to do more than grunt at people underneath a mass of scarves. Inspired by this newfound motivation, here are four ideas on what to do this weekend, and suggestions on exactly what to wear to them!
1. What To Wear To A Cocktail Class
Tired of all the effort it takes to look like you know what you're doing when flipping through a fancy cocktail list? If you're anything like me, than you do a whole lot of squinting and apologetic smiling at no one in particular, as if you forgot your reading glasses and might not even be at the right bar to begin with. I mean, most of the time I'm fine ordering something fizzy with bits of fruit bobbing around, but what happens when you're hosting a house party and someone asks for a Manhattan? Is it socially acceptable to hold up a "one moment" finger, hand them the gin bottle (though that's not even what a Manhattan has in it...) and then casually walk out the front door, knowing you'll have to find a new apartment to lease come morning. I mean, I think it's acceptable but most would probably disagree. Instead, put on your faux-leather midi dress and sign yourself up for a cocktail class, where you'll learn how to shake and stir with the best of them.
To give your dress some winter layering, pair it with a statement knit: one that comes in deep and warm shades and a busy pattern. If it's longer in length, it'll add some fun proportions to your look, giving you a cozy but chic touch. Add in a wide brimmed hat for interest, and then some sturdy wooden platforms to tie in the "sophisticated bohemian" vibe. If there's still snow on the ground where you live, just add in some tights and woolen socks a la granny chic style.
Leather Effect Layered Shirt Dress, $79, ZaraFringed Sweater, $80, ZaraLeather Platform Sandal, $100, ZaraFelted Velour Wide-Brimmed Hat, $500, Matches Fashion
2. What To Wear To A Tapas Bar
Grab your favorite people and force them outside of their hermit holes to join you at a tapas bar. Claim the corner booth as your own and spend an evening noisily passing around small plates, sipping on generous glasses of wine, and being brave with your dish choices. Marinated octopus with sweet peppers and sherry vinaigrette, anyone? As for what to wear, satisfy some of your spring cravings by taking out a striped summer dress and giving it winter appropriate layers. Shrug on a shearling leather coat in a lighter brown color to match the airy hues of the dress, and add in some thick platform heels with socks or tights to add substance to the look. The heaviness of the shoe will tie in with the winter jacket, giving the outfit balance. Add in a cat-eared beret for some cheek and you'll be the cutest one there that's hogging all the bacon wrapped dates.
Nautical Stripe Shift Dress, $95, Top ShopFaux Shearling Lined Jacket, $120, MangoLeather Bucket Bag With Tassels, $100, ZaraLeather Sandals With Track Sole, $139, ZaraBrown Wool Blend Beret With Cat Ears, $31, Chicnova
3. What To Wear To A Tiki Lounge Bar
Alright, granted, not all of you are stranded in a winter purgatory. Some of you are already donning bare legs and have long ago packed away the long johns and thermal wear. You can already start playing with some of the spring looks that are rolling their way into shop windows, and what better way to debut one of these playful numbers than at a tiki bar? Sip dangerously potent cocktails out of coconuts and sit underneath hot pink neon signs as you smooth down your electrically cheerful midi skirt. To give the statement piece a more casual factor, pair it with a navy crop top and a woolen cap, giving the look an appealing tomboy vibe. To further accentuate the laid back feel of the outfit, opt for a pair of chunky sandals, and then contrast the look with an elegant coat and cross-body bag.
Textured Box Pleat Midi Skirt, $90, Top ShopCollarless Double Sided Coat, $149, ZaraShort Blouse, $30, H&M Colorblock Wool Baseball Cap, $40, J.CrewFondant Strap Sandals, $95, Top ShopFlap Cross-Body Bag, $60, Mango
4. What To Wear To Tacos And Tallboys
When going to get some ace tacos and tallboys with friends, go for a minimal but quirky look to the cash-only bar. Play with spring fashion but in a winter-appropriate way by choosing summery colors and patterns in thick materials. For example, go with a flirty gingham two piece, but pair it with a wool coat in a happy sherbet color. Then add a knit pompom beanie in an equally soft hue, and tie the look together with heavy hardware booties. This way you're not bogged down in the depths of winter with dark and deep shades, but you're still sticking to long sleeves, wools, and knits.
High Waisted Check Shorts, $80, ZaraCheck Japanese Sleeve Top, $80, ZaraLeather Bootie With Ankle Strap, $119, ZaraCable Faux Fur Pom Beanie, $28, Top ShopStadium Cloth Cocoon Coat, $320, Jcrew
Now, wasn't this so much better than camping underneath your blankets?
Images: Fotolia; Courtesy Brands