Exploring Menswear As Womenswear With 12 Looks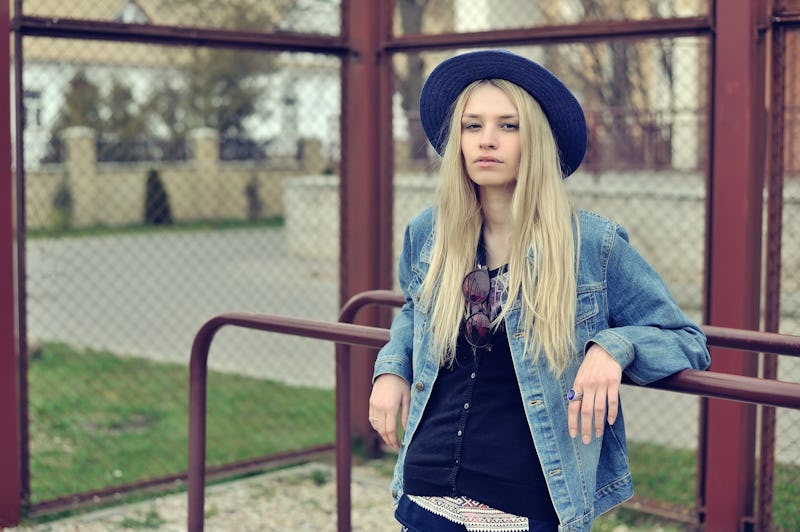 There's something about wearing a masculine piece that makes you, as a woman, feel a certain way. It's as if in the process of hiding your femininity, you highlight it all the more — but in subtler, quieter ways. The way you have to roll up the sleeves of an over-sized button-down, so it doesn't fall over the tips of your fingers. How the duster coat reminds you of your handsome father during the winter, but looks so sweet paired with your midi dress. The way your up-swept hair looks against a heavy tweed blazer — flirty and unassuming. The beauty of the look — and its appeal — is that the effect is unintentional.
You're trying to dress up like a boy but still look like a girl. You can wear bulky, masculine pieces — wrap yourself in pleated trousers and wool sweaters — and still feel the same way you would in a dress. The key is in how you style it. Challenging these associations can be fun, but it's sometimes a hard look to balance.
Below are 12 stylish ladies that show us how to embrace the masculine look but in a way that expands our idea on what it means to be feminine. Let's widen our idea of what it is to look womanly, and try dressing up using these simple rules:
1. Balancing Game
Going for loose trousers, or a sportier top? Give the look a classier touch by balancing it with sleek and quietly elegant pieces. Choose sharp heeled loafers or a well structured bag to soften the outfit, and the strength in the pieces will still maintain that masculine vibe.
2. Dressing It Down
Have something floral and sweet on, but want to give it a tomboy edge? Try wrapping a sweater around your waist and adding a cap over pulled-back hair. They're small details, but interject some boyish charm into the look.
3. Dressing It Up
Going for a baggier silhouette with boyfriend jeans and loose knits? Give the look some polish with your accessories, pairing the outfit with classic loafers and a cross-body bag with clean, strong lines. The mix of casual and tailored will create a playful, balanced contrast.
4. It's All In The Lines
Want to try an over-sized blazer but are worried you'll get lost in it? Choose one with clean, tailored lines. Make sure the shoulders are strong and the sleeves are thin so the bulk is in the length of the piece, and not the width. Then play up the masculine vibes by pairing it with a white button-down and loose fitting jeans — but then soften the look with elegant shoes and a sharp bag.
5. Balance Your Proportions
When going for a bulkier top, balance out the weight of it with slimmer bottoms. Pairing a loose turtleneck with an over-sized blazer? It's easy to cross over into bag-lady territory with that kind of pairing — but you can skirt just around it when you opt for tighter fitting jeans and polished boots.
6. Mix Bagginess With Elegance
Found yourself a cozy, grandpa-inspired coat? Chances are you can end up looking like one of the Olsen twins in it, and not in the good way. Even out the shapelessness of the piece by pairing it with elegant accessories, like tailored trousers, stiletto booties, and a strong, minimalist bag. Keeping the rest of the elements in the outfit quiet and elegant will give the baggy piece a sharper feel.
7. Play With Masculine Cuts
Maybe you're not quite ready for the suspenders and penny loafers, but you might want to play with pieces that have a manlier cut or shape. Find dresses with sharp, oxford collars, blazers that fall well over your hip, and beanies that add some cheek to a sweet frocks. While your patterns and colors still might be feminine, experimenting with masculine shapes is a good way to dip your toe into the water. Who knows — you might be ready for a good elbow patch sweater next!
8. Look For Feminine Details
You don't have to go all-out tomboy in your wardrobe; you can sneak the elements of it into the undertones of your look. For example, go for a boxy jacket but look for one with feminine details, like a shorter sleeve. Or go for a polished, understated outfit and add your masculine touches in the form of accessories — like with a strong, wide-brimmed hat.
9. It's All In The Boots
Sometimes all it takes is choosing the right kind of shoes. Give your sweet dresses some edge by pairing them with clunky, robust looking boots. The contrast between the clean silhouette and the hard shoe will make for a fun pairing.
10. Mix Tweeds
Go all-out professor chic and mix your tweeds. Take your tweed blazer and pair it with a similar winter coat, doubling up on your grandpa-chic. Round out the look by pairing it with black rimmed reading glasses, and give your look a flirty touch by setting your hair in playful curls. It'll give a touch of youth and fun to the serious look.
11. Go Either Baggy, Or Long
Wearing baggier pieces can be a tricky thing to do, especially if drowning in yards of cloth isn't necessarily your idea of a good time. Balance loose-fitting shapes by making sure they're cropped in length. Want a tent dress? Choose one that's a mini. Want a voluptuous full skirt? Try matching it with a blouse that hits around the belly button. Want to pair loose pants with a roomy top? Make sure the sleeves and legs are cropped so as to give you some height.
12. Cuff It
When playing with loose-fitting androgynous pieces, one of the easiest ways to give yourself some proportion control is to cuff things. Have boyfriend jeans paired with clunky boots? Cuff them a bit to give the line of the leg some shape. Have an over-sized coat or a baggier top? Cuff the sleeves and the some of the bulk gets negated. It's a minor detail, but it goes a long way.
Images: Fotolia; Instagram/Courtesy Users