Did Trevor's Quirkness Get Him to the Top 24?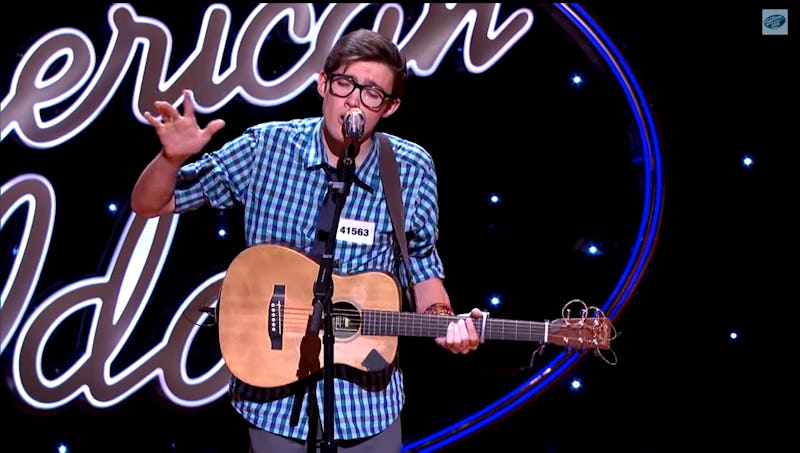 The Final Judgement is almost finalized. There are very few spots left in the American Idol Top 24 — only two-thirds of a spot if you ask Trevor Douglas. Another thing you should ask the science geek? If he made it to the Top 24. The answer? Yes. The 16-year-old wowed the judges with his overall awesomness and will perform with the Top 12 guys for America's vote next week.
There was one thing about Douglas that struck me more than his vocals — his quirkiness. I haven't noticed him up to this point, but he completely won me over tonight. His quirkiness will get him far in the competition and here's why:
He makes weird, but phenomenal, song choices. Not only did he tackle Elvis, he did so in a cool, alt-rock way that made the song completely his own. Risks like this will stand out to both the judges and America, and will give him an advantage over his competition.
He gives the best commentary. Douglas claimed he couldn't move on in this competition because he "didn't bring any science books" with him. Luckily he has time to get them, and do his homework (which he and mom agreed was how he would celebrate his victory) before the Top 24 performances, because he's obviously moving on. It's clear that Douglas doesn't try to be funny — he just naturally is funny. I can only imagine what he will come out with as the stress of Idol gets to him. His natural humor will definitely help him win over America.
He's very talented. I have to say it, okay? The kid can sing. And even better — he gives a great performance. Two key ingredients to winning Idol.
Will Douglas' quirky glasses and plaid shirt win him the title of American Idol? Probably not. But he will at least provide much entertainment along the way. As long as he finishes his homework first.
Image: YouTube - American Idol