Michael Could Be the Next 'American Idol'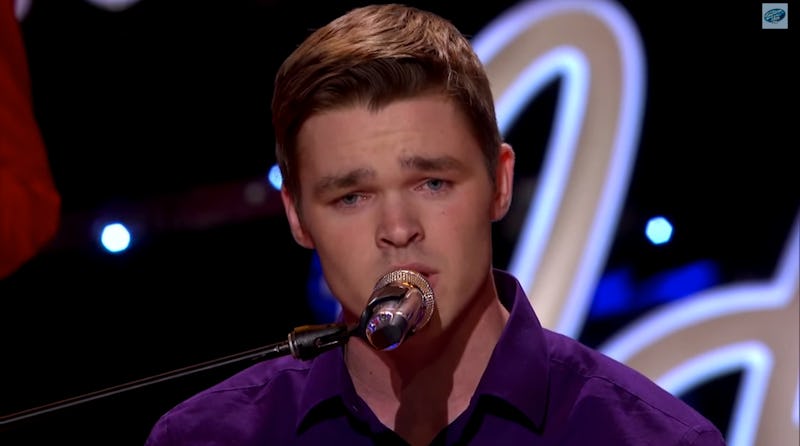 American Idol is getting serious this week in Hollywood. The Top 48 are taking their auditions to the House of Blues and in front of a live audience. Kicking off the showcase was 21-year-old Michael Simeon, who danced his way into JLo's heart in his first audition. He took a major risk by rapping in his cool rendition of MKTO's "Classic." With the Top 24 right around the corner, this could have blown up in Simeon's face and been a huge mistake. But thankfully, it paid off. Michael Simeon is the first of 12 men to make it to the Top 24.
So he made it to the Top 24, but does he really have what it takes to be the next Idol? Absolutely. Here's why:
He's a charmer. Let's rewind to that memorable first audition. JLo was completely mesmerized by both him and his voice. If he can win over an international celebrity, then he's sure to win over all the women of America — and plenty of men, too.
He can sing. Sure, he's got the charm. Many small-town farmers do (see: Chris Soules). But not all charming small-town farmers can sing (see: Chris Soules). Simeon can sing. He can also rap, which makes him about a million times more amazing in my book. Not only is his voice strong and crisp, but it is also versatile, which is key to winning Idol.
He's exactly what America is looking for. Let's face it — Simeon is very similar to many artists that are currently on the music scene (think Nick Jonas and One Direction). His personality and looks will definitely appeal to fans – come on, he's adorable. Young girls will go crazy over him, and older women (aka me) will secretly crush over him. Though his charm will make everyone go nuts, it's But voice and cool guy style will sell records and keep fans coming back.
It's clear that Simeon is the whole package. He definitely has a chance to make it far in this competition. The rest of the Top 24 have yet to be revealed, so it's tough to declare him the winner yet, but his chances are very high. He'll just have to beat my girl Jax first.
Image: YouTube - American Idol