Can You Pass Jimmy Kimmel's Fashion Week Test?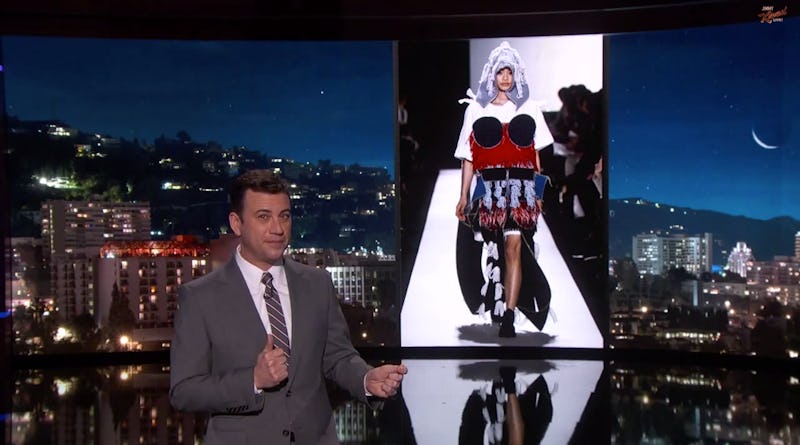 To the untrained eye, pieces from New York Fashion Week might look like awkward costumes a person shouldn't actually be wearing. But fashion is a lot like art; some pieces look like a five-year-old kid created them, when in reality they cost more than a small car. To prove this point, Jimmy Kimmel created a fashion week test, in which viewers had to guess whether an outfit was from fashion week or created in photoshop. Even I have to admit: I may have guessed wrong on some of them.
As Kimmel mentions, it's not just fashion week (although if you've been following it closely, it definitely seems that way). Other stuff has been happening in the world, too. For example, on Friday, Adobe Photoshop will be turning the big 2-5. Which, side note, is crazy. Who knew it's been around for so long!? As a result, Kimmel picked a few of the most ridiculous looks from fashion week and mixed them up with a few photoshopped looks that are equally ridiculous.
Now, I would never call myself unfashionable, but after taking this test, I have to say that Kimmel is right. There are a fair number of legitimate pieces that walk down the runway and make me go whaaaaa? So, go ahead and test your skills with this quiz, mostly so I know I'm not alone in failing.
Tell me the truth — how many did you guess right?
Images: Youtube