Ellie & Jane On Their 'Kimmy Schmidt' Roles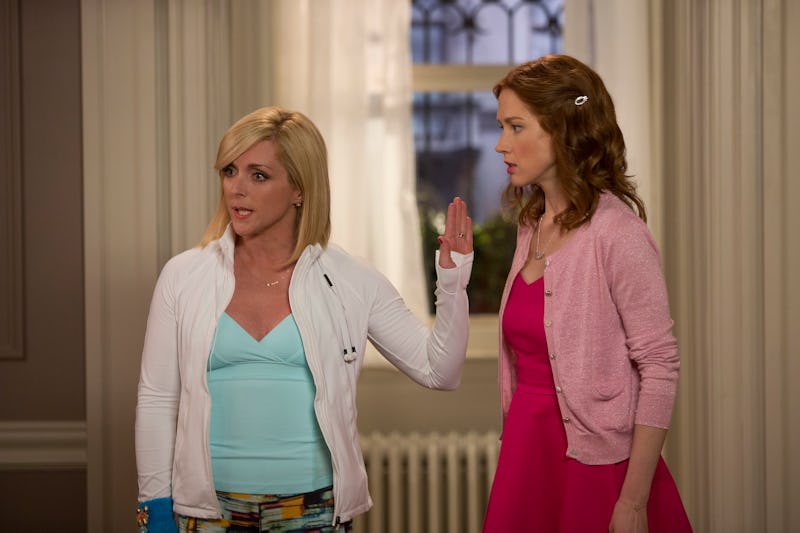 When word broke that Tina Fey and Robert Carlock were developing a TV show starring Jane Krakowski and Ellie Kemper — Unbreakable Kimmy Schmidt —, every NBC comedy fans' worlds collided. Jenna Maroney from 30 Rock and Erin (did she have a last name?) from The Office, joining forces with the Tina Fey, holy Hell this was going to be good. The series, which premieres March 6 on Netflix, revolves around a woman, Kimmy Schmidt — Kemper — who has just been rescued from an underground, faux post-apocalyptic cult after 15 years, and decides to start her new life in New York City. Kimmy's naivety is obvious, but her "tenacity" and "resilience" is refreshing, which is something Kemper explains differs from a certain past character she has played, in a Q&A during an early screening of Unbreakable Kimmy Schmidt.
If you remember back to The Office, Kemper played an scatterbrained receptionist — Erin — with a heart of gold, and the similarities between Kimmy and Erin are hard to not notice. "They can both come off as ditzy," Kemper explains, "I would say Kimmy has a resilience and tenacity that maybe Erin didn't quite have to the same extent, because of the circumstances she was forced to go through." The "circumstances" are, of course, being kept underground in a cult for 15 years, while believing the world as you knew it — the '90s — didn't exist anymore. Erin Hannon, of The Office, grew up jumping from foster home to foster home, but her story rarely focused on that due to the ensemble cast the show worked with.
"I don't think you come out of that, where you aren't able to survive something like that, unless you have a fierceness and a very strong core," Kemper says of Kimmy Schmidt. The strength that she speaks of is evident in the drive and determination Kimmy has to remain in New York, despite sitcom difficulties that occur within the first couple of episodes — and surely beyond.
But Kemper's character isn't the only familiar personality fans may recognize while watching the show. After deciding to remain in the city, Kimmy takes employment with Jacqueline Voohrees — Jane Krakowski — who is very wealthy and high maintenance, an often dangerous combination in New York. Her character rings true to the wonderfully written Jenna Maroney, of 30 Rock, a character also created in the genius mind of Tina Fey, and executed to perfection by Krakowski herself.
"I've always approached the characters very differently," Krakowski spills of her character Jacqueline compared to Jenna. "There was a day when Tina just broke it down for me and said, 'Well Jenna was a horrible person,' — which was good to learn after we finished wrapping five seasons — 'And Jacqueline, at her core, is not.'"
And while at the core, the characters Erin and Kimmy, and Jenna and Jacqueline differ, there is still something honest and true that rings through the roles. "I think that they share an optimism and a sense that the world is good," Kemper says of both her roles, "Which is a nice way to look at things."
You can watch Ellie Kemper and Jane Krakowski in Unbreakable Kimmy Schmidt on Netflix, March 6.
Images: Eric Liebowitz courtesy of Netflix (2)