What's The Song In That Taco Bell Coffee Ad?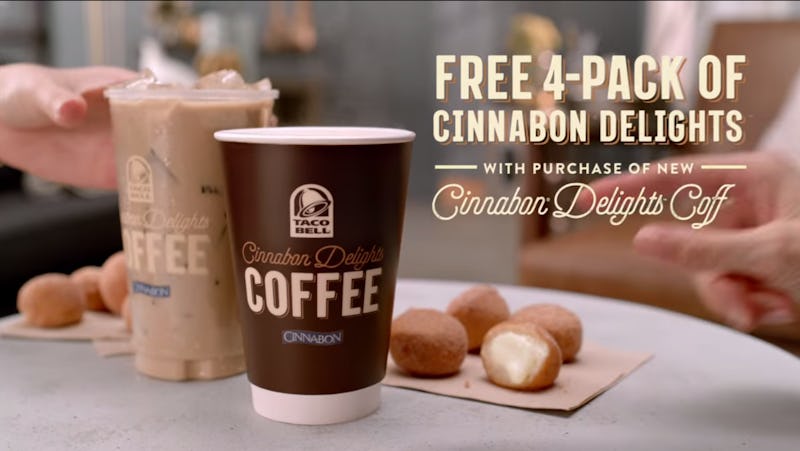 If you think a cinnamon roll-flavored coffee drink sounds like an excellent way to wash down brekkie items such as the Country AM Crunchwrap or the Waffle Taco, you are very much in luck: Taco Bell now serves Cinnabon Delights Coffee. In a TV spot for the new beverage, a beat drops, frosting-filled cinnamon sugar donut holes collide in slow-motion, and said donut holes transform into coffee. I don't know what caused the donut holes to morph (I'm going to guess there's someone casting spells just out of the frame), but I think I found the song in the Taco Bell Cinnabon Delights Coffee ad: It's either "Walking On The Sun" by Josh Baze or "Walking In The Sun" by DJ Alie Layus. According to YouTube commenters (i.e., my top sources for everything in life), Layus produced Baze's song. (Shoutout to the YouTube commenters and the 90-second iTunes clips for helping me reach any answer whatsoever. Couldn't have done it without you.)
OK, truth time: I cannot locate a free version of Josh Baze's song on the Internet. Sorry to disappoint. (If you would like to hear it in its entirety, "Walking On The Sun" is available for purchase on iTunes.)
Here is Alie Layus's "Walking In The Sun":
While looking around for "Walking On The Sun", I happened upon something else. And that "something else" is this music video:
And yes, it'll be stuck in your head for the rest of the day. No use in fighting it.
Image: Taco Bell/YouTube