The Emmys Just Changed Everything Up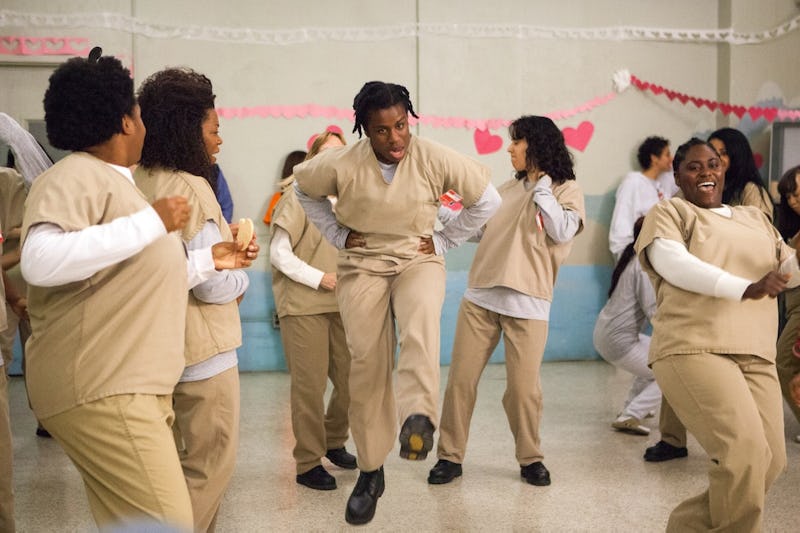 One of the biggest awards show shake-ups in recent memory just took place, and surprisingly, it has nothing to do with this weekend's Oscars. On Friday afternoon, the Television Academy announced that the Emmys will premiere all new rules at this year's show, from the number of series nominees to the length a show can be to be considered a comedy to what's required to deem something a miniseries (better luck at the Golden Globes, Sherlock).
It's a huge amount of information to process, and for the casual TV fan, it might seem pretty overwhelming. Not to mention, it's confusing as anything; even if one just glances at the new rules plenty of questions are bound to be raised: do the changes mean that Orange is the New Black is now a drama? Can Joe Morton still take home prizes for Scandal? And, most pressingly (at least for me): what the hell is Jane the Virgin supposed to do?
I've answered those questions, plus several more, below. Here's what all the new Emmy rules mean for the shows, actors, and water-cooler talk you love:
Change #1: Comedies are series with episodes that run 30 minutes or less
What It Means: In the past, any show, regardless of length, could fit into the Best Comedy Series category if voters deemed it funny enough. Now, though, they must be sitcom length or shorter.
Who's Affected: Orange is the New Black is the first show that comes to mind; last year, the series — which is very much not a comedy, but a drama/comedy hybrid — competed in the lighthearted category. Now, it'll be be better placed in drama, but will also be up against heavyweights like House of Cards, Game of Thrones, and Mad Men, so it's a mixed blessing. Other "really, this is a comedy?" shows like Shameless will also be affected.
Change #2: Seven shows will compete for Best Series
What It Means: Past Emmys featured six nominees in each race for Best Series, but now one more show gets to fit into each side's competition.
Who's Affected: This could be great news for shows like Parks & Rec (come on, it's its last season!) and The Good Wife, series that've been unfairly snubbed in the past.
Change #3: Miniseries is now "Limited Series"
What It Means: In order to be considered a miniseries, a show must have at least two episodes, be at least 150 minutes total, and — most crucially — tell a complete, non-recurring story that doesn't have anything to do with following seasons.
Who's Affected: Sorry, Sherlock, but this is bad news for you. Same goes for you, Luther. True Detective and Fargo, though, have better luck.
Change #4: Drama and Comedy nominees are at least six episodes long
What It Means: 24-episode series? So outdated. It's all about the short series, now, and the Emmys are acknowledging that, allowing contenders for Best Drama and Comedy to have a minimum of six episodes.
Who's Affected: This is where shows like Sherlock and Luther, who no longer qualify for Miniseries, get a chance. It's still not great, though, as they're facing far tough competition amongst the more established and widely-seen shows.
Change #5: Guest Actor nominees appear in less than 50 percent of a show's episode
What It Means: Any actor who wasn't a regular, but still appeared in a majority of a show's episodes, no longer qualifies for a Guest Actor nomination.
Who's Affected: Mad Men's Robert Morse wouldn't be nominated, nor would Shameless' Joan Cusack or — gasp! — Scandal's Joe Morton. Here's hoping someone puts him in the Supporting Actor race, stat.
Change #6: Variety Series consists of two categories, Talk Variety and Outstanding Variety Sketch
What It Means: Any actor who wasn't a regular, but still appeared in a majority of a show's episodes, no longer qualifies for a Guest Actor nomination.
Who's Affected: SNL would now be considered a Variety Sketch, so it'll no longer compete with shows like Jimmy Kimmel Live! and The Tonight Show. It also means a better shot at Emmy for shows like Inside Amy Schumer, a series that might otherwise have a tough time against such "regular" variety shows.
Change #7: Exceptions can be made
What It Means: If producers of a series truly believe that their show doesn't belong in the category it's assigned, they can plead their case to the Emmys for an exception to be made.
Who's Affected: Unknown — but I have a feeling Jane the Virgin (hour-long, so drama, but funny, so a comedy?) and Nurse Jackie (half-hour, so comedy, but serious, so a drama?) will be taking full advantage of this rule.
Images: Netflix (2); NBC; HBO; BBC; ABC; Comedy Central; The CW