If Kim Jong-Un's Haircut Became A Thing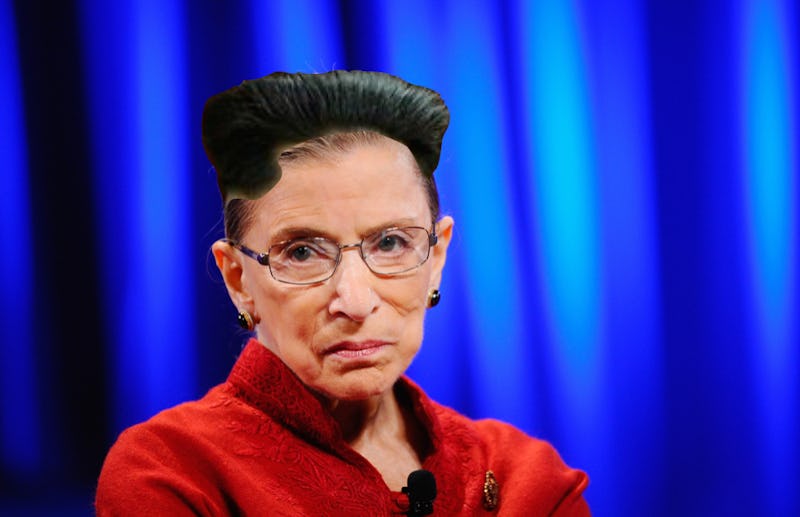 "The Rachel" has nothing on Kim Jong-un's latest 'do. After the North Korean dictator debuted a stunning new haircut at a political gathering on Wednesday, the social mediasphere was left buzzing. Immediately, photos of Kim's new style began saturating Twitter and joking comparisons to Jersey Shore's Pauly D, inanimate objects, and cartoon characters abounded. It was a puzzling choice, to be sure. But there was one really important question left up in the air: exactly how fabulous would Kim Jong-un's new haircut look on other people?
"The Kim" — as it should surely be referred to — is a unique look to say the least. But if the North Korean government is going to force millions of its citizens to adopt the haircut themselves, as the BBC reported in March 2014, it makes sense to have a helpful guide to which people can refer, one that includes various images of others sporting the new look.
Putting aside Kim's microscopic eyebrows, which must surely have been the result of a chemical lab accident or a tweezer-happy salon assistant (and for which society has yet to offer a viable at-home how-to guide), we've decided to address the question of universality by recreating the incredible haircut on some of society's most famous faces.
Ruth Bader Ginsburg
The Notorious RBG would probably look amazing in just about anything, but this look is definitely our favorite.
Ryan Gosling
With a look like this, Gosling can save us from a speeding car any day.
Hillary Clinton
Now no one will ever stop talking about her hair. UGH.
Sarah Palin
Did she pay someone to do this? How much did she pay someone to do this? The nation needs answers, Sarah!
Donald Trump
Wait... are we sure this one is actually Photoshopped?
Images: Getty Images (5, altered)