The 'Housewives' Amsterdam Hotel Is Made For Drama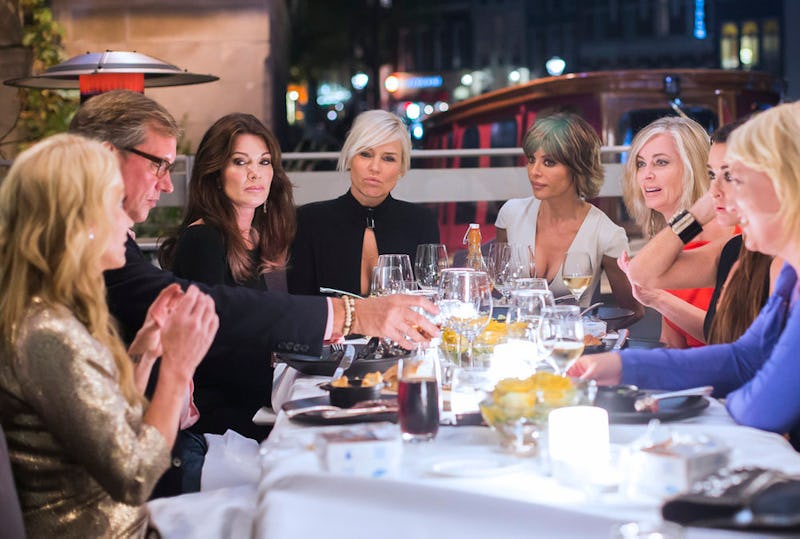 Buckle your seat belts, ladies and gents, because it's that time of the season when we leave the tiny dogs, swans, and attention-seeking husbands behind and go on a little Real Housewives of Beverly Hills adventure. In the past, the ladies of the 90210 have terrorized New Yorkers, Hawaiians, and Parisians. Now they're finally flying off to Yolanda Foster's neck of the woods, Amsterdam. Judging by the swanky hotel the RHOBH stayed in during their trip, this is not going to be your typical hometown visit.
It looks like the Housewives stayed at De L'Europe, located right along the Amstel River in Amsterdam's historic city center. You can see them enter and exit the hotel in this YouTube video posted last October.
Though it was opened on Sept. 23, 1896, De L'Europe now stands where the Rondeel Tower once was as part of the wall that protected Amsterdam from intruders in the late 15th century. If it can withstand more than 100 years of historical, social, and political movements, one can only hope that De L'Europe is still intact once the Housewives are done with it.
Of course, De L'Europe is a five-star hotel. What, did you really expect these ladies to shack up anywhere else? As such, the hotel has pretty much all of the amenities a girl could need to unwind from a day of talking behind her frenemies' backs, such as luxurious rooms, a Michelin-starred restaurant, and a spa. Just try to imagine the Housewives going ballistic in all of these places.
And, as the below video shows, De L'Europe has umbrellas too! Check the logo. Wow, this hotel really does pull out all the stops when American royalty comes to town.
Strangely enough, it seems like De L'Europe attracts drama of both the real, ahem, and the fictional variety. The Bold and the Beautiful filmed on location in Amsterdam last fall, and the soap opera took some exterior shots of De L'Europe. RHOBH cast member Eileen Davidson was actually on The Bold and the Beautiful once upon a time. However, it doesn't look like she returned to the show while she was in Amsterdam with the gals.
That's probably for the best since she will get her fill of drama on her first major Housewives vacation. Travelling is always stressful and full of drama when you do it with people you like, let alone with people you have to tolerate for the sake of a TV show. Judging from the below preview of Tuesday night's episode, from the moment the ladies say "Hallo!" to Amsterdam, there's tons of trouble.
God speed, Amsterdam. God speed.
Image: Michael Porro/Bravo