NYFW Made For A Lot Of Pretty Food-stagrams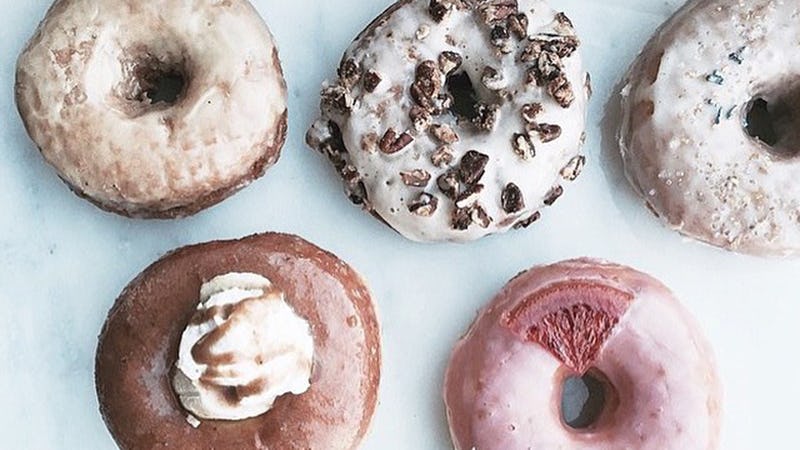 After a full week of strutting plaid jumpers from Rachel Antonoff, faux blue fur from Michael Kors, and Nordic-inspired horn headwear from Anna Sui, even the most seasoned of cat-walkers needed a snack break to refuel — and snack they did. If everyone's social media accounts were any indication, New York Fashion Week supplied food Instagrams that were prettier than any other event so far this year. Everyone from sassy fashion blogger Brian Boy to esteemed former Vogue Paris editor Carine Roitfeld took time from the hustle and bustle of New York Fashion Week to fit in a few bites of the Big Apple.
Don't let those defined waistlines and lean limbs fool you either: Fashion's finest refused to munch on fruits and veggies alone (obviously. Gross). Instagram was ablaze with filtered photos of cheeseburgers, donuts, and even the occasional slice of classic New York pizza, proving once and for all that no one is exempt from the seductive powers of carbs, sugar, and melted cheese. Deeeeelicious. And great for getting a bunch of extra Likes on your photos.
Feast your eyes on these edible delights. After all, do ice cream sandwiches ever go out of style?
1. A Plate of Oysters
2. A Heart-Shaped Dessert
3. A Hefty Salad
4. A Helpful Heaping of Avocado
5. A Proper Sushi Boat
6. A Tin of Golden Fries
7. A Double Serving of New York Pizza
8. A Suckling Pig
9. A Plethora of Corned Beef Sandwiches
10. A Cheesy Pie
11. A Trio of Burgers
12. A Casual Donut Sandwich
13. A Pile of Cheese Fries
14. A Variety of Trays
15. A Romantic Dessert
16. A Little Mac and Cheeseburger
17. A Quartet of Donuts