How Many Folks Don't Hook Up In The Fantasy Suite?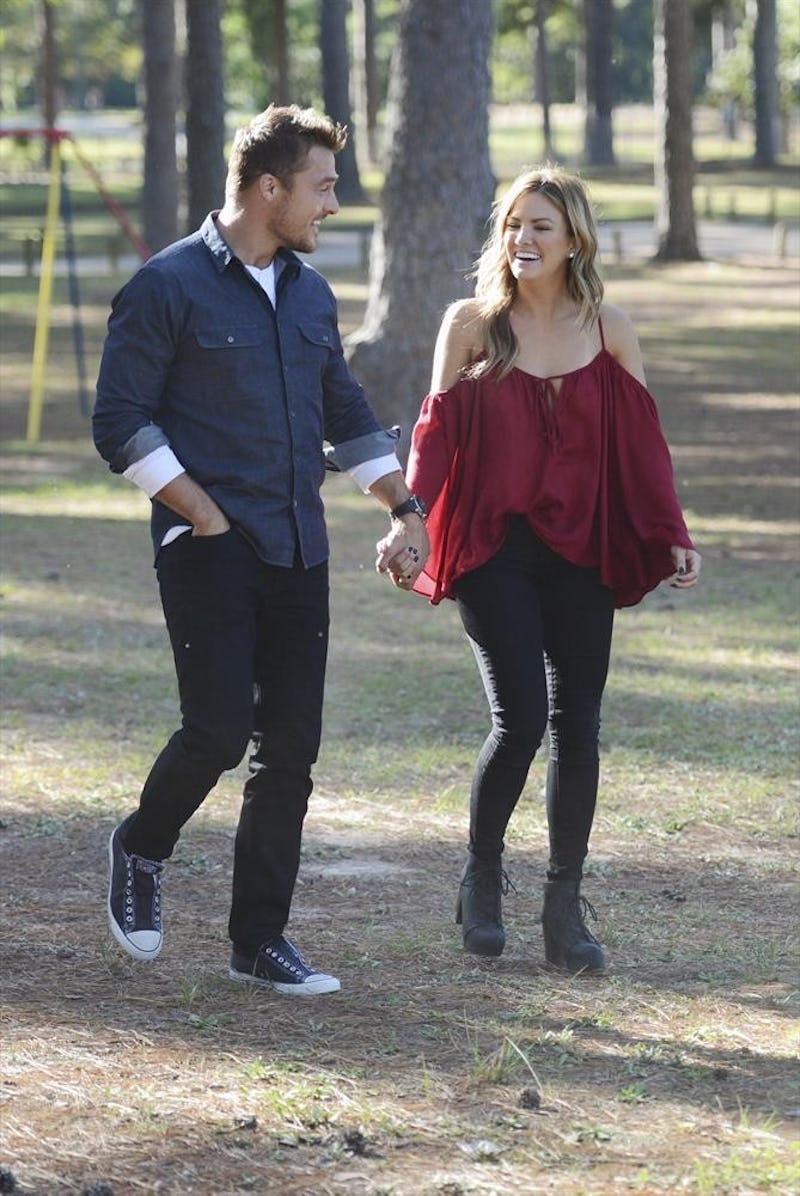 As we head into the famous (or possibly infamous) Fantasy Suite episode of The Bachelor , Becca Tilley is nervous that she has yet to reveal to Bachelor Chris Soules that she is a virgin. You know what Becca, don't worry about it, girl; if he gets weird about it, you don't want to have sex with him anyway. No respectable man would dump a girl because she is waiting to have sex with the right person, and from what we've seen so far, that doesn't seem like something that Chris would do. So, what Becca needs to do is use the fantasy suite to get the camera off and just talk to him away from the public eye. And despite what her family seemed to imply during hometowns, Becca wouldn't be the first person to not have sex in the Fantasy Suite.
Sean Lowe was the perfect example of why Becca shouldn't be nervous for her upcoming overnight date. In his new book For The Right Reasons, Sean explains exactly what happened with his three fantasy suite dates. "The bottom line was that I wasn't going to have sex with any of the remaining three women that week," he wrote. "I wanted to use that night, alone, without any distractions, to really connect with the women. Plus, I wanted to know how they'd act when the cameras weren't rolling." Good point, Sean.
Of course, Sean isn't the only one who didn't have sex or declined a fantasy suite date, so Becca should count herself in good company instead of worrying so much about the pressure to kick it up a notch.
Emily Maynard
On Emily's season, she wanted to set an example for her daughter so she opted not to have sex in the Fantasy Suite. She didn't offer Arie the fantasy suite card, and Jeff turned her down before she got the chance to. Jeff told her:
It would be awesome to forgo our original rooms, but I completely respect that your daughter and my family and your family is going to be watching this. There's a time and a place. I plan on spending every night with you in our own Fantasy Suite.
While we all assumed that Emily also didn't take Sean to the fantasy suite, he later revealed in his that they did go... they just didn't get physical. In his book, Lowe said that Emily invited Sean back off-camera to spend about four hours talking — nothing more.
Ali Fedotowsky
Ali also didn't have sex with all of her bachelors in the Fantasy Suite:
I will say this much, I only got physical with one person. I think it's pretty obvious who that was. For me, it was a little bit different. I had one guy I was really into, one guy I knew was just a friend and then the third guy left me. So would I have gotten physical with more than one guy if he would have stuck around? Probably. Are you going to get engaged with someone not knowing what they are like in bed? No!
It would seem that Ali used sex vs. no sex in The Bachelorette Fantasy Suite as a litmus test for the person she already knew she'd choose. Not a bad plan, girl.
Trista Sutter
The first Bachelorette ever also hinted that she did not use the fantasy suite to have sex with her remaining men:
Whatever she did with her fantasy suite time, it clearly worked: She and Ryan have the longest lasting relationship in the show's history.
Images: Terri Eddington/ABC; Getty Images (3)