13 Contemporary Feminist Books To Read Now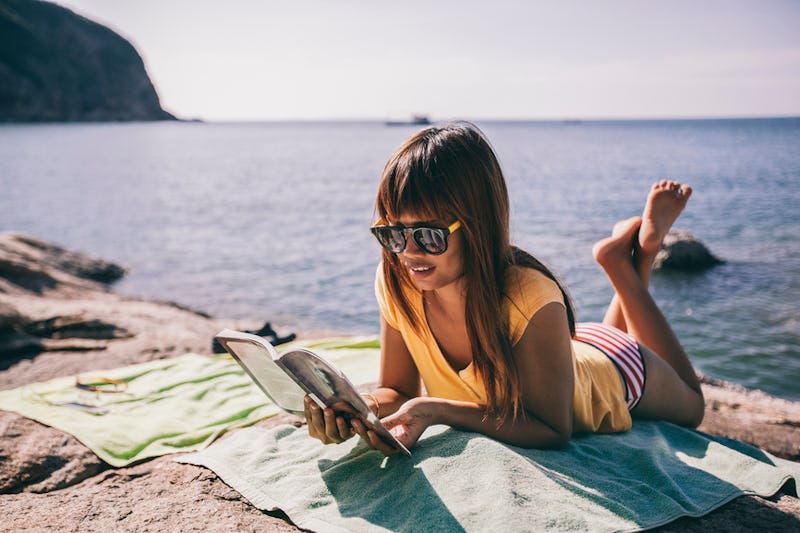 Let me cut right to the chase: Today's feminist writers are killing it. Not only can feminists celebrate living in a moment when the advocacy for women's equality is at the top of mind for so many, and intersectional feminism is raising the voices of marginalized women, but we also have so many diverse, rich, fantastic texts with which we can fill our shelves. Feminist book-lovers have it good right now.
Feminist writers are putting out novels with complex characters that explode gender binaries and stereotyped class narratives. And others are releasing dating tips that scratch out stale assumptions about who and how we'll love. Then, there's political commentary that makes us laugh at the most rage-inducing power structures (laugh before working to bust them down).
Of course, digging into vital new books doesn't mean ditching the canonical voices we've loved for forever (Virginia Woolf, I'll never let you go), but it does mean intentionally packing our reading lists with a range of names, and using our dollars and our time to say that more voices deserve an audience.
And if challenging exclusionary histories means reading books by contemporary feminist badasses, then it hardly feels like a burden. The books emerging now and over the past decade are not only urgent and necessary — they're accessible and entertaining and memorable. This collection of titles for every reader is just a starting point, a first dive into the fresh writing that probes what feminism means in our world — how feminist identities have evolved over the decades, and, of course, how some things haven't changed quickly enough.
The Coming of Age Novel
This debut novel by Chinese Canadian writer Kim Fu breaks your heart in all the best ways. Fu's lyrical writing unspools the early life of a young trans woman growing up among four sisters in a second-generation Chinese Canadian family. Prized by her parents as a long-awaited son, the narrator fumbles through the entanglements of family power dynamics, adolescent social dangers, and gritty city life as she moves toward the hot core of her own self location. Not only does this book put a trans woman's identity front-and-center, but it explores how the intersections of class, race, gender and sexuality shape people's experiences in today's world — and how we find connection in unexpected places. For an extra dose of tear-jerking beauty, listen to the song by Antony and the Johnsons that gives this book its title and epigraph.
The Poetry Collection
Natalie Diaz's debut collection is fierce. It gets to you. It gets in you. Diaz examines her family and community and the roles that religion, drugs, devils, love, tortillas and Arizona highways have played in their lives — and she writes beautiful lesbian love poems, too. Her brother's war with addiction frames the book, in which poetic forms are used and bent and everything is at stake. Diaz told Thinking C21, "…my responsibility is to write, to say, to not shut my eyes no matter how it might make people feel, to write the things I need to write, to not hide my voice." Her voice is powerfully at the forefront of the work. It's rare to hear the old "page turner" cliché applied to a poetry collection, but this one will keep you up reading long past your bedtime, and fill you up with memorable images and visceral impressions of the power and murkiness of intersectionality.
The Dating Guide
Bitch Media's Sarah Mirk set out to write the dating guide that was missing from shelves when she was in her early 20s: one that challenges the assumption that "No matter what kind of weirdo you are, you aspire to someday get married, you aspire to have kids, you actively work to have sex with one person for most of your life, and whoever's relationship lasts the longest wins." After nearly 100 interviews, Mirk put out this set of seven conversational chapters, each of which drops knowledge from feminist genius heroes like Michelle Tea and Betty Dodson — with illustrated portraits — to help you navigate the joys and demands of your particular relationship(s). Whether you need tips for dividing household chores in fair and feminist ways, for building trusting and honest non-monogamous relationships, for finding the words to tell your family you never want to be a mother, or for discussing gender identity with partners, you'll find thoughtful suggestions in these pages.
The Vampire Novel
Vampire books abound in bookstores, but few push feminist thinking like this one. Octavia Butler was a giant of feminist science fiction, and her final novel explores politics, race, sexuality, and otherness through the experiences of Shori, who appears to be a 10-year-old black girl, but is really a 53-year-old vampire. Shori's blackness results from a self-protection experiment by her Ina vampire community — a community where mother-figures reign and where survival depends on negotiating trust and interdependence. With vampires standing in for socially marginalized people in the U.S., and with futuristic scenarios critiquing the positioning of people of color today, Butler's vampires have spawned critical articles about their role in Afrofuturism — and are plenty entertaining and thought-provoking for us on the page.
The Graphic Novel Series
The Aya series — six books collected in the two titles above — offer too-rare depictions of the daily dilemmas of three working class women in Côte d'Ivoire. Set in 1970s in Yopougon, the books' bright colors and lively dialogue render a frank look at how young women negotiate gender politics, class constraints, love and friendship at dance clubs, in back bedrooms, in office buildings, and in high-rise hotels. This book shows Western readers how feminist challenges span classes and continents and generations: the group of 1970s Ivoirian young women at the center of these stories face restrictions that we know all too well.
CLICK HERE TO BUY LIFE IN YOP CITY
CLICK HERE TO BUY LOVE IN YOP CITY
The New Manifesto
Serano's essays expose ways that feminist and queer/LGBTQIA+ movements have fallen short in our work — contributing to oppressive ideas about gender and sexuality while working in the name of fighting sexism. She calls out feminist missteps such as failing to fully examine privilege and compartmentalizing people into gender/sex/sexuality categories rather than embracing ideas of full selfhood. Each essay draws on Serrano's history of an activist and points us toward inclusive, holistic feminism in accessible, inspiring prose.
The Short Story Collection
All 11 of these stories draw full lives for transgender protagonists — full of whiskey, subways, religious communities, lovers, cats, friends, isolation, and connection. In Plett's depiction of relatable trials, the characters push back on the narrative that someone's trans status fully defines him or her, and the stories' endings refuse easy answers and simple resolutions — just like the actual lives of real women.
The Memoir
Michelle Tea's memoir shows where her years on San Francisco's '90s punk scene, tours with Sister Spit, struggle toward sobriety, and crusades as a feminist badass have taken her: to adulthood. For Tea, this period in her life comprises marriage, motherhood, moving into a "grownup" apartment — sans maggots and street-found furnishings — and dishing out savvy, clear-headed advice about how we can carry ourselves into the type of grownup living that works for us. She shows how even grit and hard times can lead to happiness, stability, and goodness.
The Political Humor Piece
With entrenched political forces still shackling women on nearly every front, it's nice to have a laugh, and Katha Pollitt offers several in her collection of 86 short essays. In these pages, Pollitt turns her sharp wit on some of the political moments that hit feminists hardest, especially under the George W. Bush administration, and probes toward a big-picture view of where we're headed.
The Love Story
Americanah by Chimamanda Ngozi Adichie
You know Adichie is a feminist — you've heard through her TED Talk, the Beyoncé remix, and read her essay We Should All Be Feminists, which makes feminism accessible without losing any of the potency of its message. Her novel Americanah does the same thing with its clever look at American racial politics through the eyes of Ifemelu, a witty blogger who moves from Nigeria to New York and back again (and falls in love a couple of times). As she told the LA Times, "I wanted Ifemelu to be a character who wasn't easy to like. I think it's a very feminist book — I think all of my work is very feminist. She just refuses to keep quiet. In a way that in my life I think I refuse to as well."
The Essay Collection
If you've spent any time on Bustle, you'll see we have a thing for Roxane Gay — but this rockstar essayist, novelist, professor, and Scrabble champion deserves all the attention. In the pages of her essay collection, Gay offers an approachable contemporary feminist manifesto, instructs women on being good friends in the face of "thirty crazy e-mails needing reassurance about the same damn shit," digs into what it meant for her to see Vanessa Williams (temporarily) crowned the first black Miss America while reading the Sweet Valley High series, and critiques popular depictions of rape.
The Interactive Textbook
The 1997 edition Kate Bornstein's workbook provided a much-needed intro to gender theory, and the new version turns a more contemporary lens on race, class, sexuality and language. Plus, it's actually pretty fun. With quizzes, exercises, puzzles and hardcore truth-telling, transgender activist Bornstein guides readers through a friendly, non-binary exploration of gender identity and performance.
The Family Saga
The 1990s New York experiences of Cruz's protagonist, Esperanza, chip away at the still-ingrained, ever-false idea that immigrants can arrive in the U.S. and — by sheer hard work — ascend the social ladder toward the American dream. In this book, a young woman flees the Domincan Republic for the U.S., where she grows older, adjusts her ideas of success, and balances family pressures and self-expectations against the hard grit of her reality. Cruz rejects sentimentality on every page: Esperanza scrapes up enough strength to survive double shifts at a low-paying job, dodge collection agencies and scramble for childcare — relatable, too-real battles facing women everywhere.
Image: Goldmund Lukic/Stocksy