Ashley & JP Weigh In On 'The Bach's Career Issue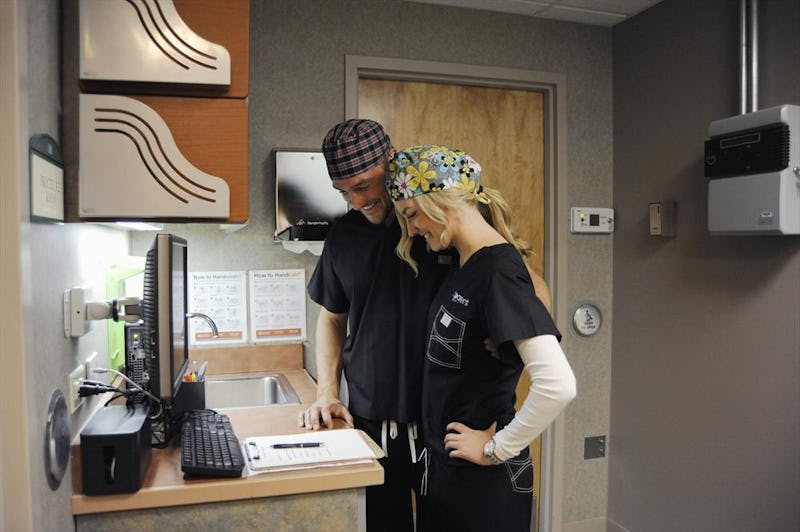 Things are getting capital-S Serious on The Bachelor. This week, Chris Soules will take his three remaining women into the fantasy suite for "scintillating conversation" (we all know what that means) behind closed doors. A betting fan might place their money on the Bachelor winner being Whitney Bischoff, the perky fertility nurse from Chicago, to take the whole thing after her successful hometown date. But previews, and this clip posted on The Bachelor's Facebook page (below), would have us believe that there are few hurdles in her way, namely the endgame of moving to Iowa.
I spoke to Bachelor-Nation success stories, Ashley & JP Rosenbaum about how they think this deal-breaker of Chris' might affect his happily ever after and spoiler: it's going to be a big deal, if they know anything about making a Bachelor relationship work (and they so do).
"I think if he finds the right person, [the winner is] going to move to Iowa," Ashley said. "But I think a lot of these girls would not be willing to move to Iowa."
And JP agreed. "Yeah, I think it's very easy in the moment to say 'oh yes!' and fall in love and say, 'I'm going to move.' It's easy with the white doves flying everywhere, but the reality is when the show is over, the hype is over, you're moving to Iowa," he said.
In the clip below, Chris admits that his itsy-bitsy hometown of 500 people is his "biggest insecurity" in this relationship. Sobering fact: From Arlington, you'd have to drive for an hour to get to the nearest Starbucks. And yes, Whitney may have an upper hand on the other ladies still left in the competition because she seems the most ready to settle down and start a family, but she's also the only remaining contestant who hasn't seen just how small Arlington really is.
Apparently just telling Chris's three nameless friends at that random bar in Des Moines that she's ready for the farm life isn't enough. So after listening closely to Chris describe his teensy-tiny city limits, Whitney responds with a not-so-reassuring statement regarding her career: "I have worked so hard to get where I am." Yikes.
Things all of a sudden aren't looking so hot for Whitney. But this is The Bachelor and everything, especially promos, have to be consumed with a (fairly large) grain of salt. And let's be honest, that video did seem like Whitney was going to qualify that statement about her job with a giant "but." As someone who spends more hours than she'd like to admit dissecting every little pause and stammer on this show, I think that Whit will redeem herself during that conversation and the rest of the episode.
But before we worry too much about the Season 19 winner (Whitney or not) and her potential dilemma, Ashley also reminds us that Chris and his winner don't have to start planning their lives together immediately after the show ends. "They don't have to move, they could date for a while long distance," she said, reminding us that Juan Pablo wasn't a rule breaker — he just went against convention (oh, and was generally pretty awful).
And in the end, Chris' blooming relationship with whoever he chooses will have to get some time to simmer away from our prying eyes before it can have a real shot. "I think it all depends, when all the hype dies down, that's when the relationship happens," says JP. So maybe, just maybe, when we all stop worrying about the winner's career (or decision to give up her career) Chris and his gal can find a life that suits them. Either that or they'll join the long list of Bachelor couples who didn't make it. Ah, the hazards of finding love on television.
Image: Jean Whiteside/ABC