What Are Whitney's Chances of Winning 'The Bach'?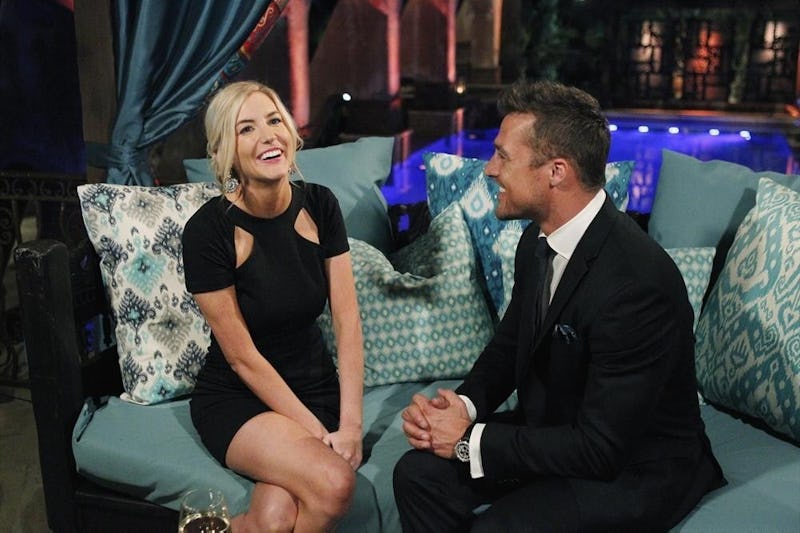 I've just about given up on making any type of predictions where The Bachelor is concerned. Chris Soules' season has been so confusing with all of the random change-ups that ABC has been making that this formerly easy to read reality show is a little less easy. If you asked me last week, I'd say that Britt has the best chance of The Bachelor, but now that the promo for next week has aired, it definitely seems like that's not happening. Homegirl is about to see Chris' tiny hometown of Arlington, Iowa for the first time, and have a major meltdown as she realizes that there is literally nothing but farmland there. Ashley I. planted the seed in last week's episode, and now, that seed is about to grow. And with Britt out of the way, I think it's still totally possible that Whitney will win The Bachelor .
When the show first introduced us to Whitney the night of the limo introductions, I wasn't that impressed. I thought Kaitlyn was funny with her lewd introduction, and I've always thought Jade was super cute. But Whitney was kind of dull and faded into the background. Then, she started to show her personality. It's not a loud one, like a lot of the girls', but it's clear she's the kind of woman Chris wants to be with. She's an actual adult, for one — a rarity in this season's collection of women. She's kind, she knows what she wants, and she's fun to be around. And Chris has obviously made a pretty solid connection with her — when he's not totally distracted by Britt, at least.
And honestly, when Whitney and Chris "crashed" that wedding, I fell in love with her the way Chris obviously did on that date. She's up for anything, she's super fun, and I thought The Bachelor might as well call it a season right there and let them get married. Of course, if they had, we would never have been blessed with the barrel of WTF that is Kelsey Poe, so for once I'm glad that ABC doesn't take my advice.
Also, was I the only one who wanted to cry when Whitney cried about Chris taking Britt away to the Big and Rich concert last week? On the off chance you're reading this: Whitney, you are beautiful, and I totally wish we were friends.
Whitney could totally win this thing, as long as Chris remembers that Britt isn't the only woman in the game and starts paying her the attention she deserves. And at this point, I hope that she does.
Image: Rick Rowell/ABC