Bibbidi Bobbidi Boo Tips For Getting Cindy's Look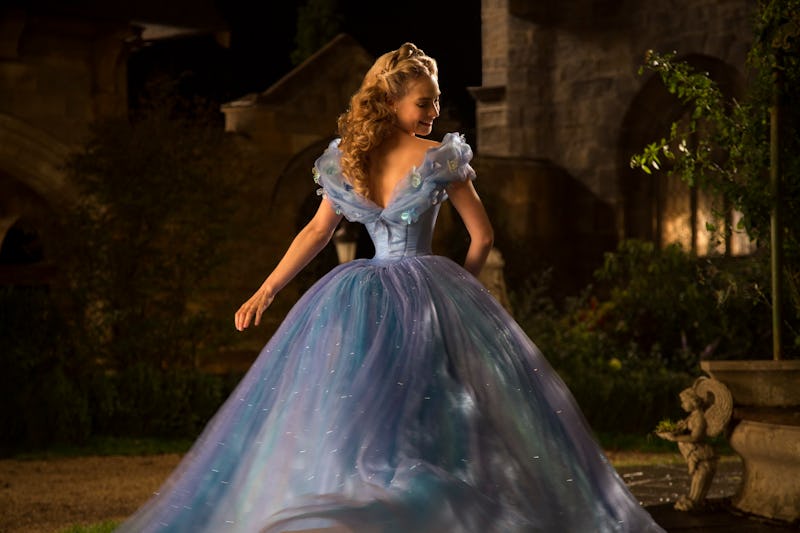 Once upon a time, there was a beautiful girl who had nothing to wear to the ball. But — because she was so courageous, kind and pure of heart — her Fairy Godmother came along to save the day. With one wave of her magic wand, that sweet little lady fashioned a gorgeous blue dress that would make any designer blush and arguably the most iconic pair of shoes in recent history — sparkling glass slippers perfect for any princess-to-be. Isn't that the real dream? Forget the prince, I need a Fairy Godmother to pop in shortly after my morning coffee, wave her wand in front of my closet and turn me into a glittering member of society. Fairytales may be for dreamers, but I'll tell you a secret: All the best ones can, in fact, come true IRL if you truly believe. When my little wand-laden lady shows up to watch over me (and my closet) you'll be the first to know.
Truly, there is a little extra pixie dust in the air these days, with the live action interpretation of Cinderella hitting theaters in a few short weeks (pause for childish squeals of excitement). The trailers, which give us a sneak peak at Lily James as our modern day Ella, make our hearts beat with magic. Also, that dress. Are you kidding me? Possibly the only thing more epic than Helena Bonham Carter being cast as The Fairy Godmother (seriously, best casting move ever) is the reinterpretation of Cinderella's iconic blue gown, designed by Oscar-award winning costumer Sandy Powell. Layers upon layers of flowing fabrics with an iridescent sheen shimmer, showing off a range of blues with every twirl. How could a girl not feel like a princess?
With a head-turning new ball gown, a naturally glowing beauty look and a slightly feminist princess power, Cinderella is prepped and ready to not only reignite our belief in fairytales, but also to inspire girls and women of all ages to play dress up again. Whether the fable is near and dear to your heart or you just love the look, it's as easy as "Bibbidi-Bobbidi-Boo" to give yourself a Cinderella-inspired makeover. All you need is a great blue dress, embellished silver shoes and a fresh-faced makeup game. Fairy Godmother not included, but I've done my best to round up some options that will give you a head start.
Ready For The Ball Gown
Cinderella's ball gown may be a one-of-a-kind dream, but that doesn't mean we can't take a page out of her book. Since her new modern day frock is known for boasting various shades of blue depending on how the light hits it, there is a princess-inspired hue for everyone. Any dress with fun, flowing fabrics or a pronounced skirt, in a light or mid-tone blue, will give you princess vibes. And always remember, a little embellishment never hurt anybody so don't shy away from shimmer, sheen or bedazzles.
MILLY Dress Pleated Organza Mesh, $495, bloomingdales.com
BB Dakota Renley Lace Fit & Flare Dress, $88, nordstrom.com
ASOS Embellished Sleeve Pleated Maxi, $156, asos.com
Evening of Bliss Light Blue Maxi Dress, $74, lulus.com
Baum Und Pferdgarten Adele Maxi Dress in Metallic Cobalt, $376, asos.com
Neoprene V Neck Aqua Dress, $98, bloomingdales.com
THE GLASS SLIPPER
We all know the right shoes can change a girl's life. Cinderella — a leading lady who knew the power of a good shoe long before Carrie Bradshaw taught us her ways — is synonymous with her glass slipper, so no ensemble paying homage to this princess would be complete without a little ice of our own. Just try not to lose either of yours at midnight.
Badgley Mischka Lavendar Pumps, $245, macys.com
Betsey Johnson SB-IDO, $149, betseyjohnson.com
Kate Spade Charm Heels, $328, katespade.com
GUESS Women's Catarina Two-Piece Sandals, $110, macys.com
GORGEOUS AND GLOWING
Cinderella (and Lily James for that matter) is known for her natural beauty, a glow that radiates from the inside out. To channel princess Ella with your beauty routine, keep it simple and light, using products that give you a slight shimmer for warm skin with an iridescent shine. For a wide-eyed look, use a curling mascara in brown to compliment the gold tones and finish it off with a fresh berry lip stain.
Kevyn Aucoin The Celestial Powder, $44, sephora.com
OCC Loose Colour Concentrates in Gold Shimmer, $14, occmakeup.com
Diorshow Iconic Mascara, $29, sephora.com
Stila Yumberry Crush Lip and Cheek Stain, $24, stilacosmetics.com
Watch out spring weddings, there is a new princess in town and she has been perfectly inspired by the most iconic one of all!
Images: Disney; Instagram; Courtesy Brands