Thoughts We Had Watching The 'Cinderella' Trailer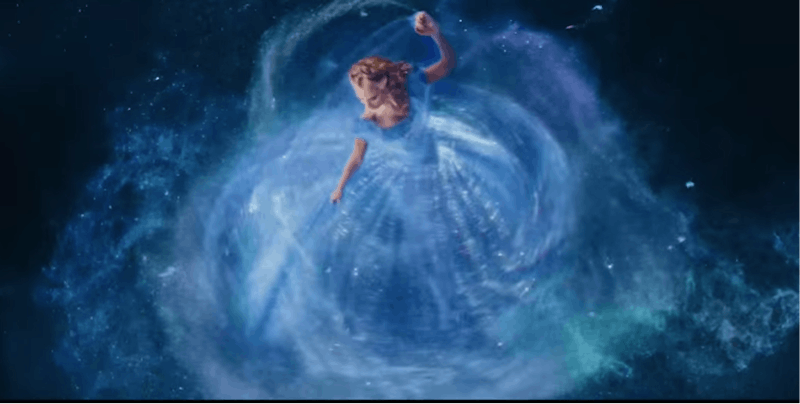 This is a stellar next few months for Cinderella fans: Anna Kendrick is slated to play her in the upcoming movie musical Into the Woods, Keke Palmer is rocking the glass slippers off people in Cinderella on Broadway, and now Disney has released the first trailer for the live action version of Cinderella due out next year. This is the Disney fanatic's equivalent of crack, and we have plenty of it, since the trailer is a full two minutes and forty seconds long, aka, a goldmine compared to the microscopic teaser trailer we got a few months ago.
Cinderella is by far from the first live action version of the story of Cinderella that has ever hit the big screen (if you haven't seen the modern day Hilary Duff and Selena Gomez, you are missing out on some quality Chad Michael Murray and groovy dance moves), but it will be the first one based on the original Disney film. And if I wasn't embarrassingly anxious to see it before, now that I have had a glimpse of what's to come with next year's release, literally every day that goes by is just a day that this movie isn't out yet. I can't quit my Disney habit any easier than than I can quit breathing. If you're anything like me, you freaked out during all of these moments in the trailer, too:
"Oh My God, I Just Remembered This Was Happening"
You're only just coming out of the fog that was your Frozen obsession (alright, not quite out of the fog; I am physically drinking from an Elsa mug right now). It's not that you weren't excited for this movie, it's just that Disney had you preoccupied. Until now. Until this trailer just popped up on your newsfeed and caused the biggest freakout you've had since Tangled announced a sequel.
"I Am High On There Being An Actual Backstory"
We get to see baby Ella and her mother for so much longer, and it looks like they might give the characters the depth that they actually deserve. Fingers crossed.
"It's All So Freaking Real, I Can't Handle It"
Before we even get to the plot, I'm freaking out of over the cinematography and the set designs. It's not going to be quite as mind-boggling as seeing Hogwarts come to life for the first time, but it will still make you want to pinch your 5-year-old self.
"True To Form, Cindy Still Looks #Fab As A Servant Girl"
Could anybody else work it with that much grime on their face?
"The Prince! On A Horse! So Much Backstory I Don't Think My Heart Can Take It!"
YESSSS. The prince shows up like two entire minutes before you think he will, and meets her as her normal self. The lack of backstory was the biggest problem I had with the movie as a kid, and this just eased so much of my "what the what, Disney?" now that I know that they have some legitimate common ground.
"Who Even Is This Handsome Lug?"
I didn't even recognize Robb Stark (played by Richard Madden) from Game Of Thrones, which was embarrassing, but let's blame me getting swept away by everyone being on horseback. Apparently she thinks he's a palace worker named "Kit." I am the biggest sucker who's ever sucked for this trope, so Disney taking liberties with this is A-OK with me.
"Jaq! Gus Gus!"
The only mice I will ever think of without immediately shuddering. Their brief cameo is just one of many iconic moments in the trailer.
"The Pink Dress Still Gets Its Shining Moment"
Winding staircase and all.
"The Fairy Godmother Is Going To Get An Even Bigger Makeover Than Cinderella"
Bippity-boppity-Bellatrix Lestrange. Helena Bonham Carter plays the role of Fairy Godmother and I can already tell she'll deliver just enough modern grit to make the character more edgy and fun.
"I Believe In Magic So Much, It Hurts Me"
Remember that sweetly satisfying moment when Cinderella was transformed in the animated version the first time you watched it all those years ago? I genuinely almost teared up at this version. It's stunning. It is more than I imagined it would be by far.
"YES YES YES YES YES YES YES"
I pretty much lost all coherency when she walked out of the carriage. My eyes can't even decide where to look. Forget the ball, honey—make off with the carriage and don't look back.
"I Ship It"
When I watched the movie as a kid, I was just watching for Cinderella and the dresses and music. I didn't really care about Prince Charming, because he was there for like a millisecond and romance was boring to me then. Even in adulthood he seemed kind of "blah" to me. But these two have total chemistry and the way they look at each other is precious, and I am so fully behind it. I know that this movie has a happy ending but I am still astronomically stressed out about the two of them beating the odds.
"Wait, Are Belle And Tiana Chilling Out At The Royal Ball?"
Look slightly to the right of Cinderella and the dress that ended all dresses. Am I imagining things? Even in the bird's eye picture just before this one you can kinda see it if you squint.
"My Blood Pressure Just Went Through The Roof"
Is it just me, or is this movie version of Cinderella's stepmother even more sinister and calculatedly cruel than the first one?
Also, I am deeply curious to see if they're going to stick to that whole shoe thing, or if there will be some kind of clever twist on it to make it seem a little less like a guy really just shoved a shoe on a thousand women and called it a day. Obviously they know each other. UGH I JUST WANT TO KNOW NOW.
*Goosebumps Everywhere*
I wasn't breathing when this ended. I'm not sure if I am now.
"March?? MARCH?! WHICH DAY IN MARCH?!"
YOU CAN'T JUST DO THIS TO ME, DISNEY. There are like THIRTY ONE ENTIRE DAYS IN THAT MONTH. How am I supposed to start my obnoxious countdown if you can't give me a day?
"Does This Mean Other Princesses Will Get Movies, Too?"
Most people are waiting to see presidential candidate nominees. I want to know which Disney princess live action movie is next.