Will Becca Win Chris' Heart On 'The Bachelor?'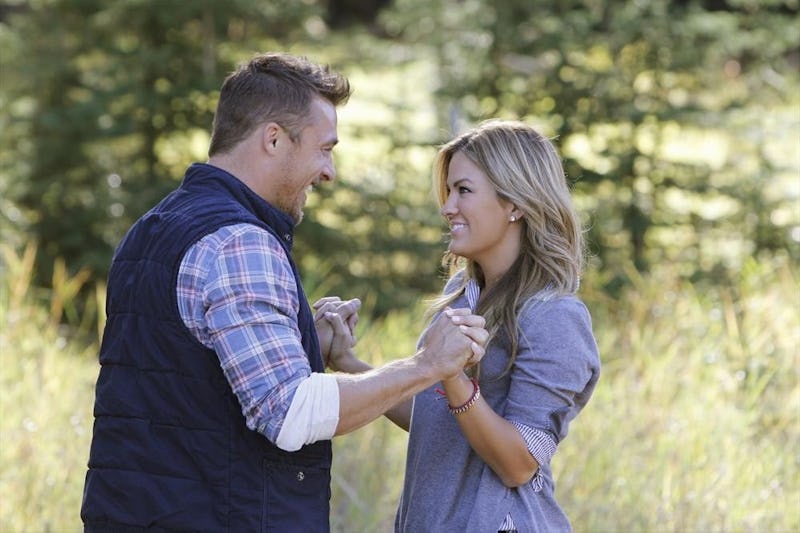 I don't know about other people, but I've been so focused on how absolutely outrageous this season of The Bachelor has been to even comprehend the women that are "competing" for Chris Soules' heart. But, alas, we are at the final three, and Chris is going to have to whittle down the competition between Whitney, Kaitlyn, and Becca on The Bachelor on Monday, which gets us this close to the final rose ceremony. For the most part, Becca has flown under my radar: She made it to final three, somehow, which usually would make me think "girlfriend isn't getting that final rose," but could her low-profile on The Bachelor be what wins Becca the entire season?
When I refer to Becca's "low-profile" personality on The Bachelor, I'm talking about the fact that she — for me, at least — is one of the women who a friend would reference and you'd say "which one is that?" She wasn't the one saying her "story was amazing;" she wasn't screaming from the South Dakota Badlands that she was a virgin; Becca just has a pretty chill personality. For many, she was "the other virgin," (Ashley I. wouldn't have it any other way), but the show didn't make that her storyline, because obviously there is much more to a person than their sexual history (unfortunately, the show didn't give Ashley I. that benefit of the doubt, but I digress).
So will Becca win? Becca is definitely a front-runner, but when it's down to the top three, I guess everyone is a front-runner. Perhaps Becca's the front of the front runners? Here's why Becca could be the one with the final rose.
Her Casual Attitude Could Be Perfect For Chris
Look, I like Whitney, but she's a handful. She's so into this show, and while that could be what Chris is looking for, Mr. Bachelor seems like he's more of a simple man. By simple, I kinda mean boring, but that's besides the point. Becca doesn't seem like someone who is going to be scratching at the door like a hyper Chihuahua, and I think that's more of Chris' speed. He needs someone who is casual, calm, and has a personality — don't get me wrong — but can blend in well to the laid-back lifestyle of Iowa.
She's Very Family Oriented
This is something Chris is really into because the only people in his town are his family and like a handful of old dudes making coffee in an abandoned bar. Becca has always seemed very close to her family — so close that her sister was a little too chatty about Becca's personal life to Chris during hometowns.
She Has Never Felt This Way For Someone
Because this show isn't just about Chris' feelings! It takes two to tango, and Becca's feelings about Chris are just as important as Chris' feelings about Becca. Becca has said that she has never felt the way she does for anyone else before Chris and that should mean something to him. He's in virgin territory — no pun intended (OK, kinda intended) — and knowing that Becca hasn't ever been in love the way she says she is with him is really important for their relationship.
She Has Taken Her Time To Get To Know Him
While some may decide to tell Chris — and America — that they're a virgin early on in the dating process (and hey, no shame in the game Ashley I. — you do you), Becca has let her relationship with Chris grow immensely before opening up that part of her life to him. I think this means a lot more than just revealing she is a virgin; this responsible slow burn is a good foundation for a relationship. That being said, this show is anything but normal, but I think Becca's slow progress of getting to know Chris is the most realistic of the ways to develop a genuine relationship.
Image: Richard Carlson/ABC; BachelorABC/Tumblr (4)