Your Latte Has Never Looked This Cool Before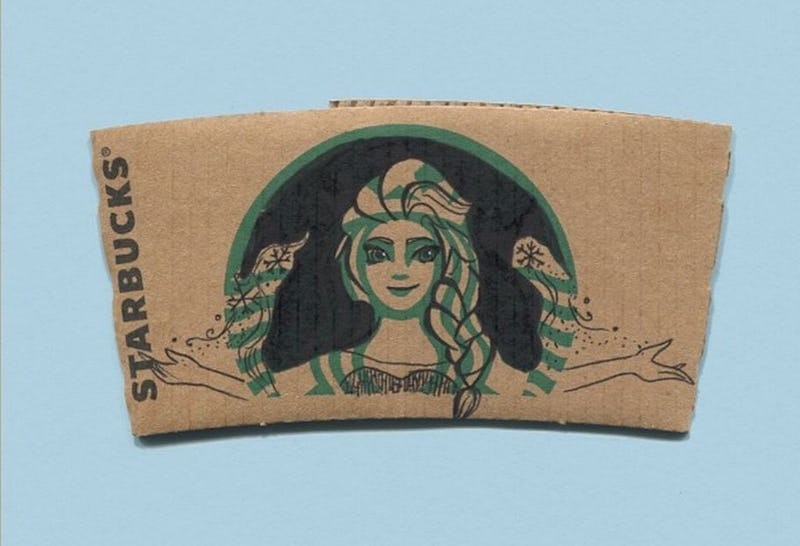 Turning Starbucks paper goods into phenomenal pieces of art has become something of a trend recently, and if you can't get enough of it, good news: I just found your latest Instagram obsession. The mastermind behind the Sleevebucks Instagram account takes those little mermaid-adorned sleeves that come wrapped lovingly around your Starbucks cups and unleashes the powers of creativity on them. The results? Let's just say that they're the prettiest little Starbucks sleeves you ever did see — and the funniest, too.
Both the Sleevebucks Instagram account and the corresponding Tumblr page date back to the end of November 2014, so this latest addition to the Pantheon of Starbucks Artistry has pretty much just gotten started. The number of illustrations the mystery artist has created in those three months, though? Let's just say that we've got one prolific sketcher on our hands. I count about 72 illustrations thus far, with many more to come. I do have one question, though: Where on earth is she or he getting all the Starbucks sleeves from? I can think of three possible explanations: One, s/he's a Starbucks barista and has access to a never-ending supply of them; two, s/he knows a Starbucks barista (or two of three) who regularly provide her or him with them; or three, s/he just grabs a huge handful of them whenever s/he passes by a 'Bux. It's anyone's guess which. Thoughts?
I think what I like most about Sleevebucks is that the whole thing even functions as something resembling a game — a sort of, "Can you guess who this is?" challenge. Anyone who spends a stupid amount of time doing anything remotely related to pop culture will probably be able to guess most of them… but that doesn't stop it from being an absolute blast. Also, who wouldn't want to drink a Batcoffee protected by Batman?
Check out a few of my favorites below; head on over to the Sleevebucks Instagram and Tumblr pages for more. What has your cup of Starbucks done for you today?
1. Walter White
I am the one who caffeinates.
2. Tea-na Belcher
Get it?
3. Voldemort
Sleevebucks's caption is far better than anything I could ever come up with so I'll let it speak for itself. "Voldemort: The original flat white" definitely made me giggle.
4. Spock
Live long and Starbucks.
5. Elsa
The cold never bothered her anyway, mostly because she's always got a nice, hot latte in her hand.
6. Maleficent
Disney characters are a popular choice for Sleevebucks, with this one — "a cup of Jo(lie)" — being one of the most pun-tastic designs.
7. Link
Hey! Listen! Zelda said don't forget to pick her up a green tea latte on your way back to Hyrule Castle!
8. Captain America
What else could be in this cup besides an Americano?
9. Batman
Nananananananana Batcoffee!
Images: Sleevebucks/Instagram (9)