Janeane Garofalo Could Rethink Her 'GF Guide' Role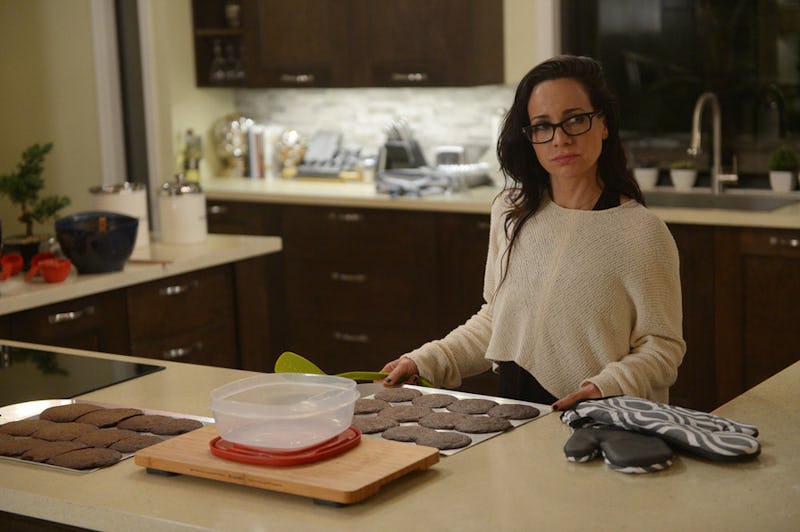 Bravo's Girlfriends' Guide to Divorce is airing its finale on Feb. 24, coming off of a pretty well-regarded first season. And if you haven't tuned in since the pilot, there have been a few changes — Janeane Garofalo left the show, and her character, Lyla, was only in six episodes of Girlfriends' Guide to Divorce past the pilot before she parted due to the vaguely worded and mysterious "creative differences." Since then, I hope Janeane has seen the show and how well it turned out. And I also hope that those "creative differences" could maybe... evaporate. She probably can't return as a series regular because her spot was taken by Alanna Ubach, who plays Abby's new best friend and confidante, Jo.
And while she's Janeane Garofalo, and doesn't need to regret turning anything down because she's been in so many classics ( Wet Hot American Summer AND Romy & Michelle's High School Reunion ?! That's an entire resume right there) already. She's done a voice for Pixar, played a superhero (sort of) in Mystery Men, and was a movie star for a little while in the 90s, everyone's favorite decade. But seriously, there are plenty of reasons why Janeane should consider returning to the show, even if it's just for a quick cameo.
The Show Isn't Half Bad, You Guys
No, it's not a flat out classic, edgy comedy, but it does have some good insights about divorce, dating, and being a middle-aged career woman who's not going through life with a guy by her side, be it because she has a layabout ex and no time for dating, her much younger boyfriend is kind of an embarrassment, or she's too high maintenance.
Seeing Janeane in Other Shows Just Proves She Needs to Be on TV More
As the officiant at Ilana's brother's dog's wedding on the last episode of Broad City, Janeane nailed it like the queen she is, but that was just a few minutes of a single episode. And the Wet Hot American Summer prequel Netflix series is being released later this year — and everyone in it, including Garofalo, deserves
Bravo's Always Been Good to Female Comedians
The show is funny! But right now, it's actor funny, funny because the lines are written well. But I'd love to see the occasional ad lib make it in, or an absurd rant that goes nowhere, and you need a real comedian for that. Preferably one who's worked with Stella and on The Larry Sanders Show.
And whether by buoying Kathy Griffin in her transition from Suddenly Susan back to standup star or by inviting the each female member of the cast of Saturday Night Live to be guests on Watch What Happens Live, Bravo's always been supportive of female comics. I'd hope they'd support JG returning to one of their shows.
Bernadette Peters Played Her Mom and We Need More Bernadette Peters in Everything
I think I've made a pretty strong case here, people. While the show is okay without Garofalo's Lyla, it can only improve if she returned... even though she hasn't suggested anything about an appearance in Season 2, I can still hold out hope.
Image: Sergei Bachlakov/Bravo; Giphy (2)