'Daily Show' Faves Create Family Version of 'AHS'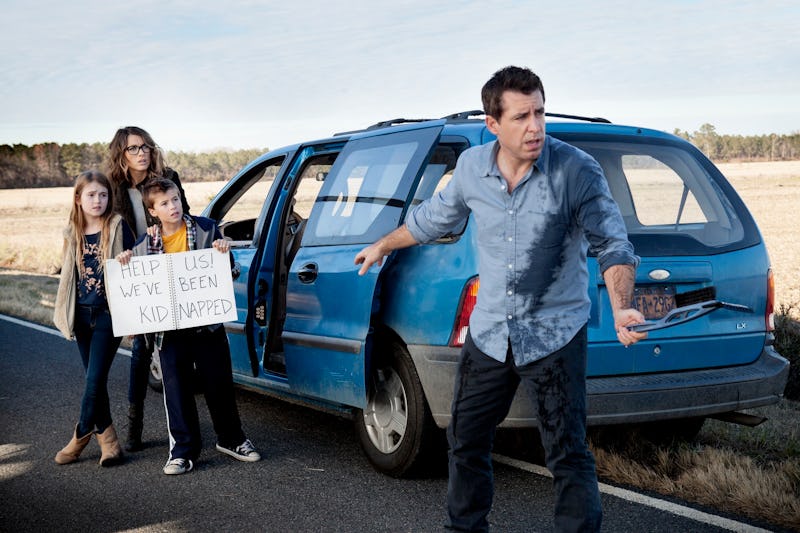 It isn't all bad news for Daily Show fans this year. Even though Jon Stewart is leaving the show, we're going to get to see a lot more of two other cast members when Jason Jones and Samantha Bee's new TBS show premieres later this year. The real-life couple took their own family adventures on the road and spun it into a dark comedy about a trip a couple takes with their two kids to Florida. Jones stars in the series as "unfiltered dad" Nate, but his onscreen wife will be Justified's Natalie Zea. Their two kids are played by Louis' Ashley Gerasimovich and The Neighbors' Liam Carroll, who are seen with a "we've been kidnapped" sign in the first-look photo from the 10-episode series. It seems like it's all part of a joke, but who knows — maybe the family does get kidnapped en route to the Sunshine State.
Only one season has been officially announced, but the idea behind it is that each season would show a different family's trip, like a family version of American Horror Story. "Every leg of their trip, however, is fraught with unforeseen disaster as they encounter one hellish turn after another," a TBS press release reads. "Plans call for each season of the show to chronicle a different family adventure." Brett Weitz, the executive vice president of original programming for TBS, describes the show as "honest, smart, and provocative" with a "mildly dysfunctional family," which sounds like the new version of Modern Family meets National Lampoon's Vacation that we need. Jones and Bee serve as creators and co-executive producers on the show, and hopefully she'll show up as a new character somewhere down the road.
Image: James Bridges/TBS