New 'Avengers' Poster Has Some Explaining To Do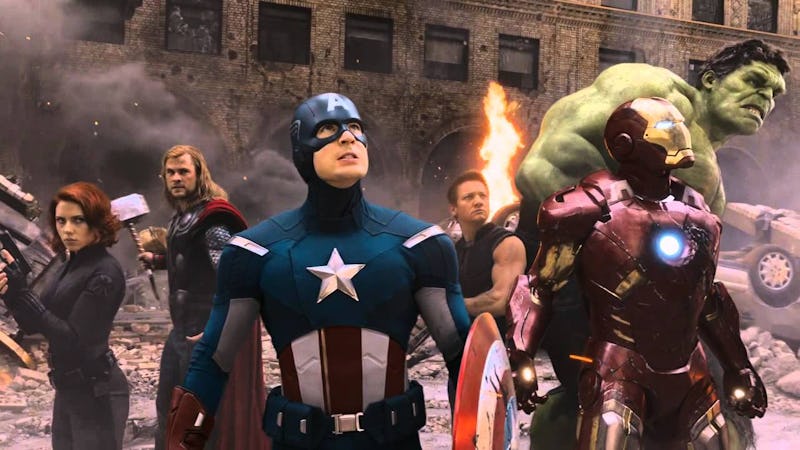 Superheroes are everywhere these days, but there's really nowhere where in the movies there are more of them in one place than in the Avengers movies. That's especially apparent in the new poster for Avengers: Age Of Ultron , which is stacking superhero on top of superhero and literally had to shrink a bunch of them down to even make room for them all. And the billing here already looks like a teaser for Captain America: Civil War — Chris Evans' Cap up front, Robert Downey Jr.'s Iron Man right there behind him, everyone else in the background.
It actually seems like a nice step for Marvel to not have Downey Jr. take top image billing here — it's possibly a nice (and sad) nod to Evans' waning days in the role, and what I'm expecting will be quite the emotional goodbye come Civil War. Of course, I hope it's also an acknowledgement that it's not in Marvel's best interest to keep Downey Jr. as their main mascot forever and always.
In the meantime, Black Widow's all shrunk down with Hawkeye in the corner there, which is kind of a bummer and seems like a strange decision given that the trailers seem to indicate that we'll be seen a lot more about Natasha Romanoff's origins in Age Of Ultron. In fact, this is something that Whedon himself has said, so it's kinda sketchy that they're playing it like she's some fringe character:
Natasha is a huge part of the sequel because you do want to concentrate on the people who don't have their own franchises. Although [she's] in 'Cap 2,' [and] she's great. She was the most fun for me because she's not a hero, you know, and it's something that I read—and I feel bad that I can't remember who wrote the book—but it's in one of the books explaining, 'These guys are heroes, you are a spy. It's a different thing—it's a different skill set—and you don't have their moral high ground or any of that good stuff.' And that just makes her so interesting to me. So yeah, the stuff I've got going on with her in the second one is killer.
So why doesn't the poster reflect that? If you ask me if should be her, Tony, and Cap side by side in that forefront.
Other points of interest from this poster: Anthony Mackie's mentioned, which is nice confirmation that he'll be around. Also featured here is Vision, floating up there in the back. Marvel will never be done teasing us.
Image: Marvel