Mia Hits Notes Only Dogs Can Hear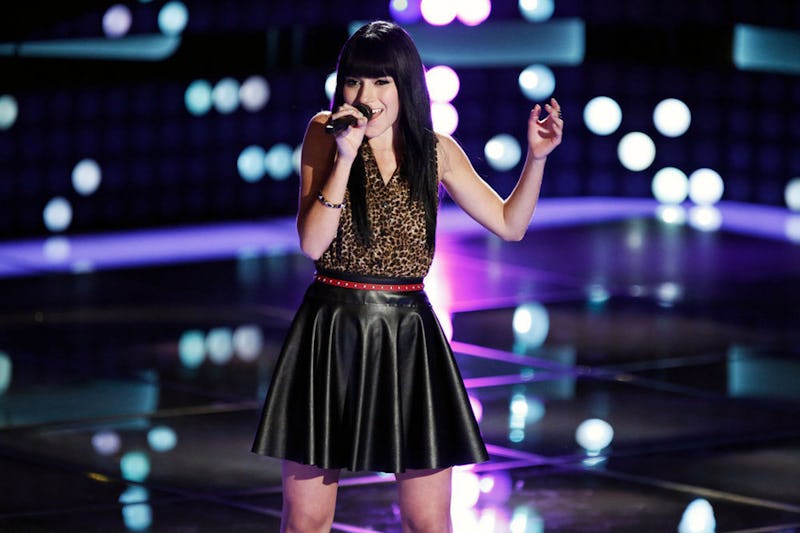 If the talent on The Voice — and American Idol for that matter — gets any younger, the competition is going to resemble more of a Nickelodeon show than a professional singing competition. But despite their age, the young performers this season are packed with talent and have the coaches whipping their chairs around. 15-year-old Mia Z blew the judges away by hitting glass-shattering notes, but failed to turn around the one chair that mattered the most to her — Christina Aguilera's.
Mia has a lot more in common with Aguilera than meets the eye. Sure, if you compared the two side-by-side they have literally nothing in common. But once Mia opens her mouth, the similarities are glaring. Despite her size, Mia's voice packs a major punch — it's strong, mysterious, a bit gritty, and has incredible range. When performing, she owns the stage and has a pretty diva-licious air about her — all things that come to mind when thinking of Aguilera.
Their experience is pretty similar, too. Both women got their start in Pittsburgh and started performing at a young age. Aguilera famously got her start on The Mickey Mouse Club with some pretty hunky cast mates (Justin Timberlake & Ryan Gosling) and had her first album recorded before she graduated high school. Okay, so Mia's start isn't quite as amazing — did I mention Aguilera got to work with mini-versions of Timberlake & Gosling?! — she's pretty experienced at a young age. She began her career at age 8 singing blues songs for with her mom & uncle's band — the band that she now sings lead vocals for.
But despite being Aguilera's mini-me, Mia's performance didn't get her to push the button — but Blake and Pharrell pushed theirs. Her larger-than-life performance of B.B. King's "The Thrill Is Gone" had the guys begging for more. Pharrell claimed "the thrill is right here" and Blake admitted to liking his first cousins — he is a country singer, after all. Ultimately, Mia chose Team Pharrell — which is the best team for her. Sure, Aguilera could have expanded Mia's belt and given her more confidence, but Pharrell will help her become the blues singer she wants to be.
Image: Tyler Golden/NBC