'Parks And Rec' Brought The Team Back Together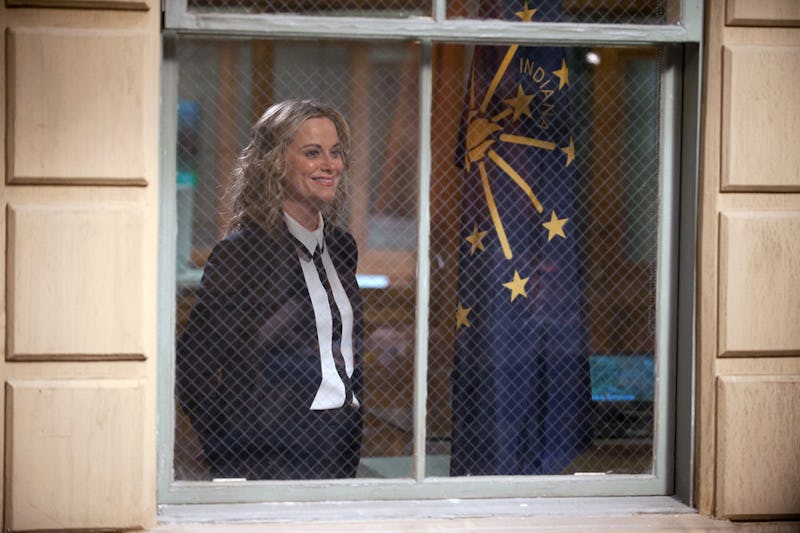 Take a deep breath, we'll get through this together. The Parks and Rec finale was no easy feat. After seven seasons, the NBC hit comedy ended with a series finale that perfectly captured what the show was all about, summed up in the perfect quote, "What makes work worth doing, is getting to do it with the people you love." And if that quote isn't meta for the actors who participated in Parks and Rec for the past seven years, what is? In the Parks and Rec finale, the team returned to Pawnee, and it was stunning in every single way.
Leslie, Ann, Donna, Craig, Ben, April, Garry, Tom, Ron, Andy, Chris, even Jean-Ralphio all got the endings they each deserved on Tuesday night. The show's celebratory finale spent the hour looking into the future at what's to come for each of the Pawnee residents, and it was a beautiful sight. The entire "team" as Leslie called them was put back together again, each of them in their new lives, and each of them changed from their time in the Parks Department. Let's look at how each character ended their Parks and Rec run when they all reunited in Pawnee for one final time. (Spoilers)
Leslie & Ben
Our fearless leader knows no boundaries. In 2025, we learn that Leslie and Ben (who are still in D.C.) are not only friends with Joe Biden, but also considering running for the Governor of Indiana. Yes, both of them were approached with the task, and both of them would be amazing at it. When it comes down to it, Ben sacrifices his campaign for Leslie because it "just makes sense," and just like that Leslie fulfills a Kindergarten goal of hers.
In 2035, we learn that Leslie has successfully held two terms as Governor of Indiana, and is excited for what is to come. It's ominous, yes, but if you take into account that in a 2048 flash forward, Leslie and Ben seem to be ushered away by the Secret Service, we can only hope that the "to come" is Leslie in The White House. Whatever it may be, Leslie is "ready."
Ron
In 2022, Ron resigns from Very Good. He moves around some money (aka unburies his gold) and finds himself at a "personal crossroads." He doesn't know what he wants to do with his life now that his children are off to college and don't need Papa Ron anymore. To prevent history from repeating itself, Ron visits Leslie in D.C. and asks her for advice. He wants to feel useful, he says.
Leslie, being the best gift-giver to ever exist, finds the perfect job for Ron as the director of The Pawnee National Park, a place where he can be useful and be left alone.
Tom
Our favorite entrepreneur finds himself at the peak of his career in 2019. Tom's Bistro is ready to expand to 20 new restaurants across the country, and Tom couldn't be more ready. Unfortunately, the economy runs its fickle course and Tom loses the franchise, a lot of his money, and a good portion of his drive, causing him to reevaluate his life. Lucy — yes, they're still together!!! — encourages him in his pursuits, reminding him that they're going to be OK.
And like that, Tom reignites his career as a best-selling author and traveling speaker for "Failure: An American Success Story." The book involves all of his friends, and the type of successful people they are, and it seems Tom has finally hit it big.
April & Andy
In 2022, Janet Snakeland and Burt Macklin are in D.C. with an awesome house and life — they're still BFFs with Leslie and Ben, aka awesome — but there seems to be something missing. Andy really wants children, and April is worried about it, but with the help of Leslie, April realizes they should add to their "team." Fast forward a year later — on Halloween! — and April is giving birth to Jack Ludgate-Dwyer, dressed as a zombie! Fast forward another two years to 2025, April is pregnant again. Here's to hoping this one is Burt Macklin Jr.
Ann & Chris
They're back! If you felt Ann's aura and Chris enthusiasm before they even showed up on screen, you're not alone. It was very much an "Ann's here." moment in 2025. Ann and Chris, who live in Ann Arbor, Mich., announce that they are moving back to Pawnee now that Chris has accepted a job at Indiana University (Is that a spinoff I hear?). They have two children, Oliver and... Leslie, and if everything works out, Ann's kids will fall in love with two of Leslie's kids and they'll become family!
Garry
Garry is kicking ass at being Mayor of Pawnee so much that he is re-elected for years to come. Seriously, years. We get a clip of Garry at his 100th birthday party, where he gives a heartfelt speech about how much he loves his family, and as you'd expect, it's a tear-jerker. In 2048, Garry dies (he lived a long life) and everyone has come to say goodbye to him and his misspelled tombstone.
Donna
In 2023, Donna is still a real-estate agent who is killing the game (obviously), and still married to Joe (love them). They're in Seattle, but that doesn't stop Donna from visiting Pawnee. Combining Joe's love of education and Donna's money, Donna starts a non-profit for children. As someone who always loved the "treat yo 'self" motto, she's now treating others, which is really an amazing end to her arc. She also still treats herself, too, because it's Donna Meagle and she deserves it.
Craig
Even though he is from Eagleton, we great to love him. Turns out in 2019 Craig has become a fancy lounge singer (OK, Tom's Bistro singer), who gets his flirty flirt on with Typhoon (!!!) and the two get married!
And in case that didn't get you emotional, here's a tweet from Amy Poehler's Smart Girls quoting Ron Swanson from Season 5. There's no way even the coldest of hearts won't feel the feels from this one. Parks and Rec: "I love you and I like you" forever.
Images: Colleen Hayes/NBC; Giphy (8)