'Catfish' Has Another Doozy For Its Season Opener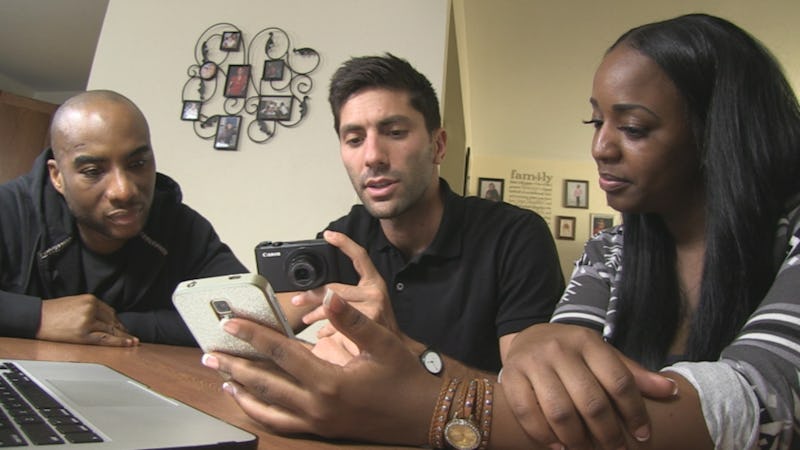 The all-new, fourth season of Catfish premieres on Feb. 25, promising what will hopefully be the last collection of couples who fall in love with someone they've never even seen before (though something tells me that won't be the case). First up is troubled couple Miracle & Jovanni. MTV released a long, almost fifteen-minute preview of the premiere episode, and it lets us know a little bit about how they met and why Miracle wants to finally meet him. It looks like to start off the season, we're going to get another classic "music producer" con man story. When will these people learn that anyone promising that they have a music career is immediately untrustworthy? Probably as soon as they realize that everyone who has a Facebook or Instagram filled with selfies has a Skype account and working camera, which is to say… never.
It's funny, because everything else about Miracle Hunt defies the odds. She grew up with a mother addicted to drugs, and got her name because her odds for survival were so low. She describes to Nev that growing up with a crack addict mother actually inspired her to give her own daughter a better life, and that includes only letting a worthy guy into their lives.
Anyway, as soon as Miracle wrote that "music producer" line, Nev and guest host Charlemagne (filling in for Max while he shoots a new Zac Efron movie) instantly exchanged a skeptical look. I know exactly what they're thinking — that's never worked out for the Catfishee, and it's time to get ready for Nev to throw a guy's phone in a river. But let's temporarily give Miracle the benefit of the doubt: are there any up-and-coming producers who go by the name "Jovanni"?
Not that I could find. There's not a single "Jovanni" who fits the image visible in the video to be found mixing beats on SoundCloud or posting original YouTube videos. Maybe Jovanni is just a fake name to go with fake pictures, and the real person Miracle has been talking with has a different name by which he does his music. Or, he could be lying about the music because his real job is so boring. But I think it's pretty clear already that Jovanni isn't exactly who he's saying he is. Miracle and Jovanni met on Instagram, and started their friendship on the comments section. Since then, they started to connect by privately messaging and texting, but Miracle was never able to convince Jovanni to meet up with her. As Charlemagne says, "Something's wrong." Actually, Charlemagne is full of good advice.
Miracle seems to have made peace with her soon to be reality fame. Her Twitter account is still active, and she even posts excitedly about her new public fanpage on Facebook. With an attitude this positive, maybe she ended up finding her real "Jovanni" after all, or realized that he was a huge jerk and moved on no problem. She did post this unexplained Instagram just a month ago that sounds like it could reer to a misbegotten relationship.
But Miracle was recently @-mentioned by an account belonging to "MarTin Tu'Coo," an online radio host in Milwaukee who hosts a show on FLYE Radio where new artists can have their music played. That's a musical connection, and "Jovanni" did say that he used to live in Milwaukee, but had recently moved to Atlanta. That could have just been an evasion because he doesn't look like "Jovanni's" picture, so… maybe they found true love?
Miracle playfully responded to MarTin's tweet, so I'm not totally crazy for thinking this… but it was just one small comment, so if anything it proves that anything online can be taken out of context. Miracle's Instagram account is all about Miracle right now (for example, she shared a picture of Kevin Hart with the caption "Happy Pre Valentine's Day to Me") so it sounds like she could still be single, or, at least, isn't in that serious of a relationship right now. Either way, after finding out more about Miracle, I can already tell that if she's being deceived, she'll bring the hurt to whomever was leading her on. She's one confident Catfish-ee.
Image: MTV; Giphy