Did Doug Stamper Die on 'House of Cards'?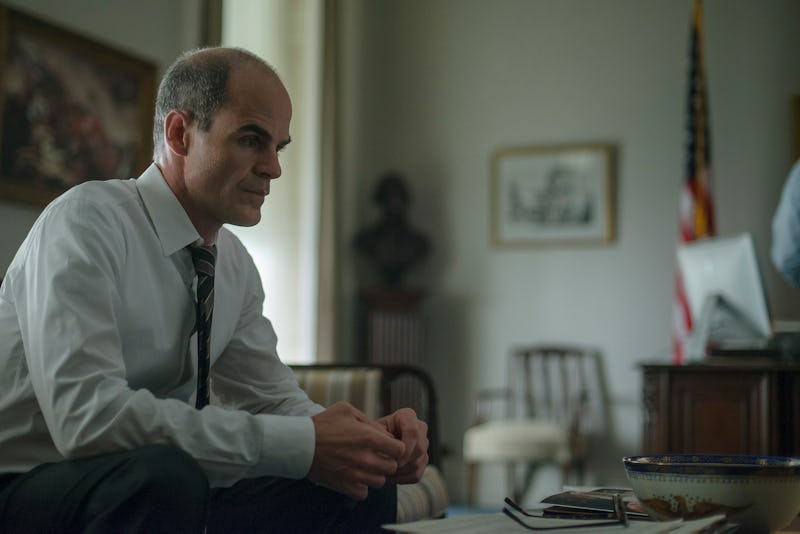 In the dark world of Washington, D.C. politics, there's no one more sinister than Frank and Claire Underwood (played by Kevin Spacey and Robin Wright) on Netflix's House of Cards. They're so captivating to watch that you can't help but curl up with your laptop and a jumbo burrito and just binge on all 13 episodes in a row (that's my tradition). But in Season 2, while Frank and Claire were making moves, Frank's right-hand-man Chief of Staff Doug Stamper (Michael Kelly) was being just plain creepy with prostitute Rachel Posner (Rachel Brosnahan). She eventually hits the creepster and Underwood loyalist with a brick, but did Doug actually die? And what if he didn't and he returns when House of Cards Season 3 premieres on Friday?
"There's only one way to find out," House of Cards showrunner Beau Willimon told the Washington Post last year, regarding Doug Stamper's life or death situation. Even Kelly had no idea when he spoke to HuffPost Live. "I have my fingers crossed, because it was the best job I ever had and the greatest people I've ever worked with," Kelly said. "I can be hopeful, but if not, it was an incredible job." On IMDB, Kelly isn't listed as being on House of Cards past Season 2, but there is a noticeable new addition: Actor Kelly AuCoin plays a character named Gary Stamper. Is he related to Doug and arrives in D.C. to investigate his murder? Or just save him and be partners in crime?
It's tough to say with all the secrecy surrounding the Netflix series, but hey, that's how the Underwoods are. If Doug did survive those blows to the head, he would — of course — be up to no good in Season 3. Here's what I think Doug would be busy with in the third season.
White House Chief of Staff
Of course, Doug Stamper would continue being ever-so-loyal to Frank Underwood, who ascended to the presidency when we last saw him in Season 2. Doug would also move up, becoming President Underwood's own White House Chief of Staff.
But the big question remains: If Frank's president now, what else could he scheme to get? And what kind of tasks does that leave for Doug? Surely, there will be more political cover-ups.
"There's always pope, right?" Willimon joked with the Washington Post. "But, you know, the problem with pope is there's already a pope named Francis."
Revenge on Rachel Posner
If you think Doug's obsession with Rachel was weird in Season 2, if he survives, it should get even worse in Season 3. He'll want his revenge for being beaten by her with that brick, not to mention he might still have feelings for her. Knowing him, he'll hunt her down and find her, wherever she is. Watch out, Rachel.
Gavin Orsay On His Tail
Right before Rachel beat Doug with the brick, Doug had met with hacktivist Gavin Orsay (played by Jimmi Simpson). Gavin, who had been tracking Doug's whereabouts, told Doug he knew about Rachel and demanded FBI protection. Of course, this would continue and Doug would have to get Gavin off his trail.
Or Doug can try getting to Gavin where it would hurt him most — his precious pet guinea pig Cashew. But others have tried and failed.
Image: Nathaniel Bell/Netflix; Giphy (3)