Is This 10-Year-Old The Next Supermodel?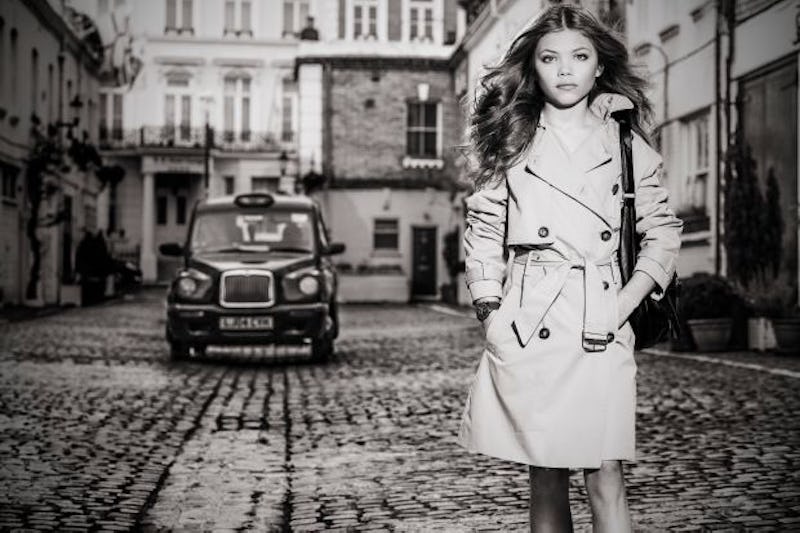 Forget viewing America's Next Top Model to discover exactly who will reign the runways in coming years. Technological innovation and wearable tech company Withings has hired two young models in the making for its latest Activité Pop watch ad campaign, rendered to look like several of England's most beloved images. 12-year-old Maya Koski-Wood may not be old enough to drive, but she bears more than a passing resemblance to a young Kate Moss, and 10-year-old Harley Chapman has Cara Delevingne's signature quirk down to a science.
The two pre-teens donned beige trench coats for an image eerily similar to Kate Moss and Cara Delevingne's pose for My Burberry, and Chapman took center stage in a fistful of rings and a backwards baseball cap to impersonate Delevingne's notoriously daring street style as documented by photographer Terry Richardson. Though the vibe of the campaign is sweetly deferential, both Chapman and Koski-Wood appear determined to make their mark on the fashion industry. The CFDA may have stringent regulations and advisories regarding the minimum age for models, but Withings appears to have a different tack in the face of an ever-evolving consumer market. Explained Chief Marketing Officer Julien De Preaumont, "The Activité Pop is the next generation of wearables, empowering people to track their health so we thought we'd have a bit of fun by recreating junior versions of iconic fashion shots."
While their incredibly young ages are cause for concern, Chapman and Koski-Wood make a lovely and talented team in the ad campaign, suggesting that Withings may have struck advertising gold in pairing the two together. The fashion industry may have its next great model duo in Chapman and Koski-Wood, but one hopes the pair will wait ten years before diving into the modeling world headfirst.
Images: Courtesy Withings