'House of Cards' Season 3 May Not Be Its Last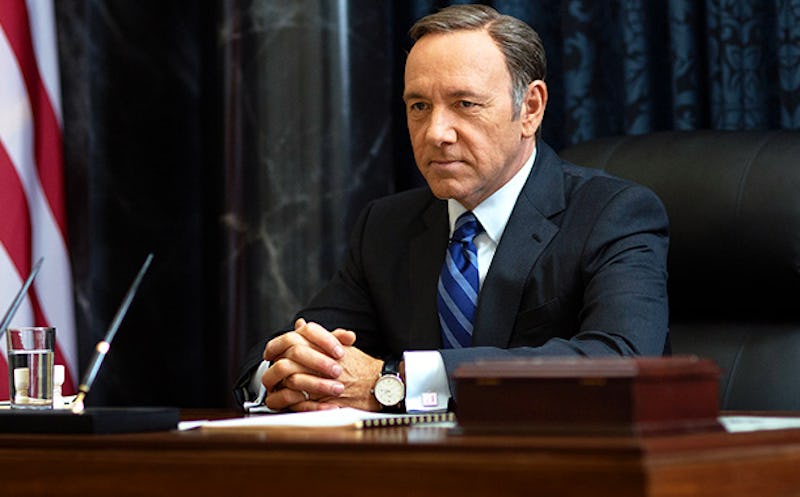 Do you hear that? That's the sound of hundreds of thousands of Netflix accounts revving up in anticipation of the House of Cards Season 3 debut, which is now only hours away. (That's right, I said hours!) But before we all dive into our own individual binge-watching comas, I feel like it's important to consider whether or not this will be the final House of Cards season we will ever experience. I mean, not to be a complete downer or anything, but if this is my final go-round with Frank Underwood, then I sure as hell want to know about, so I can fully savor our time together as much as possible.
Because here's the thing: many people believe Season 3 will be the Netflix series' last, including Bustle's very own Jefferson Grubbs, who makes a very compelling case as to why this could be the end of the road for our favorite political drama. But just to play devil's advocate, I decided to do a little digging of my own on the matter at hand and believe there's still a few justifiable reasons we shouldn't give up on the hope of a fourth season renewal just yet. Because, just like Frank's always taught us, when there's a will — there's certainly a way. And as this evidence proves, this series still has a clear shot at a comeback.
Kevin Spacey Has Hinted There's More To Come
He may not have come right out and confirmed that House of Cards Season 4 is in the works, but when asked by The National after winning his Golden Globe this year about how long he's signed on for the Netflix series, he responded by saying: "As long as they want to keep doing it and I'm having great a time doing it. We'll just continue to tell the story as long as we feel there's a story worth telling." That doesn't sound like someone who's hung up the towel on their character for good, does it? If anything, it proves that there's still currently more story to tell, and I say Bring. It. On.
The Lack of Publicity
True, Netflix had announced that HoC was getting picked up for a third season a few weeks prior to Season 2's debut, but that could just be because an early reveal didn't really give anything away at that point in time. But if we were to hear that Season 4 was officially happening right now, then we'd all know for a fact that Frank's life is not jeopardy. (After all, they wouldn't dare have another season without the main star.) So keeping us in the dark doesn't necessarily suggest that we're reaching the end of era. It could just be Netflix's way of keeping us in suspense during our binge-watching craze. However, if it still hasn't been announced a month from now, then that's another story. But for now, I'm totally fine with keeping the stakes raised.
The Symbolism Is Too Perfect To Resist
I'm sure most of you have done the math by now. There are four suits of thirteen in every deck of cards, so the fact that each HoC season contains thirteen episodes means that we'd have to reach a fourth season in order to achieve a full deck. Ending after only 39 chapters just doesn't have the same symmetry, ya know? Granted, it could be argued that the U.K. version only lasted a total of three seasons, so it's likely the U.S. version will follow suit. But let's not forget that Francis Urquhart (Underwood's British counterpart) achieved his goal a season earlier than Spacey's character did. By that logic, it takes Netflix two seasons to complete what the U.K. does in one. Just saying.
It's also worth mentioning that many people have made several parallels between this series and Shakespeare's Richard III, which contains a total of five acts. So it could be counter-argued that even a Season 5 could be brought into the mix if the story allows. Either way, the dream is still alive, people! Don't throw in your hand just yet.
Images: Nathaniel Bell/Netflix; Giphy (2); fuckyeahspacey/Tumblr