Will Frank Stay President On 'House Of Cards'?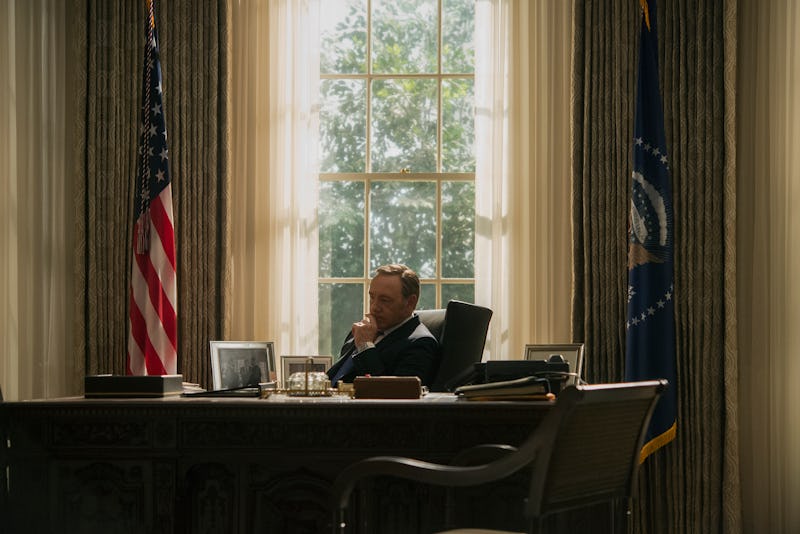 As Season 2 of Netflix's acclaimed political thriller House Of Cards drew to a close, scheming Vice President Frank Underwood had finally succeeded in his master plan of unseating the most powerful man in the world, but how long can Frank stay President on House of Cards? Rapping his knuckles on the desk in the Oval Office in his trademark "knock on wood" move, viewers knew that they were in for a thrilling House of Cards Season 3... if only because Frank now has nowhere to go but down.
Unless he somehow ascends to Supreme Ruler of the Universe (which we shouldn't automatically count out), then Frank has officially climbed as far as he can go, achieving the post of Commander in Chief without having had a single vote cast in his favor. It's a remarkable achievement — one we can't help but wonder how long it will last. (And how many seasons are left in the series, while we're at it?) Fortunately, House Of Cards is based on a BBC series of the same name, so we do have source material to look to for clues.
In the U.K. version of the story, Frank Urquhart (as he's called on the other side of the pond) ascended the ranks of the British government even faster than his American counterpart, becoming Prime Minister at the end of the first 4-part mini-series. The sequel mini-series, To Play The King, dealt with Urquhart's clashes with the newly-crowned king, ultimately resulting in the monarch's abdication. The third and final mini-series, The Final Cut, chronicled the unraveling of Urquhart's reign, as he slowly lost the support of the people due to his handling of a conflict in Cyprus.
The Final Cut ends with Frank's wife, Elizabeth, conspiring to preserve her husband's deteriorating legacy by having him assassinated before he can be completely ruined — which begs the question: Will President Underwood meet a similarly violent fate at the hands of his own beloved wife, Claire? It would make sense. One prevailing theme of the series has always been the ruthless pragmatism of the Underwoods, and it's not too far of a stretch to imagine Claire carrying out such a plan if her husband's presidency were to unravel to the extent that Urquhart's did.
"But wait!" you may be thinking right about now. "This isn't the final season of House Of Cards, is it?" While it's true that Netflix has never officially announced that this upcoming batch of episodes will be the last, there are plenty of indicators that the series won't continue past Chapter 39. First of all, there's the fact that its British inspiration consisted of three parts, so it seems likely that the U.S. version would parallel that. Then there's the fact that Netflix announced the Season 3 renewal of House Of Cards ten days before Season 2 even debuted — and despite no drop in critical acclaim, award nominations, or (likely) viewership numbers (Netflix doesn't release ratings information), there has so far been no news of a Season 4 renewal.
It seems likely to me that a lack of an official "Final Season" announcement isn't because the show will be renewed for more seasons... but because Netflix is hoping to preserve the surprise of Frank's demise at the end of Season 3. So despite all the time, effort, and murder that it took to get Frank to where he is now, you can expect his tenure as President of the United States to burn bright and fast — he probably won't be in the Oval Office for long.
Images: David Giesbrecht/Netflix (2)