Jeff & Luke Almost Teamed Up On 'Nashville'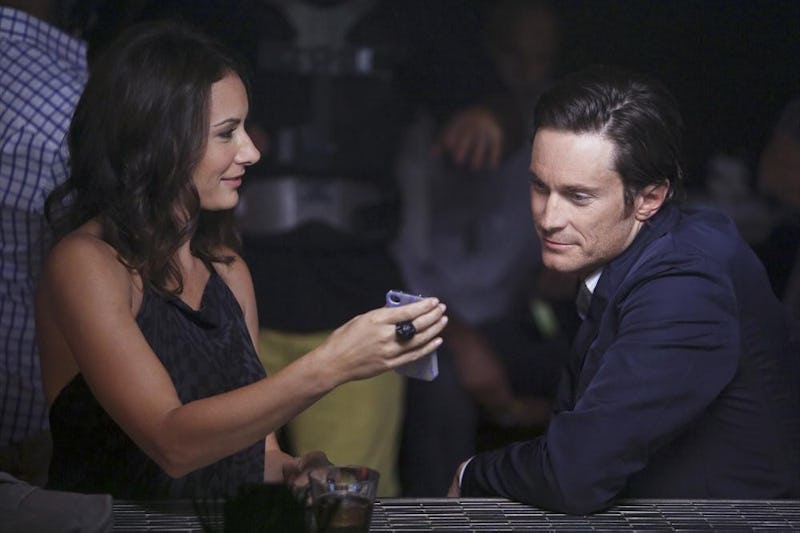 Tonight's episode of Nashville did not waste a single minute pulling punches. As Jeff Fordham said himself, he went from being unemployed to being unemployable when Edgehill Records dissolved at the top of the hour. However, he was not down for long — Jeff and Luke started "Wheelin' Dealin' Records" on Nashville. Then, at the end of the episode, Luke fired him again. He out-Jeff Fordham-ed Jeff Fordham! The twists don't stop there, y'all. There were a bunch of shake-ups, reminding all of us that this show is about an industry, not just relationship drama.
This is a great storyline for Luke, in my humble opinion. He's officially the new villain on Nashville now. We've mostly seen Luke in the romantic half of this series. It'll be nice to see him on the business end of Nashville. Remember when he and Rayna clashed about how to tour, raise kids, and just general philosophies about being country music stars? I can't wait to see the two of them clash as competing label heads.
At the beginning of the episode, it seemed like this move actually gave Jeff the freedom to buy back his artists and start his own label. It's a little bit baffling that this somehow became even better news for the conniving Jeff Fordham, but that's television. So, Jeff and Luke Wheeler set out to start building their label. The first target? Will Lexington.
Will Lexington, now a free agent after Edgehill Records dissolved, was having trouble finding a label that fit the direction he wanted to go in and the discretion his lifestyle required. Was he thankful to be approached by Jeff and Luke or, as Deacon suggested, just going with the Devil he knew? Now that Jeff has been fired
The downside to this, of course, is that Luke didn't want to sign "the girl who can't open soup," Layla Grant. Miraculously, Jeff Fordham did maybe the kindest thing I have ever seen him do and suggested that Layla approach Highway 65. You could tell he was really bummed about not being able to sign Layla himself. I'm all for this move, except that it does kind of make this a "Girls Versus Boys" kind of world. Still, it looks like Rayna and Layla could really benefit from each other. Just look how Rayna handled Pete's attempted legal action against Sadie Stone.
The twist? Layla asked Jeff to be her manager. For once, I don't disagree. Perhaps the two of them need each other to grow as well.
Image: Mark Levine/ABC