Is 'Still Alice' Based On A True Story?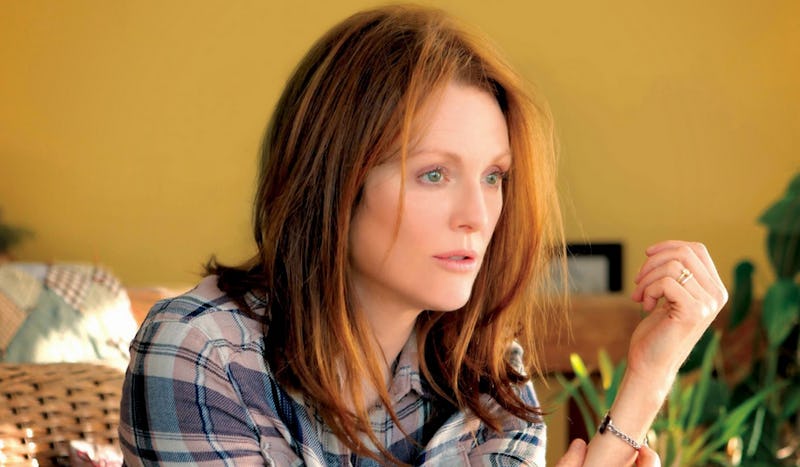 Whether you were rooting for Still Alice or not, it's the film that finally landed Julianne Moore an Oscar after four nominations. But what's the story behind Still Alice itself? Starring Moore alongside Alec Baldwin, Kristen Stewart, Kate Bosworth, and Hunter Parrish, the film follows a woman through her early-onset Alzheimer's diagnosis. But is Still Alice based on a real story?
Still Alice, directed by Ricard Glatzer and Wash Westmoreland, was adapted by the pair from a novel of the same name by Lisa Genova. In other words: No, it's not based on a true story. But it's not as if it's not still a story that hits a lot of people in a lot of true places. Alzheimer's is a pretty brutal disease — and as Moore pointed out in her acceptance speech for Best Actress at the 2015 Oscars:
I'm very happy — thrilled, actually — that we were able to hopefully shine a light on Alzheimer's disease. So many people with this disease feel isolated and marginalized, and one of the wonderful things about movies is that it makes us feel seen and not alone. And people with Alzheimer's deserve to be seen, so that we can find a cure.
So Alice Howland is not a real woman, but she represents many real women and men out there suffering from this disease. The novel, published in 2007, was on the New York Times bestseller list for over 40 weeks, and, before it hit the screen, was adapted as a play for a production in Chicago. So there's no doubt Alice's story is hitting hard despite its technical fictionality.
Images: Sony Pictures Classics